Customer Experience
From the showroom to the home and beyond: How Freedom united its entire team to deliver better CX
Having data is one thing. Putting it in the hands of the team to take action is another. Here's how Freedom - a major furniture and homewares retailer across Australia and New Zealand - galvanised its team (from showroom frontliners right through to the CEO) behind one ambition: delivering the best customer experience (CX). Learn how they embedded a formidable culture of customer-centricity that is setting the brand apart.

Sofa, so good
Founded in 1981 with 58 stores across Australia and New Zealand today, Freedom has never shied away from change. Its long-lasting success is credit to its ability to move fast in adapting to constantly evolving design trends and consumer tastes.
With direct-to-consumer (DTC) brands gatecrashing many industries, furniture retailing was no exception. Modelled on the experiences of the likes of Uber Eats, these DTC players start from a clean slate when it comes to designing seamless, digital customer experiences.
In contrast, Freedom had legacy, disparate systems and vendors across inventory, digital storefront, order processing and delivery, with no easy way to track and learn customer pain points and areas of focus to improve customer experience. Executives within the business needed better access to data to make informed decisions on where to focus the teams as they sought to drive differentiation against competitors.
"We were never able to track and link the customer purchase phase to the online experience to the post purchase experience using what we had. And what we did have didn't really provide usable CX insights or articulate customer interactions to the executive team."
- Jason Piggott, General Manager - Marketing, Freedom
Freedom needed to bring together siloed data points to truly understand customer journeys, and surface pain points in an actionable manner to drive continuous improvement.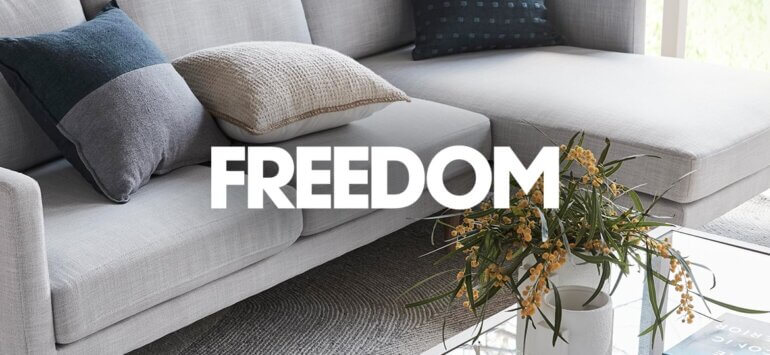 The rejuvenation of Freedom's brand aligned to organisation-wide customer experience transformation. Image source: Freedom  
Mapping customer journeys to drive action
Freedom implemented a comprehensive Voice of Customer program on the Qualtrics platform - helping it collect data across all touchpoints, including its website, in-store experience, as well as product delivery.
To help identify experience gaps, Freedom conducted customer journey mapping to chart out experiences through all channels and then developed a roadmap to help them achieve their ambition of delivering next-level CX.
Data are analysed to help identify positive and negative drivers, and correlating those drivers to impact on either profitability or NPS. This then helps teams prioritise the right actions to take.
"One of the advantages of the Qualtrics platform is the scalability. You don't have to go to multiple vendors to run multiple programs and then having to work out how to aggregate the data. Qualtrics has the capabilities to deliver actionable data out-of-the-box so anybody can have world-class, holistic VoC program from day one."
- Jason Piggott, General Manager - Marketing, Freedom
Empowering frontlines to drive impact
The success of Freedom's VoC program relied on the 'democratisation' of data and directly linking CX performance to employee KPIs (which include sales, profitability and NPS). Teams across all levels including delivery, sales assistants, digital marketing teams, operations and management have access to their own dashboards that surface actionable insights.
The VoC program enables frontline teams, including showroom sales assistants, to access customer feedback easily so they could address any experience gaps and meet customer expectations. Store managers use insights from the platform to coach and improve team performance.
"This VoC program has really put customer at the heart of the business in a way that's very tangible to our people. It is how we do things around here now. No one in particular owns CX - everyone does. And this has been key to the turnaround of the Freedom brand in the past few years."
- Jason Piggott, General Manager - Marketing, Freedom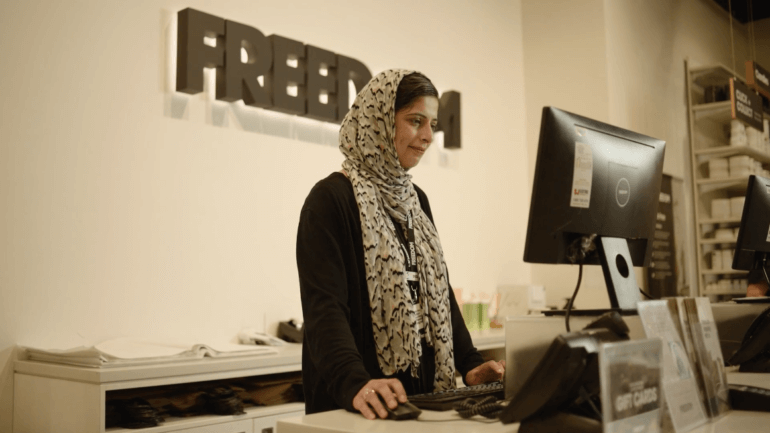 Everyone in the organisation is aligned to delivering better customer experiences - from the showroom floor through to delivery drivers. 
CX forming a culture of performance
After implementing Qualtrics CustomerXM, every single team member was made accountable as customer champions. This has helped Freedom drive ongoing, sustainable improvement and differentiation in the market.
Here are some results from Freedom's VoC program:
19.3% Increase in like-for-like sales (FY21 vs FY22).
430bps increase in Gross Margin (FY21 vs FY22).
2% Increase in store traffic (FY21 vs FY22) to nearly 4 million customer visits.
10 points increase in NPS to 71 (Jan 2021 - Dec 2022).
OSAT (Overall Satisfaction) improved from 88 to 92 (Jan 2021 - Dec 2022).
Repurchase improved from 89 to 93 (Jan 2021 - Dec 2022).
38% growth in number of loyalty program members (FY21 vs FY22)
86% of sales attributed to loyalty program members (myFreedom), who spend 2x the amount compared to non-members.
100% participation across stores and sales teams in Australia and New Zealand, down to the individual sales team level.
NPS became one of the three key metrics used in sales team incentive program.
"The big change with Qualtrics is its ability to deliver easily digestible insights that allow us to bring customer touchpoints to life. It's providing real, understandable and actionable data that allows our teams to adjust and change behaviours and processes. Even our delivery drivers get rewarded based on the outcomes of the VoC program," added Jason.
What's up for next season
With customer needs constantly shifting, Freedom is not stopping at CX.
Freedom has implemented Qualtrics Brand XM (BX) to track brand metrics and consumer behaviours across furniture, homewares and mattress categories on a biannual basis. The studies enable Freedom to track performance against benchmarks, helping its marketing team make informed decisions on brand and marketing activities.
"We've put in a great foundational building block that will now power our organisation into the future, to be successful year after year after year. The Qualtrics platform has helped put CX at the heart of the business, drove a cultural change that will deliver sustainable, competitive advantage."
- Jason Piggott, General Manager - Marketing, Freedom
Learn how Qualtrics XM for Customer Frontlines can help you surface customer frictions and guide frontline teams to better serve clients. Watch a demo today.
Related Articles