XM for Customer Frontlines

Digital

Root out friction in every digital experience, super-charge conversion rates, and optimize digital self-service

Care

Uncover insights from any interaction, deliver AI-powered agent coaching, and reduce cost to serve

Locations

Increase revenue and loyalty with real-time insights and recommendations delivered straight to teams on the ground

XM for People Teams

Engage

Know exactly how your people feel and empower managers to improve employee engagement, productivity, and retention

Lifecycle

Take action in the moments that matter most along the employee journey and drive bottom line growth

Analytics

Whatever they're are saying, wherever they're saying it, know exactly what's going on with your people

XM for Strategy & Research

Research

Get faster, richer insights with qual and quant tools that make powerful market research available to everyone

User Experience

Run concept tests, pricing studies, prototyping + more with fast, powerful studies designed by UX research experts

Brand

Track your brand performance 24/7 and act quickly to respond to opportunities and challenges in your market

XM Platform

Explore the platform powering Experience Management

Teams

For Digital

For Customer Care

For Human Resources

For Researchers

All Teams

Industries

Healthcare

Education

Financial Services

Government

All Industries

Customer Experience

Employee Experience

Employee Exit Interviews

Net Promoter Score

Voice of Customer

Customer Success Hub

Product Documentation

Training & Certification

Community

XM Institute

About Us

Careers

Partnerships

Marketplace

X4 Summit

The annual gathering of the experience leaders at the world's iconic brands building breakthrough business results, live in Salt Lake City.
Customer Experience
Qualtrics Announces General Availability of New Frontline Care Solutions
At this year's Qualtrics X4 summit, we demonstrated to more than 10,000 attendees how Qualtrics technology is empowering organizations to create a new operating model for customer care. Change is coming, and change is needed in the customer care industry. Customers are expecting more rapid, engaging, and empathetic support from the brands they interact with. According to Qualtrics research, poor customer service is the number one reason customers switch brands, yet 38% of contact center agents don't feel they're set up for success.
At Qualtrics, we are enabling frontline teams with AI-powered tools and actionable insights so they can do what they're best at – helping customers. When properly supported, contact center agents are problem-solvers, brand advocates and consumer experts that use their skills to build meaningful connections between customers and the organizations they support.
Today, we are excited to share that three key contact center innovations are now generally available to customers worldwide: Qualtrics Real-Time Agent Assist, Automated Call Summaries, and Frontline Team Assist.
Real-Time Agent Assist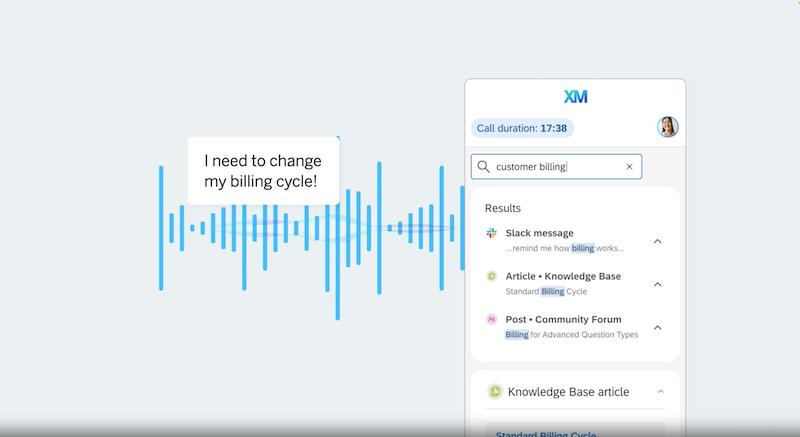 All too frequently, contact center agents are bogged down searching across several systems for the right resources and information while customers wait on hold. With Real-Time Agent Assist (RTAA), agents no longer need to search for the solution. Our powerful AI helps guide conversations, as they're happening, to the best outcome for every customer.
Qualtrics brings together insights from millions of interactions customers have had with the brand across all channels, to intelligently diagnose the caller's individual needs and desires and make recommendations specific to each conversation. Real-Time Agent Assist then prompts agents with helpful suggestions, personalized experiences and offers, relevant knowledge base articles, and related answers, helping them focus on listening to the customer and reducing the time it takes for an agent to resolve each customer's issue.
Automated Call Summaries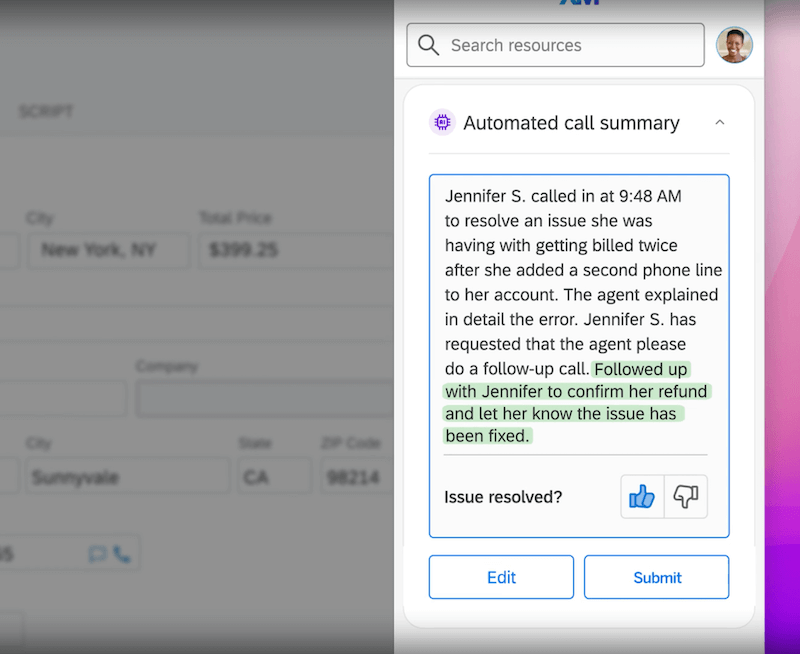 In the current economic landscape, organizations are looking to reduce costs without sacrificing the customer experience or diminishing customer satisfaction and loyalty. Contact centers are often looked at as significant cost centers in the business despite their outsized impact on the customer experience. In many organizations, contact center agents spend precious time on tedious, manual work like writing up a call summary or logging follow-up actions after each and every call, leading to longer call wait times for customers and hours of additional expenses to the business.
Qualtrics Automated Call Summaries automatically creates call recaps with all the relevant details discussed. In seconds, agents can see a summary that includes how long the call lasted, the customer's reasons for contacting, as well as a recap of how the agent responded, and any offers that were provided to remedy the customer's issue. If an agent feels anything is missing from the synopsis, they can add additional context to the summary and any changes they make are recorded to ensure auditability and compliance.
Once the summary is approved, they are automated and stored in an organization's contact center systems of record, providing teams with a single source of truth for all customer records and a comprehensive history of the customer experience. This record can be referenced if a compliance issue arises and reduces the need for repeat callers to have to spend time explaining their service needs multiple times, making for a smoother experience for both customers and agents. Automating this after-call work not only reduces agent burnout but can decrease service costs by up to 10 percent.
Frontline Team Assist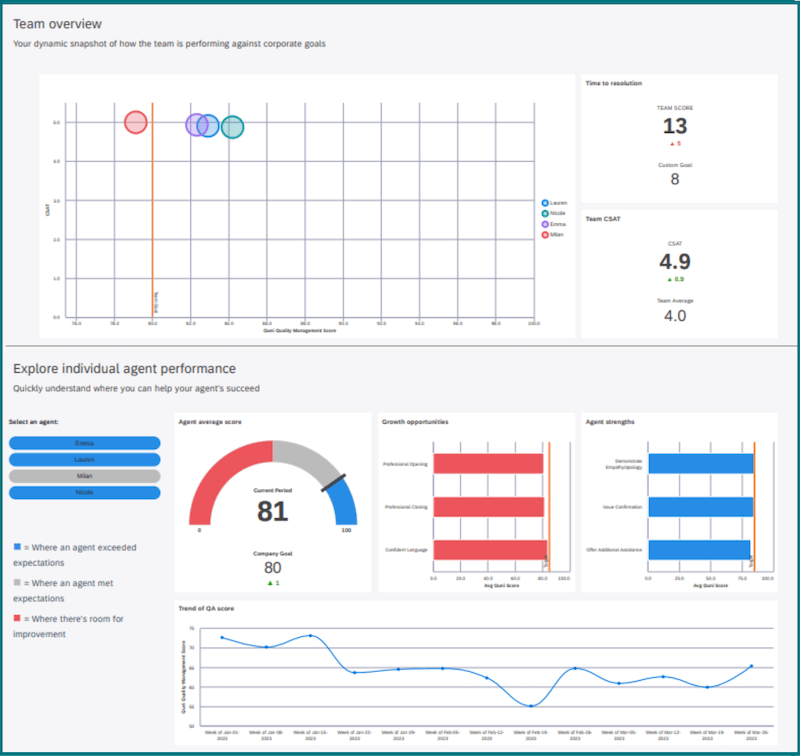 Qualtrics new Frontline Team Assist enables managers to easily review performance across agents and provide targeted, meaningful coaching to keep agents engaged and effective. The solution leverages service quality evaluations and uses Qualtrics AI and Natural Language Understanding (NLU) to surface key insights on their performance and service quality. By putting it all into a single 360-degree view for managers, Frontline Team Assist makes it easy for managers to coach and support agents and measure their performance against company benchmarks.
Frontline Team Assist provides access to Qualtrics Frontline Agent Coaching, an easy-to-use self-coaching solution that puts personalized insights in agents' hands, provides positive reinforcement from customers, and empowers them to identify opportunities for improvement to drive their own development. Agents can track their performance across several key metrics, access coaching moments, and connect to their learning management system of choice.
Using Frontline Team Assist in combination with Qualtrics' Quality Management in XM Discover, managers can see trends in an agent's behavior to understand at scale their overall performance. This allows managers to give accurate feedback representative of an agent's actual work instead of a small sample, leading to better performance and more trust between agents and managers.
Elsevier taps Qualtrics to reduce costs, save time and supercharge its customer care teams
Elsevier, a Dutch academic publishing company specializing in scientific, technical, and medical content, has supported the work of research and health partners for more than 140 years. Growing from its roots in publishing of renowned texts like the medical journal The Lancet and reference text Gray's Anatomy, it now applies advanced machine learning techniques and offers knowledge and valuable analytics that help users spend more time making breakthroughs and driving societal progress. To match this digital transformation, Elsevier needed to upgrade its customer-service offerings in order to compete with the speed and quality of digital-native tech companies.
Elsevier began by using XM Discover's powerful AI and natural-language analysis capabilities to better understand the nature of customer concerns and to identify spots where call-center agents were using terms and phrases that weren't helpful in assuring customers that their concerns were being addressed. However, Elsevier wanted to take its customer care program a step further and help agents deliver better service in real time.
With Real-Time Agent Assist, Elsevier is able to coach contact center agents with informed recommendations with brand-specific information in the moment during calls with customers. RTAA empowered Elsevier agents to reduce overall Average Handle Time, reduce the amount of time customers waited on hold, and improve CSAT scores over thousands of calls. With Automated Call Summaries, Elsevier saw improved identification of contact reason and subsequent agent actions, saving agents time and reducing operating costs.
"Qualtrics has not only enabled us to gain new insight into our customers' experiences with its AI and analytical capabilities, but they've also tuned their product so that it does exactly what we need," said Joep Everts, SVP of Customer Service, Elsevier. "With RTAA and ACS, our agents are getting more relevant and timely recommendations, solving more customer care issues, and generating more accurate call summaries so we know the exact reason for each and every call."
Learn more about Qualtrics solutions for the contact center.
Related Articles