XM for Customer Frontlines

Digital

Root out friction in every digital experience, super-charge conversion rates, and optimize digital self-service

Care

Uncover insights from any interaction, deliver AI-powered agent coaching, and reduce cost to serve

Locations

Increase revenue and loyalty with real-time insights and recommendations delivered straight to teams on the ground

XM for People Teams

Engage

Know exactly how your people feel and empower managers to improve employee engagement, productivity, and retention

Lifecycle

Take action in the moments that matter most along the employee journey and drive bottom line growth

Analytics

Whatever they're are saying, wherever they're saying it, know exactly what's going on with your people

XM for Strategy & Research

Research

Get faster, richer insights with qual and quant tools that make powerful market research available to everyone

User Experience

Run concept tests, pricing studies, prototyping + more with fast, powerful studies designed by UX research experts

Brand

Track your brand performance 24/7 and act quickly to respond to opportunities and challenges in your market

XM Platform

Explore the platform powering Experience Management

Teams

For Digital

For Customer Care

For Human Resources

For Researchers

All Teams

Industries

Healthcare

Education

Financial Services

Government

All Industries

Customer Experience

Employee Experience

Employee Exit Interviews

Net Promoter Score

Voice of Customer

Customer Success Hub

Product Documentation

Training & Certification

Community

XM Institute

About Us

Careers

Partnerships

Marketplace

X4 Summit

The annual gathering of the experience leaders at the world's iconic brands building breakthrough business results, live in Salt Lake City.
Employee Experience
Managing times of crisis using active and passive listening
As COVID-19 continues to unfold, employees are asking for a sense of connection and open communication on employment, structure, opportunity and change. Now more than ever it is critical to meaningfully listen to employees.
A recent (2020) study of 5,000 U.S. workers by Thrive Global showed that 80% of employees feel "helpless and like things are out of their control" and even more wish "their employer would do more to help them adapt and manage."
Team leaders and line managers need to make decisions about how best to support their teams in this highly fluid situation, one that is likely beyond anything they have previously experienced. And they need to act without eroding employee trust.
Trust requires leaders to focus on what matters and to track whether actions being taken are resulting in positive change. That means responsive, timely decision making supported by empathetic, open communication.
Dramatic workplace and business model change (with immediate and long-term implications) has placed an urgent spotlight on data-driven decision making for complex, fast-changing situations. Decision-making in this environment benefits by combining data from both active and passive listening.
Active and passive listening – the 'yin and yang' of meaningful employee experience management?
A combined approach of active listening (surveys/experience data) and passive listening through Network Analytics (ONA), provide two important lenses for identifying and responding to organizational stress-points.
The combined approach enables leaders to 'triage' areas of concern by analyzing organizational dynamics around engagement, collaboration and resilience. Network analytics becomes a leading indicator to guide targeted interventions to the groups which need them most.
Survey data can then enable a more nuanced understanding of organizational sentiment and highlight critical gaps in morale and engagement. Together these represent the 'yin and yang' of listening – bringing together "how employees are feeling" with "how employees are collaborating."
A senior HR analytics manager at a leading global health care provider recently shared what had changed for her following a complete organizational shift to remote working.
In addition to noting infrastructure challenges, she reflected that while her activity level was now higher than before, she was now collaborating with a narrower, more restricted set of colleagues. She wasn't sure if other team members were experiencing the same.
In this situation, for example, an initial, low touch survey could identify first-order gaps in infrastructure while the telemetry of passive network analytics could quickly identify changing collaboration patterns across internal teams as well as customer and partner networks.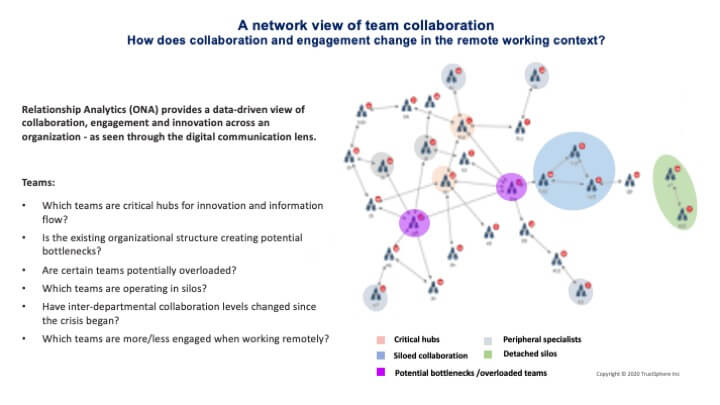 Based on patterns that are uncovered, this would alert line managers to which teams are at risk of isolation or possible overload. More targeted surveys could then further address issues of individual burnout risk, gaps in mentoring support or for example the need for flexible work practices within teams previously identified 'at risk'. This would enable sophisticated pulsing while reducing overall organizational fatigue.
Network analysis might also identify the HR manager as a 'boundary spanner' – someone who regularly acts as a connector between different teams and departments. As an influencer in the organization, she could also be enrolled as a change ambassador to mobilize cross-functional learning and interventions. At an individual level, nudges could remind her to maintain key relationships within their broader network.
The combination of employee sentiment alongside a network view would allow managers to develop appropriate organization wide as well as tailored responses to ensure organizational resilience during these challenging times. The iterative combination of experience data and network analytics can provide a dynamic barometer of employee well-being and connectivity.
To help companies battle the challenges they face in the current crisis, Qualtrics has embarked on a mission to leverage its software to empower humanity in the new world of work. Since mid-March, more than 8,500 organizations have created 30,000 unique projects taking advantage of these solutions to manage through the COVID-19 crisis and keep connected to their entire workforce – for free. The consumption of these no-cost solutions clearly showcases the need for organizations to learn from their constituents and adapt at an accelerated pace.

For example, in Turkey, a Qualtrics customer launched one of the free-to-use COVID-19 solutions and within hours received tens of thousands of responses representing a sizeable chunk of their total workforce that helped their workplace strategy as Coronavirus unfolded in real-time. Other Qualtrics customers are using the insights gained from these solutions to plan for a return-to-work strategy, which will undoubtedly be a very different environment in the post-COVID-19 era.
In a fluid environment, when complex, cascading factors are impacting the well-being of your employees and teams, the combined telemetry of active and passive listening allows continuous listening to support adaptive, timely and flexible decision making.
But is now really the time to survey employees?
Yes. Now is absolutely the right time to connect with your employees and facilitate dialogue and action. A recent article by Qualtrics partner Bill Erickson of Workforce Science Associates referenced the experience of companies that canceled or postponed survey activity during the 2008 financial crisis.
After the economic downturn lifted it became clear that trust and engagement across these organizations had suffered long term damage.
The combined active and passive listening approach allows managers and leaders to engage with employees quickly and meaningfully – ensuring timely, responsive and participative decision making to support individuals and teams.
Meaningful listening builds trust and empowers employees to be part of the solution making process – at a time when physical distancing increases the risk of isolation from their peers and support groups.
How can you quickly support your people during this difficult time?
The Qualtrics COVID-19, Remote + On-site Work Pulse can help. It's free to use by any organization worldwide. You can sign up to use the free solutions at https://www.qualtrics.com/here-to-help/
TrustSphere's Collaboration Pulse can help provide the network view during the current crisis and as part of a 'return to work' strategy. For further details visit www.trustsphere.com
Access complimentary solutions to better listen to employees and customers