Why Qualtrics
'Why Qualtrics' Jordan M. – Sales Development Intern, Dallas TX
Describe Qualtrics to a candidate in 3 words!
Ongoing, relentless, family
What is your 'why'? Why do you do what you do...
The majority of opportunities that have been provided for me in my life so far are the product of the position that my parents placed me in through their hard work, so my "why" is to be able to give back to them and create the same opportunity for my future family. In addition, my athletic background has created an appetite to wake up and be the best possible version of myself I can be every day. In terms of performance, in terms of how I stack up against competition, and in terms of how I operate in general.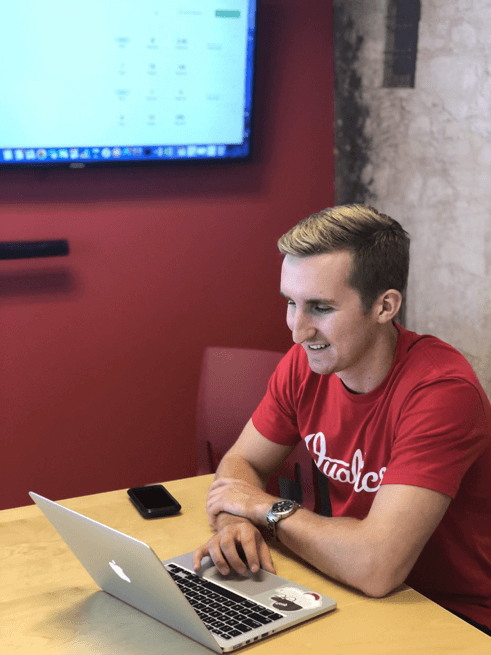 How does Qualtrics connect with your 'why'?
Qualtrics requires continuous and relentless effort. Your motor has to always be running, which is how I prefer to operate. The rewards offered at Qualtrics, i.e. the wonderful people who work here, the incredible work-life balance, and the opportunity for good compensation, all fit into my "why".
What does your day look like?
I show up at 7am, I make my morning coffee. I mine about 10 contacts, send email reminders to prospects who I am meeting with that day, and settle in. By 7:45am-8:00am, I begin making calls. I eat lunch at noon and then kick Frank's butt in ping pong for about 20 minutes during lunch hour. I attend more meetings from 1p-2:45p, in addition to planning how I will attack the afternoon and the next morning. I'm making calls again by 3:15p and continue to do so until 4:30p. Throughout the day, I make putts in our team's aisle. I usually shoot around ~35%.
What is your favorite part of your role?
I am exposed to so many members of our supporting staff. I have sourced meetings for around 20 account executives. We take pride as interns for doing one of the hardest parts of the job, which is literally taking people out of their day for 2 minutes to commit time to talk about experience management. These people wake up with no intention or knowledge of talking with us, and it is always a big win to get them to agree to talk with you more. Understanding that what we do is really difficult and being able to find a way to excel at it is incredibly fulfilling.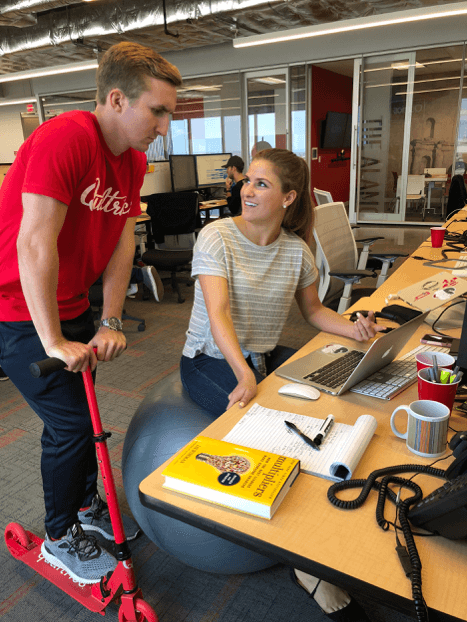 You are not originally from Dallas. Where are you from and why did you move here?
Originally from Austin. Picked to go to UT Dallas because the major I chose was applicable to many fields and I got the opportunity to play collegiate baseball. I blew my arm out in the Fall of my junior year and jumped head first into the sales program at UTD. I found it by accident, to be honest. Brian Hanks referred me to Qualtrics at a sales competition in Orlando that semester, and I chased the opportunity down. The rest is history.
What are your aspirations in career/life?
I've got three main aspirations in life right now. I want to 1) go to space, 2) obtain a PhD in business, and 3) create a feature-length film. The path to accomplish these things will be made possible by a career, and my aspiration for that is to put my head down early and make a decent amount of money so I can go into team leading/management when I begin to start a family. BOOM!
What is your top #LifeHack?
Always have a "thing". Whether you're going out in public with your buddies, or just wanting to get a superstition to do every day, have something that is unique that adds on to whatever you're doing. Life is a game, and it's more fun if you have something to control. For instance, Frank and I went to Vegas earlier this July. Our "thing" was that I was marrying his sister (he doesn't have one), and this was our bachelor party. People loved it. That was one of the main takeaways we had from the entire trip. I found that when you can begin creating little things to add to everyday and everyone's activities, it is more fun to go about doing them (in your own life and adds happiness to others). That is my life hack!
| | |
| --- | --- |
| | Jordan Murphy is a Sales Development Intern in Qualtrics's Dallas, Texas office. He is a senior majoring in Emerging Media and Communication (EMAC), with a minor in Marketing and a Concentration in Sales at the University of Texas-Dallas. He is also a qualifier for the National Collegiate Sales Association Certification. |
Related Articles