Customer Experience
5 ways to use the new Qualtrics Digital CX Benchmark
October 25, 2019 // 4 min read
The Qualtrics XM Institute is excited to announce the launch of a new digital benchmark initiative - the XMI Customer Ratings - Digital. This is something our customers have been asking for - and we wouldn't be an Experience Management company if we didn't listen to our customers.
Digital is a living, breathing, dynamic environment. Customer expectation is extremely high when it comes to digital experience, and the data we collected shows that industries are largely meeting those expectations. In fact, none of the industries evaluated received a "poor" or "very poor" rating in our core digital metric. There's no doubt that people have come to expect a simple, seamless experience when it comes to digital: they expect web and app experiences that are easy to navigate, easy to understand, easy to consume.
With this in mind, we created an index score to help brands quickly assess how they compare to their peers with a straight-forward, yet meaningful metric that provides a useful snapshot of the digital experience. There are three core components of the XMI - Digital Rating Score: Ease, Satisfaction and Likelihood to Return. This score was calculated in the following way:
For each of the three separate components, we look at the percentage of consumers who gave the company a high score ("4" or "5" on our set of 5-point scales) and the percentage who gave the company a low score ("1" or "2").
Within each individual component, we subtract the percentage of low scores from the percentage of high scores. This results in three separate ratings. Each rating is an index score with a range of -100 to 100.
Finally, we average these three component scores (ease, satisfaction, and likelihood to return) for each company to generate that firm's XMI Customer Rating - Digital Score.
To see the full report contact your account rep, but to share some headline insights the Bank and Credit Card industries earned the highest ratings. Four other industries also earned average scores in the "good" range: Investment Firms, Specialty Retail, Personal Care Retail, and Groceries. As noted above, of the 17 industries reviewed, none of them received a "poor" or "very poor" rating; although, the Health Insurance industry fell on the line between the "poor" and "okay" ranges.
So here are five ways to leverage the new XMI Customer Ratings - Digital....
Start measuring. The first step in Experience Measurement is knowing where you stand. If you haven't yet, start gathering feedback on your websites and apps right away.
Use Qualtrics' methodology. Seriously, we don't mind! Measure ease, satisfaction, and likelihood to return for your sites and apps. Roll these core metrics up into your own Digital XMI.
Make note of the three pieces. It can be quite useful to have a "score," but it's still important to take a look at these core metrics individually. CSAT is great at measuring a unique digital transaction, ease of use speaks to customer expectations when it comes to simple UX design, and likelihood to return sheds light on the creation of a loyal customer. Check out the figure below for more specifics.
Create a system of action. Once you have a sense of how your data is trending, it's essential you then act on it. Unfortunately most organizations that collect customer feedback do not actually follow up in a meaningful way. Leverage digital connectivity, integrations, and real-time work flows to close the loop where relevant.
Compare apples to apples. Like most benchmarks, ours are gathered through a blinded survey drawing on market research panel, but your respondents are coming from your customers in a branded request for feedback. Be thoughtful about how you apply all benchmarks as you measure your failures and successes.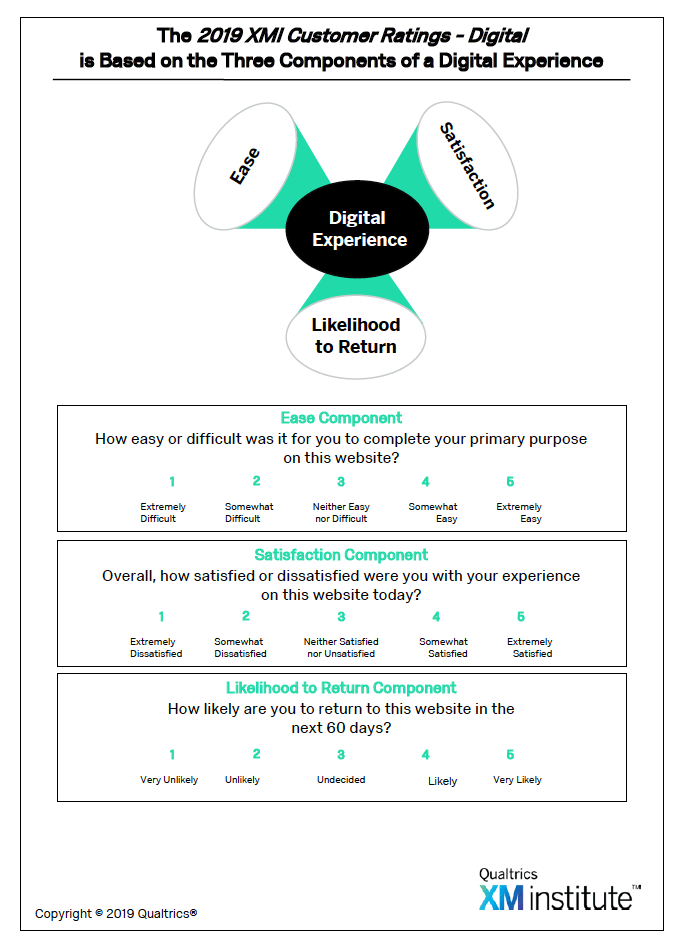 Learn to create a powerful CX program that drives impact
*Airlines, Automotive, Banks, Car Rental, Credit Cards, Groceries, Health Insurance, Hotels, Investment Firms, Apparel Retail, Big Box Retail, Home Goods Retail, Personal Care Retail, Specialty Retail, Technology, Travel, and TV/Internet Service Providers.
Related articles