Customer Experience
The 2020 Qualtrics Digital CX Benchmark
The Qualtrics XM Institute is excited to announce the 2020 edition of our digital benchmark initiative - the XMI Customer Ratings - Digital. It's been quite a year for digital experience, and in an uncertain world, there has been great clarity around the importance of the digital experience. For so many of us, our digital experiences have been the one consistent touchpoint to the external world, the primary medium for interaction across many facets of our lives. Digital has been working tirelessly to make lives easier, healthier, safer, more productive and even more meaningful in these challenging times.
Digital is a living, breathing, dynamic environment. Customer expectation is extremely high when it comes to digital experience, and the data we collected shows that industries are largely meeting those expectations. Much like our 2019 findings, none of the industries evaluated received a "poor" or "very poor" rating in our core digital metric. There's no doubt that people have come to expect a simple, seamless experience when it comes to digital: they expect web and app experiences that are easy to navigate, easy to understand, easy to consume.
With this in mind, we created an index score to help brands quickly assess how they compare to their peers with a straight-forward, yet meaningful metric that provides a useful snapshot of the digital experience.
How the ratings are calculated
There are three core components of the XMI - Digital Rating Score: Ease, Satisfaction, and Likelihood to Return. This score was calculated in the following way:
For each of the three separate components, we look at the percentage of consumers who gave the company a high score ("4" or "5" on our set of 5-point scales) and the percentage who gave the company a low score ("1" or "2").
Within each individual component, we subtract the percentage of low scores from the percentage of high scores. This results in three separate ratings. Each rating is an index score with a range of -100% to 100%.
Finally, we average these three component scores (ease, satisfaction, and likelihood to return) for each company to generate that firm's XMI Customer Rating - Digital Score.
How to display benchmarks in your dashboard
For those that already display the XMI Customer Ratings - Digital, you can quickly update them with the new data in Q1 2021 by going to the benchmark editor, clicking on "View updates", reviewing the changes, and then confirming them. For additional information, you can view this support page or feel free to contact your Customer Success Manager.
Standout findings for the XMI Customer Ratings - Digital report
The XMI Customer Ratings - Digital is available to all Qualtrics CX customers. It's worth noting that digital stayed relatively stable (with some industry level upswings) compared to the two recently published benchmarks reports for the XMI Customer Ratings - NPS and Overall where we saw some decline across the board.  Contact your Customer Success Manager to access the full report, but, in the meantime, explore some of the key findings below.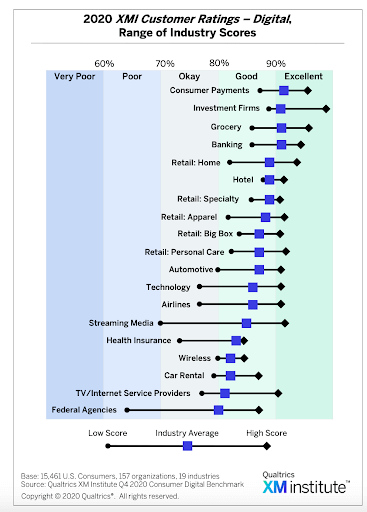 As a recap, we found that on average, consumer payments companies, investment firms, grocery stores, and banks earned the highest ratings. This was similar to last year, with grocery stores making a considerable jump into the "excellent" category. As noted above, none of the 19 industries reviewed received a "poor" or "very poor" rating. Federal Agencies and TV/Internet providers received the lowest scores, straddling the line between the "okay" and "good" ranges.
How to use the ratings in your own program
So here are five ways to leverage the new XMI Customer Ratings - Digital....
Learn to create a powerful CX program that drives impact.
*Airlines, Automotive, Banks, Car Rental, Consumer Payments, Federal Agencies, Groceries, Health Insurance, Hotels, Investment Firms, Apparel Retail, Big Box Retail, Home Goods Retail, Personal Care Retail, Specialty Retail, Streaming Media, Technology, TV/Internet Service Providers, Wireless.
**Changes from 2019 list of industries: We transitioned Credit Cards to Consumer Payments, we added Federal Agencies, Streaming Media and Wireless companies to the list, and removed Travel Booking sites due to extremely low response rates (due to low consumer usage during pandemic).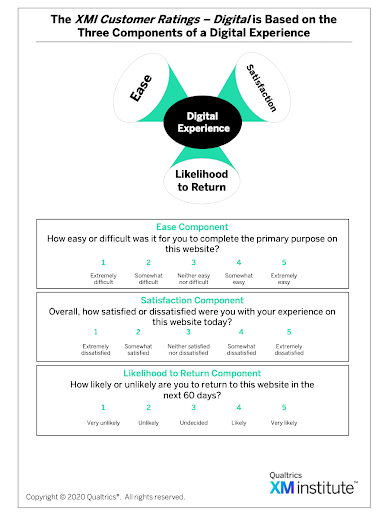 Improve your digital cx with our ebook: The Digital Experience Playbook