Customer Experience
Take action quicker with Guided Intercept Authoring
Launching your digital CX program just got a lot quicker and easier with Guided Intercept Authoring. Simply deploy feedback buttons and listening posts with this step by step guide.
As businesses and people shift their behavior online, digital experiences have never been more important. With that, we're seeing businesses and whole sectors accelerate their digital transformation as they quickly adapt to these new times. Some businesses have always been "digital", but for others, this is an entirely new - and necessary - way of working.
No more broken experiences
Whether your digital CX program is already established or you're just starting out, being able to identify and fix broken experiences is the name of the game for any business. This is done by listening and understanding feedback, so you can build on what's working and fix what's not. This is critical if you want to increase task conversion and retain customers.
Building a digital voice of the customer program and deploying digital feedback intercepts can be difficult and time-consuming though. This is why we've developed Guided Intercept Authoring - to make collecting customer feedback as easy as possible, whatever your level of expertise.
How will Guided Intercept Authoring help you?
Before it might take users days to set up and launch a digital CX program, but with Guided Intercept Authoring it now takes a matter of minutes making it quicker and easier for businesses to go from feedback to action.
Your program will be more successful too because you'll be better placed to avoid errors that impact customer response rates. As a result, you'll get more insightful feedback and improved recommendations on how to optimize the digital customer experience.
With Guided Intercept Authoring, users no longer need to depend on partners and vendors either. You can quickly launch and adjust your digital CX program (feedback buttons and listening posts) in a few, simple steps. You'll be truly self-serve.
How does Guided Intercept Authoring work?
Guided Intercept Authoring offers users a new, intuitive workflow to build and launch elegant website listening posts across the entire digital journey. Users are able to define their survey questions, select the right creative for them, apply targeting, and launch the intercept within a single, intuitive workflow.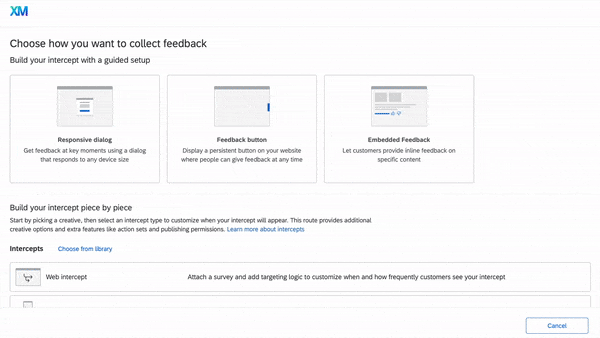 Please note that legacy creative and intercept capabilities are still available for customers who wish not to use the new guided flow. For more information regarding the new Guided Intercept Authoring, please see our latest release documentation here.
Find out how to launch your digital CX program with Qualtrics