XM for Customer Frontlines

Digital

Root out friction in every digital experience, super-charge conversion rates, and optimize digital self-service

Care

Uncover insights from any interaction, deliver AI-powered agent coaching, and reduce cost to serve

Locations

Increase revenue and loyalty with real-time insights and recommendations delivered straight to teams on the ground

XM for People Teams

Engage

Know exactly how your people feel and empower managers to improve employee engagement, productivity, and retention

Lifecycle

Take action in the moments that matter most along the employee journey and drive bottom line growth

Analytics

Whatever they're are saying, wherever they're saying it, know exactly what's going on with your people

XM for Strategy & Research

Research

Get faster, richer insights with qual and quant tools that make powerful market research available to everyone

User Experience

Run concept tests, pricing studies, prototyping + more with fast, powerful studies designed by UX research experts

Brand

Track your brand performance 24/7 and act quickly to respond to opportunities and challenges in your market

XM Platform

Explore the platform powering Experience Management

Teams

For Digital

For Customer Care

For Human Resources

For Researchers

All Teams

Industries

Healthcare

Education

Financial Services

Government

All Industries

Customer Experience

Employee Experience

Employee Exit Interviews

Net Promoter Score

Voice of Customer

Customer Success Hub

Product Documentation

Training & Certification

Community

XM Institute

About Us

Careers

Partnerships

Marketplace

X4 Summit

The annual gathering of the experience leaders at the world's iconic brands building breakthrough business results, live in Salt Lake City.
Experience Management
Activate the power of your data: The latest Experience iD innovations
A key to driving business growth is delivering the right experiences, at the right time, targeting the right people. To achieve this, it's more important than ever to tune into the needs and desires of customers, separate the signal from the noise, and take swift action.
However, there are headwinds. Nearly two-thirds of consumers feel that businesses need to do a better job of listening to their feedback, and 62% believe that businesses need to care about them more1. Customer expectations continue to rise, and it's all too easy to switch to a different product or service – in just a click or a tap.
How can organizations better understand their customers and pinpoint new opportunities? By leveraging the power of their customer data, which is a strategic asset and force multiplier in a highly competitive environment.
The challenge is that the data landscape continues to expand at an exponential rate and is highly fragmented. Organizations are capturing more and more information, including purchasing patterns, usage trends and inputs from experiential touchpoints, but more data doesn't always mean better business outcomes. In fact, it can result in slower reaction times, and bad data can lead to bad decisions.
When it comes to unlocking the power of customer data, organizations face three key issues:
Capturing the right data. This includes operational data, such as purchases, visits, usage, and experiential data, such as CSAT, NPS, and sentiment. This also requires implementing the right listening tools to capture the information and signal that is most relevant to your business.
Understanding the story behind the data. A mountain of raw data is of no use if you can't organize, orchestrate and analyze the data in a way that reveals gaps, insights and opportunities.
Acting with precision and speed. Even with intelligent analytics and clear insights, many organizations don't have the systems or processes to take action when it counts.
To address these challenges, companies all over the world leverage Qualtrics Experience iD, the leading human experience database. Experience iD captures and builds a complete memory of user interactions and experiences, organizes the information in unique, individual profiles, and empowers organizations to take targeted action, at scale. Recent research shows that 39% of experience leaders believe that their company faces significant challenges creating and updating customer profiles in real-time2, and XiD is designed to help companies address these challenges and turn them into opportunities.
The scale and impact of XiD continues to expand, and organizations have created more than 10 billion XiD profiles. The breadth and depth of signal captured across the 10+ billion profiles gives Qualtrics unique insights into best practices, understand the next best action to take to maximize impact, and develop useful benchmarks for companies to assess themselves against peers.
What does this mean for our customers? This helps power new innovations that enable organizations to deliver more targeted and highly personalized experiences.
Get to insights quicker: from birds-eye to bullseye
Data is only useful if you can efficiently access it and interpret it. Sometimes you just need a quick snapshot view of your customers to understand key trends, spot potential friction points and understand overall performance. We've enhanced the XiD dashboard experience to make it easier for organizations to view, interpret and and act on experience data – across the customer journey funnel.
The dashboard lets you pull in data captured in XiD to create your own at-a-glance views. This is easily customized by adding or removing data widgets, and you can perform deeper analysis with flexible filtering tools.
Examples of different data types that can be added to the dashboard includes:
Demographic data. For example, summary charts of user age groups, geographic distribution, income level, gender, etc.
Transactional data. For example, summary charts of visits, number of purchases, spend amount, etc.
Experiential data.

For example, the latest CSAT or NPS scores, trends in user sentiment, effort, emotion, intent, etc. 
Imagine a hospital that wants to better understand patient experiences and make decisions to improve touch points across the care lifecycle. Using the dashboard you pull in the most meaningful data fields. This is displayed as a page of easy-to-read bar charts, pie charts and graphs. For example:
Number of patient visits by month
Patient CSAT trends over time
Average length of stay in hospital
Age distribution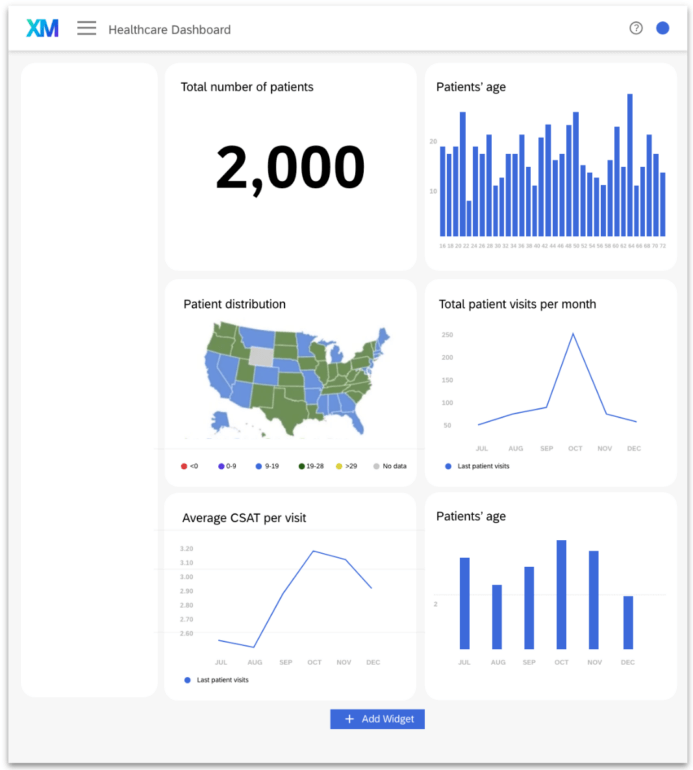 The dashboard can serve as the starting point for further investigation, helping you get to the right insights to drive action. For example, an alarming CSAT trend might prompt you to filter down to view CSAT patterns by type of care received, uncovering the insight that patients that have highly invasive procedures need faster follow-up after discharge.
The flexibility to create customized views based on your unique dataset and business requirements helps you get to the insights you need and make important decisions using the right context.
Automate workflows to deliver the right experiences, at the right time
Of course, it's a missed opportunity if you have insightful analysis but don't take any action. XM program owners need the ability to streamline outreach and proactively close the loop with customers – while managing operational effort and costs.
XiD works with Qualtrics xFlow, our workflow automation engine, to help customers streamline tasks and workflows, remove manual processes and power action at the right moment, and in real-time.
There are three new XiD-driven workflows that help organizations quickly and efficiently act based on changes in customer experiences and touchpoints:
Automatically trigger workflows when a customer's profile information changes. For example, if a bank customer moves to a new city and their address changes, you can automatically send an email welcoming them to visit their nearest branch location.
Automatically trigger workflows when a customer's segment membership changes. For example, if a customer suddenly falls out of the Loyal Customer segment and into the At-Risk customer segment, you can automatically trigger a marketing campaign outreach to the customer to try to win them back.
Automatically trigger workflows based on a customer's transaction patterns. For example, if you are a retailer and a customer reaches a certain number of visits in the past month, you can automatically trigger an outreach to the customer to invite them to join your frequent shopper program.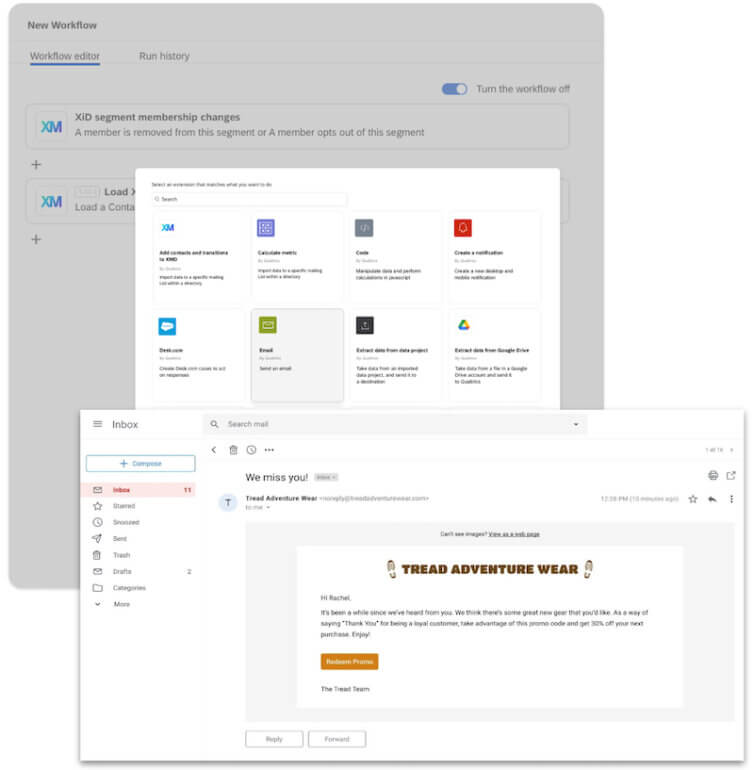 The ability to automate these types of actions helps organizations deliver more personalized and targeted experiences at scale – with minimal or no operational overhead.
There's more to come
The latest Experience iD innovations empower you to better understand and connect the dots across your customer data, uncover the insights you need to make decisions, and take quick and targeted action.
There's more coming up on the horizon, and we look forward to sharing news about additional capabilities in the coming months!