Brand Experience
How your brand can build & keep trust amid COVID-19
The COVID-19 pandemic is creating a new reality for brands and everyone is feeling the impact.
In mid-March, as the crisis began spreading in the U.S., just over 70% of U.S. consumers indicated that coronavirus was impacting their day-to-day lives. Fast-forward one week later and that number jumped to nearly 9 in 10 US consumers who said they were feeling the daily impact of COVID-19.
At this time of intense uncertainty, the key attributes that underpin trust in a brand are different than even a month ago. To better understand the impact this crisis is having on consumers' trust in brands, Qualtrics identified more than one thousand U.S. consumers (n=1,001) to test what actions can be taken to build and keep trust among customers and employees. Here's what we found.
What makes a brand trustworthy?
Building loyalty in a time of crisis can make or break a brand. Organizations are turning on a dime to improvise and make difficult decisions that will ultimately have lasting effects on their brands. When asked what factors make consumers trust brands more, the top three responses focused on the well-being of customers, the well-being of employees, and not taking advantage of the crisis to maximize profits.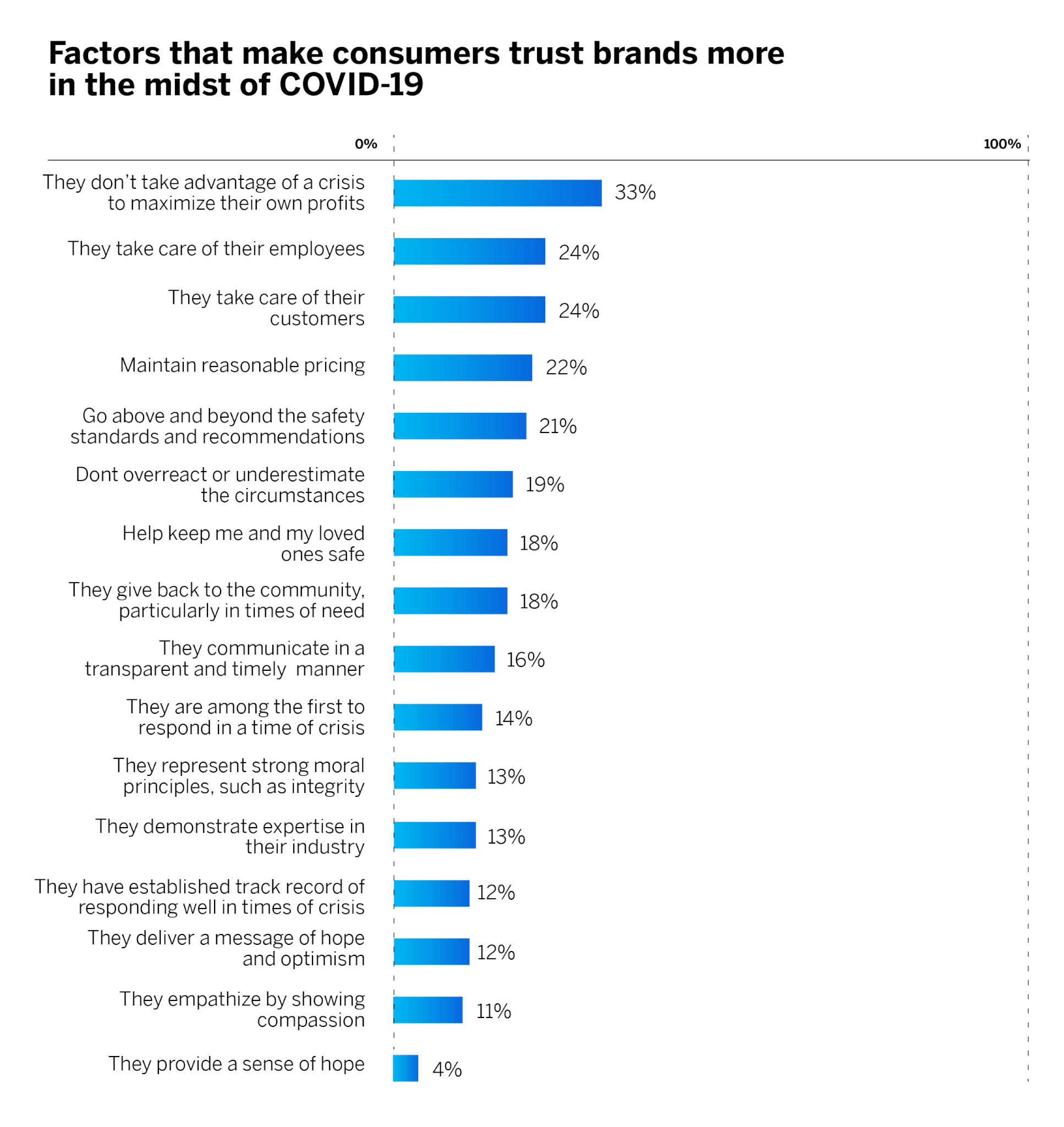 What consumers find less impactful are messages of hope, optimism, nostalgia or even statements about strong moral principles. The pragmatic US consumer wants brands to demonstrate leadership and action by taking care of customers and employees. Brands that fail to take these actions put their reputations and trustworthiness at risk. 
Taking Care of Employees
Organizations showing up for their employees is one of the top reasons consumers trust any given brand. Data shows that during uncertainty, workers are looking to employers and managers to lead even more than they are looking to governments and other organizations.
Consumers are watching. Fifty-four percent of them say they are concerned with how employers are treating their employees in this time of crisis. Better treatment fuels brand trust, with 48% indicating they trust brands more when they take care of their employees.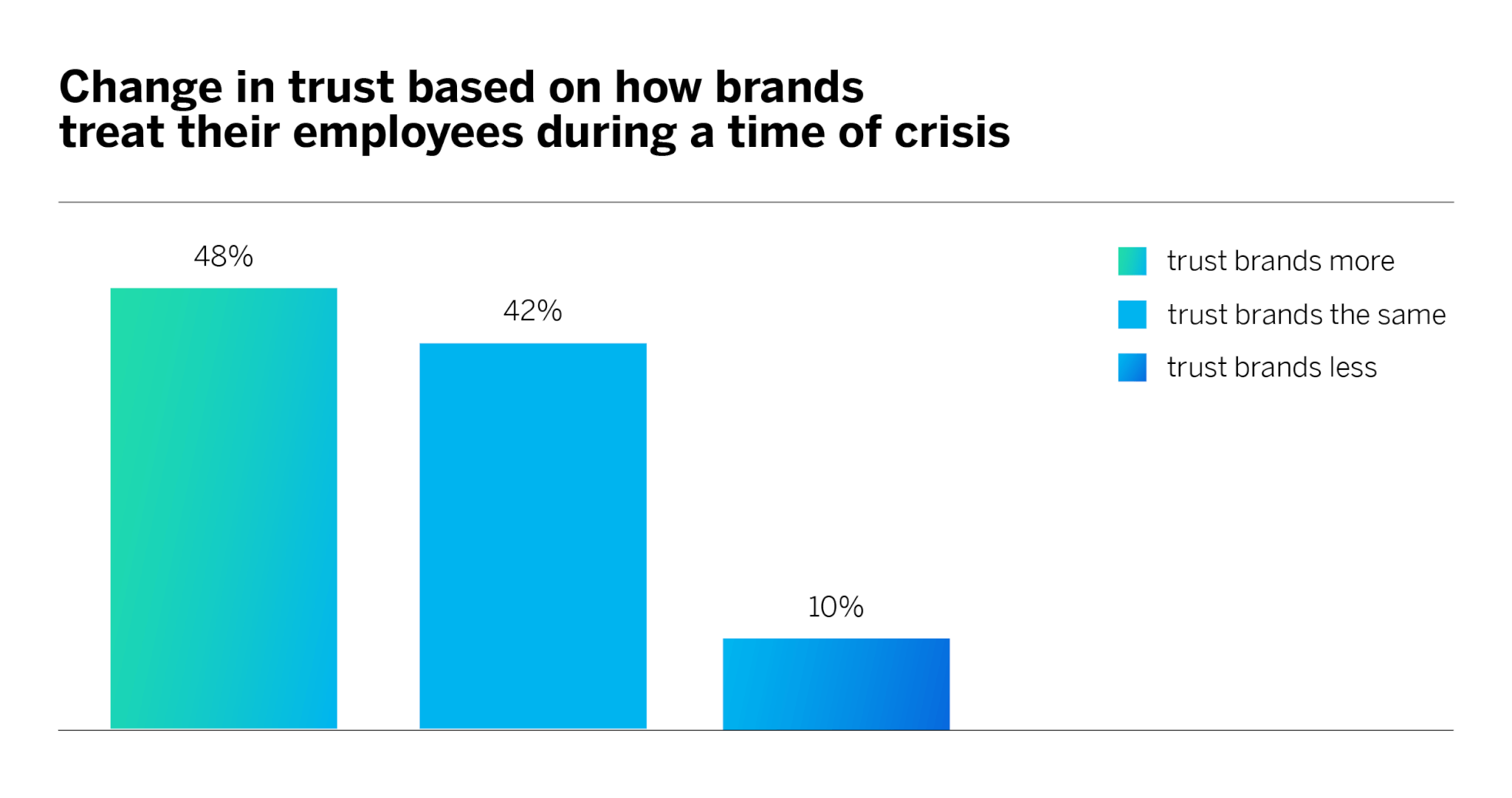 Clear and frequent communications from the company will increase brand loyalty among employees. But not all companies are doing it. Only about half of employees say they are satisfied with their employers' COVID-19 actions, and less than 60% believe their employers are communicating well during this crisis. Among those who are satisfied with their employers' COVID-19 actions, 90% believe their employers are communicating well, resulting in significantly higher levels of trust.
But too many employers are letting their employees down. Employers who are communicating poorly during this crisis are experiencing significant distrust with 63% indicating they trust their employer less.
Taking care of consumers
As people adjust to new circumstances and generally engage in more comfort-seeking behaviors, 65% of consumers indicated that during this crisis a brands' actions have a significant or major impact on their trust in that brand.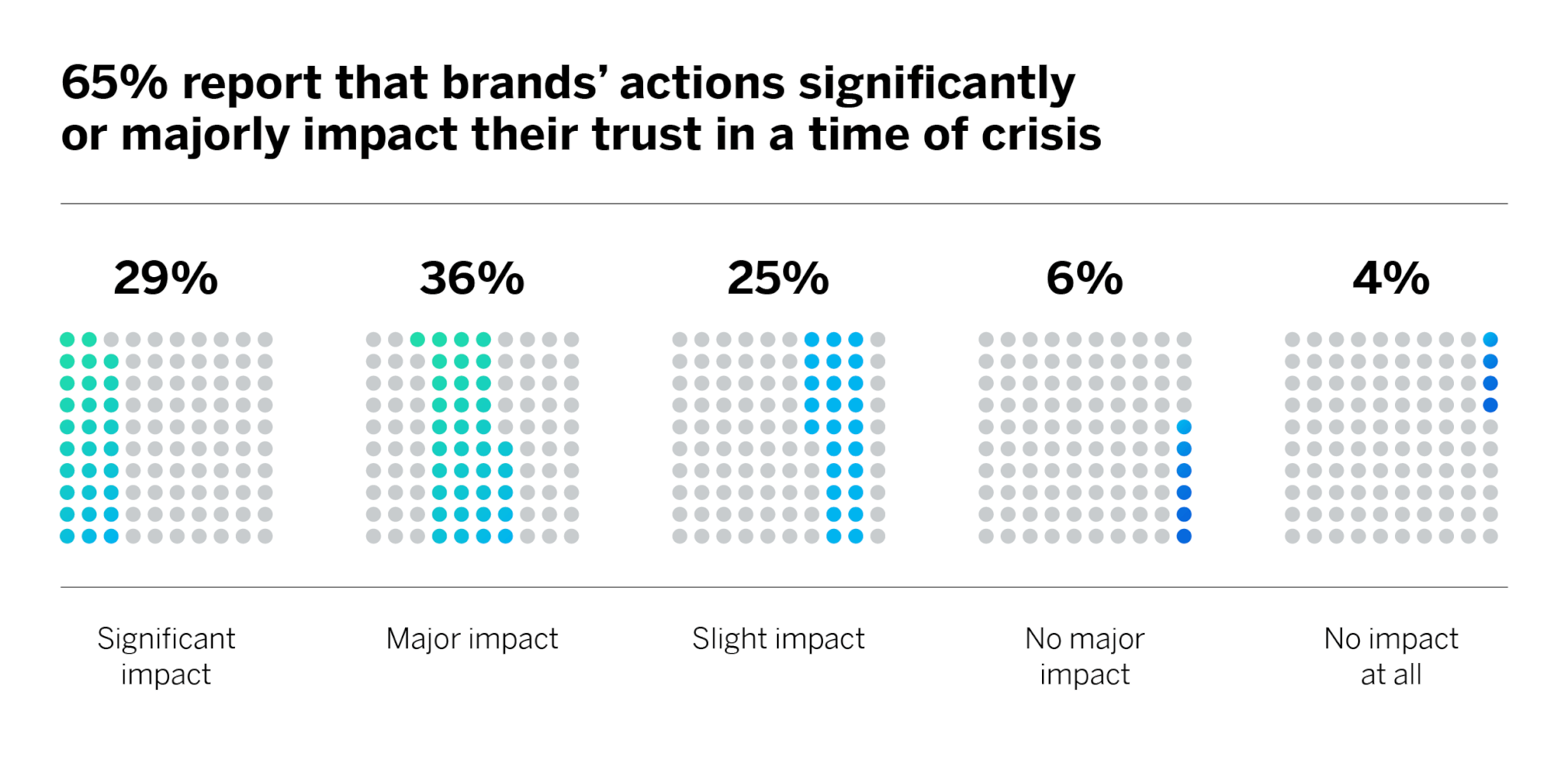 In the face of the COVID-19 crisis, brands must figure out how they can help and what actions can be taken that are consistent with their values and abilities. Brands have an opportunity to strengthen the bonds of trust with consumers by using data to help determine which actions will have the greatest impact on their employees, customers, and communities.
To help in those efforts, Qualtrics is offering a number of free solutions that help organizations stay connected during this global pandemic. The COVID-19 Brand Trust Pulse, which allows organizations to assess consumers' trust in their brand, and identify the actions needed to maintain that trust during this crisis. The Remote + On-site Work Pulse helps managers keep their employees connected, enabled, and feeling safe. More free solutions can be found at www.qualtrics.com/here-to-help.
Complimentary Brand Trust Pulse from Qualtrics