Market Research
Why use enterprise survey software for global surveys?
When you need to collect insights on a global scale, enterprise survey software can help you create, distribute and analyze results like never before. Find out what sets enterprise surveys apart and what to look like in a software solution.
What is an enterprise level survey?
When your company is engaged in research across multiple departments or teams, you need survey software that's more powerful than your average free survey platform.
That's where enterprise surveys come in — they're designed to handle large sample sizes, be shared across large and complex organizational structures, and come with powerful analytics capabilities to help you drive action.
Increasingly, organizations are standardizing their enterprise surveys on to a single platform to give them better control of how data is collected, analyzed, and stored across the company.
What sets enterprise surveys apart from standard surveys?
Some major advantages of enterprise surveys are:
More power and support for everyone
The right survey solution will make creating a survey a breeze. Having an easy to search database of best-practice surveys, along with an easy drag-and-drop builder system, make surveys simple and straightforward to use at every level.
It means anyone in the organization – marketing, HR, R&D, client relations, and senior management – can all launch research with best-in-class surveys thanks to expert-designed templates for everything from customer satisfaction to product research.
A focus on global audiences
Enterprise surveys often cater for a global audience, so you need to have a platform that's designed to cater for:
Accessibility options across devices, like your mobile, laptop or tablet
Legal concerns around data privacy and data protection including GDPR in Europe
Language support with built-in translations to hep make global research easier
Stronger security and governance
Data security is a key concern for any business, but when your communications span different locations and offices across the world, you especially need a system that can keep up.
Enterprise level survey software should have more robust security controls – for example at Qualtrics we comply with =ISO 27001, FEDRAMP, HITRUST, SOC2 and many more.
Similarly, built-in role-based security and brand admin controls give research leaders the ability to manage what data is collected, and how, across the organization. In any good enterprise survey software you should expect to have centralized control of user access, permissions, administrative controls and storage of sensitive data.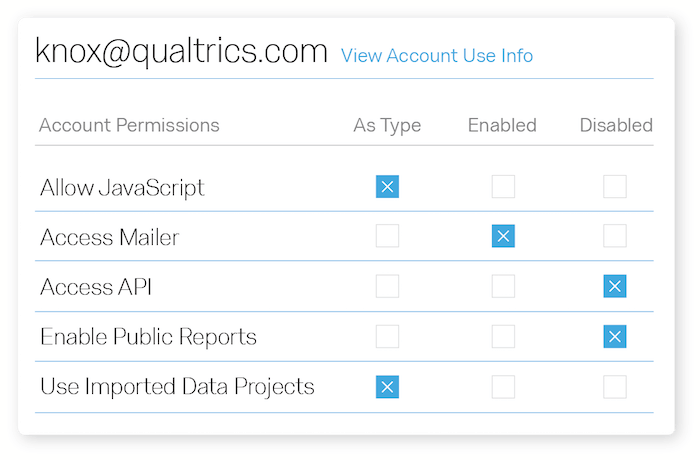 Enterprise level analytics
Collecting large amounts of data from respondents in real-time and simultaneously analyzing the results can be a challenge for standard surveys. Enterprise-grade survey research needs enterprise-grade analysis.
The best analysis tools include text, voice, stats and prediction analytics to help you get deep insights from any data set. With the help of artificial intelligence and machine learning, people within your organization are able to access rich insights, interactive reports and recommended action without needing a stats degree. Having powerful analytics tools built into your survey software, you can ensure everyone in the organization has the most powerful research tools at their fingertips to take the right actions.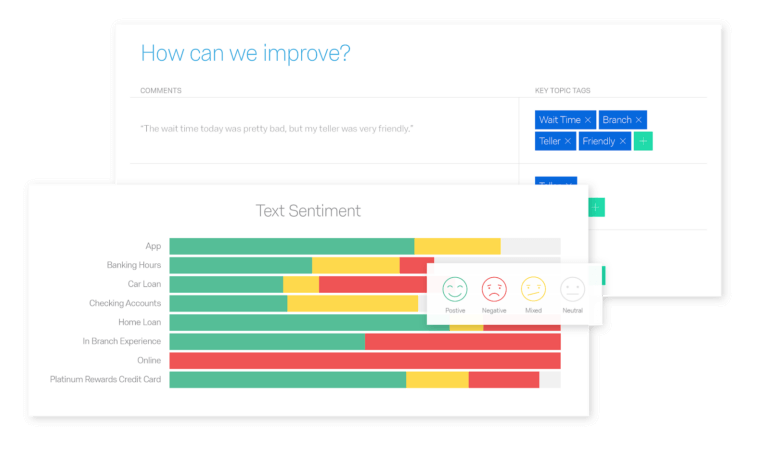 Build a world-class research team in-house with our ultimate guide 
Break down silos with integrations into your existing systems
Enterprise companies get the best from bringing their tech stack together to work in harmony. For example, you might have customer data in one (or more!) system, market research data in another, and then various different survey providers used across the organization.
This leads to data silos and can potentially limit the effectiveness of your research.
Instead, enterprise survey software that integrates with your existing tech stack helps break down those silos by sharing information with all the systems your people currently use. For example, based on a survey response in Qualtrics you can then automatically update records in your CRM, marketing automation platform, ticketing tools, or any other system.
It means your research is truly integrated, so when you discover new insights, you can share them immediately in the tools and processes your teams are already using.
Start creating surveys with Qualtrics