XM for Customer Frontlines

Digital

Root out friction in every digital experience, super-charge conversion rates, and optimize digital self-service

Care

Uncover insights from any interaction, deliver AI-powered agent coaching, and reduce cost to serve

Locations

Increase revenue and loyalty with real-time insights and recommendations delivered straight to teams on the ground

XM for People Teams

Engage

Know exactly how your people feel and empower managers to improve employee engagement, productivity, and retention

Lifecycle

Take action in the moments that matter most along the employee journey and drive bottom line growth

Analytics

Whatever they're are saying, wherever they're saying it, know exactly what's going on with your people

XM for Strategy & Research

Research

Get faster, richer insights with qual and quant tools that make powerful market research available to everyone

User Experience

Run concept tests, pricing studies, prototyping + more with fast, powerful studies designed by UX research experts

Brand

Track your brand performance 24/7 and act quickly to respond to opportunities and challenges in your market

XM Platform

Explore the platform powering Experience Management

Teams

For Digital

For Customer Care

For Human Resources

For Researchers

All Teams

Industries

Healthcare

Education

Financial Services

Government

All Industries

Customer Experience

Employee Experience

Employee Exit Interviews

Net Promoter Score

Voice of Customer

Customer Success Hub

Product Documentation

Training & Certification

Community

XM Institute

About Us

Careers

Partnerships

Marketplace

X4 Summit

The annual gathering of the experience leaders at the world's iconic brands building breakthrough business results, live in Salt Lake City.
Experience Management
Boost productivity with the new Google Workspace Integration
The Qualtrics and Google Workspace integration enable customers to automatically send calendar invites, import data and easily run the analysis with a seamless connection between Qualtrics and Google Calendar, Google Sheets, and Google Drive.
Used by more than 2.6 billion people a month, Google Workspace (previously G Suite) is one of the most widely used productivity platforms in the world.
According to Bloomberg, use of Google's productivity apps shot up by 30% between March 2020 and October 2020. In response, they are adding more features and merging their offerings to, says Javier Soltero, Google Workspace's vice president, "blend experiences", and meet the needs of today's increasingly digital workplace.
Across the globe, brands, businesses and many of our own employees rely on Google Workspace's apps — from Google Calendar and Google Sheets to Google Docs and Google Drive — to plan, analyze, create and share business insights across the organization.
With tools being combined across the Google Workspace, users now have a flexible and innovative cloud-based solution for enterprise-wide collaboration.
But what if you could go a step further? What if you could, directly from Google Workspace, automate follow-up emails to stakeholders? What if you could create simple workflows and transport survey data directly into Google Sheets? And what if you could do all of this, and more, without the help of IT?
With our Google Workplace integration, you can.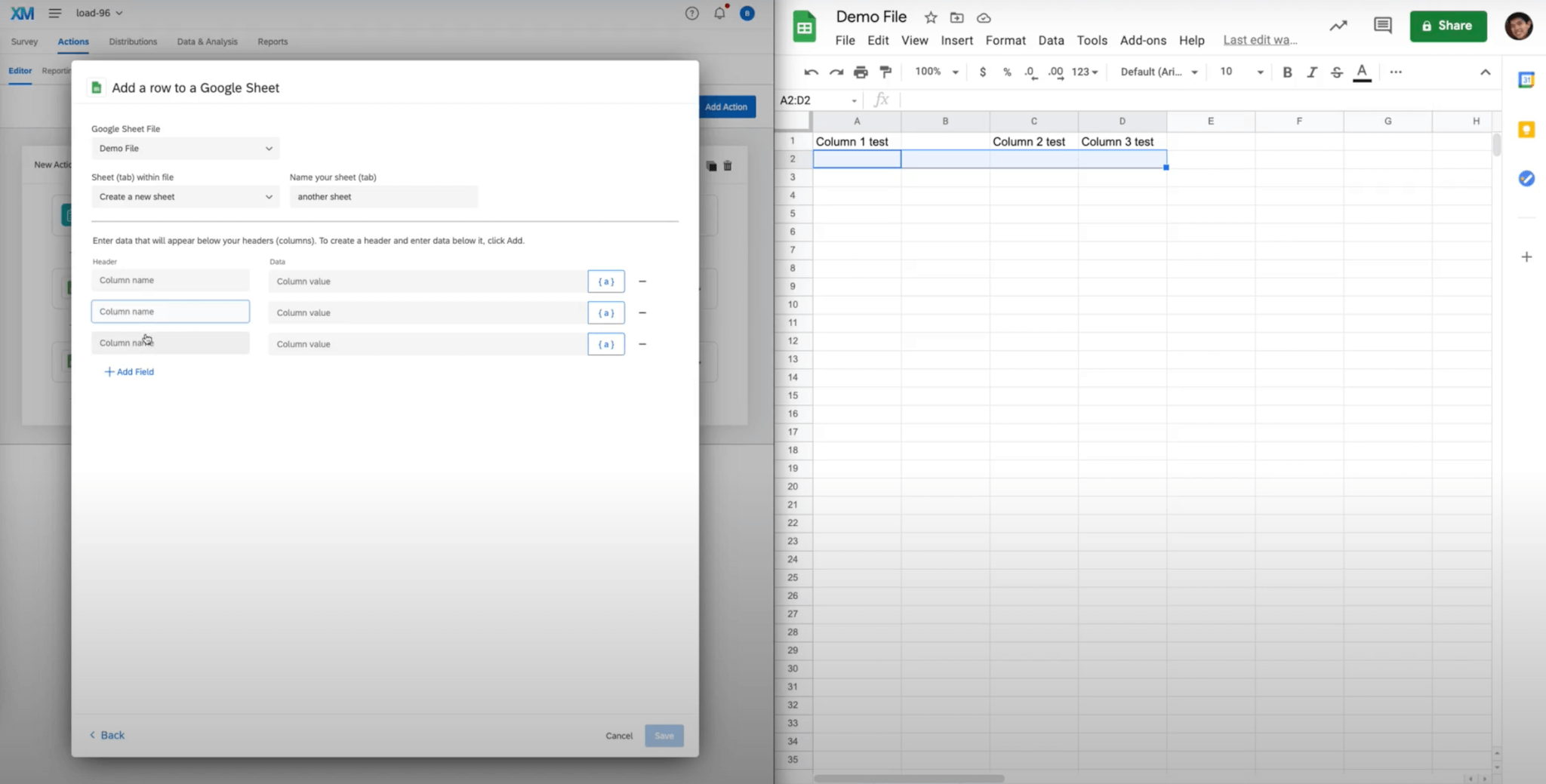 But first, what is Google Workspace?
On October 6, 2020, Google introduced a new brand, product experience, and set of offerings to "better equip" customers for the future of work.
As part of these changes, they've renamed G Suite to Google Workplace, rolled out new subscription options, and features to better fit your needs.
These new subscription editions are:
Business family: A cost-effective solution for smaller businesses. Includes best-in-class collaboration and productivity tools, security and administrative controls
Enterprise family: For larger businesses. Includes enterprise-grade administrative controls, additional productivity features, the most advanced security and compliance capabilities, and more.
How to connect your Google Workspace account with Qualtrics
Setting up your Google Workspace integration within Qualtrics is simple.
From within Qualtrics, each Google Workspace application (Calendar, Sheets, and Drive) can be connected with just a few steps.
For example, if you wanted to use Google Sheets (providing you're a Brand Administrator), you can just follow the steps below from your Qualtrics platform:
Using the navigation menu in the top left, go to Admin
Go to Extensions
Click on Google Sheets
Click Add Account
Give the account a name. This is used for organizational purposes and to identify the account
Click Connect Account
After enabling the integration, you will follow a guided setup with a Single Sign-on (SSO) option to connect their Google Account to Qualtrics.
For more information on how to set up your calendar and drive, you can visit our support pages.
How does it work?
Once you've connected your Google account to Qualtrics, you'll have access to integrations with Google Calendar, Google Sheets, and Google Drive. Below are some examples of how you might use our integration to increase productivity:
Google Calendar
How does it work? The Google Calendar integration takes date responses (in the form of YYYY-MM-DD) from a survey to send invites to the survey taker and add to a target calendar(s).
How can I use it? Google Calendar integration turns your survey into a scheduling wizard that allows you to schedule appointments and block time preemptively based on specific feedback received.
Google Sheets
How does it work? The Google Sheets integration enables users to create rows of survey results within Sheets in real-time as the data comes in.
How can I use it? Active Google Sheets users can automatically load, manipulate and analyze data directly in Google Sheets. For users that are most familiar with using Google Sheets to analyze survey data, this integration makes it simple to transport your survey responses into Google Sheets in near real-time.
(P.S. If you're looking for best-practice tips on analyzing your survey data, we've got you covered).
Google Drive
How does it work? The Google Drive integration is a data import extension to Google Drive, including enterprise-grade data encryption and authentication through PGP encryption for easier import of external data.
How can I use it? Account managers can import data, like contact details, without needing support from an IT admin. This imported data can then be loaded directly into the XM Directory and/or CX directory. This integration supports CSV, TSV, semicolon-delimited file type, pipe-delimited file type, Google Sheets, XLSX, and XLS formats.
It's time to supercharge your productivity
The Google Workspace and Qualtrics integration will take your activities to the next level, allowing you to get more out of an already amazing suite of cloud-based collaboration tools.
In the future, we expect to roll out new features and functionality such as advanced Google Sheets capabilities like lookups to extend the capability of Google Workspace.
But that's not all. At Qualtrics, we offer an array of out-of-the-box extensions with popular cloud-based platforms such as Salesforce, Marketo, Slack, HubSpot, WhatsApp, and more.
You can even leverage our API to automate tedious processes and pass data back and forth between Qualtrics and your external systems, giving you a simple yet effective way to improve experiences across the board.
Want to learn more about the Google Workplace integration and view detailed set-up instructions? click here.
Related Articles