Experience Management
Introducing new DesignXM innovations to drive Experience Design across your organization
Launch breakthrough products and services leveraging the best-in-class market research platform — DesignXM. Find out more about the new tools and capabilities that we've added to help you create incredible experiences on the platform.
As prospects, customers, and employees have more choices than ever before, many organizations are positioning experiences as a brand differentiator in an over-saturated marketplace.
Because of this, many companies are transforming how they operate and engage, rethinking and redesigning the experiences that they provide. Only those that get them right will thrive in this new environment.
Some are already ahead of the curve in what's coming to be known as the "experience economy", such as:
Uber: Uber used data to uncover an opportunity to deliver goods & services, including meals, prescriptions, groceries, and more, directly to customers' doorsteps.
Pinterest: Pinterest leveraged feedback and research to understand their audience's needs and introduce new features to more than 100 million "Pinners".
Airbnb: Airbnb used insights to bring unique travel experiences like cooking classes, escape rooms, and local trivia to the comfort of its customers' homes.
Designing new experiences is imperative for organizations to survive and thrive. The stakes are high — in fact, 95% of new product launches fail. Those are terrible odds, especially considering the sunk product development costs. However, with research and insights, organizations can increase those odds and best position themselves for success.
And that's exactly why we introduced DesignXM — to help you gather the key data and insights needed to inform business decisions that will lead to the best experiences.
We've been hard at work adding new functionalities to DesignXM to make it more powerful than ever, from amping up our integrations to implementing completely new capabilities to capture and evaluate data.
New XM Solutions™:
XM Solutions are pre-built, expert-designed solutions for the most common market research and product design use cases.
XM Solutions help you find valuable insights in just a few clicks. Each solution includes a guided workflow, pre-configured survey, and a report or dashboard to help you get insights quicker.
We're excited to announce a few new XM Solutions that will help you capture product and market insights at crucial points of experience design, leading to a faster time to market.
Idea Screening
Idea Screening helps validate your product ideas quickly and easily by screening for the best candidates. With Idea Screening, you get a prioritized list of ideas from best to worst, as well as additional data, including initial reactions, idea uniqueness, and more. With all of these insights, you can confidently pursue the ideas that will resonate with your target audience.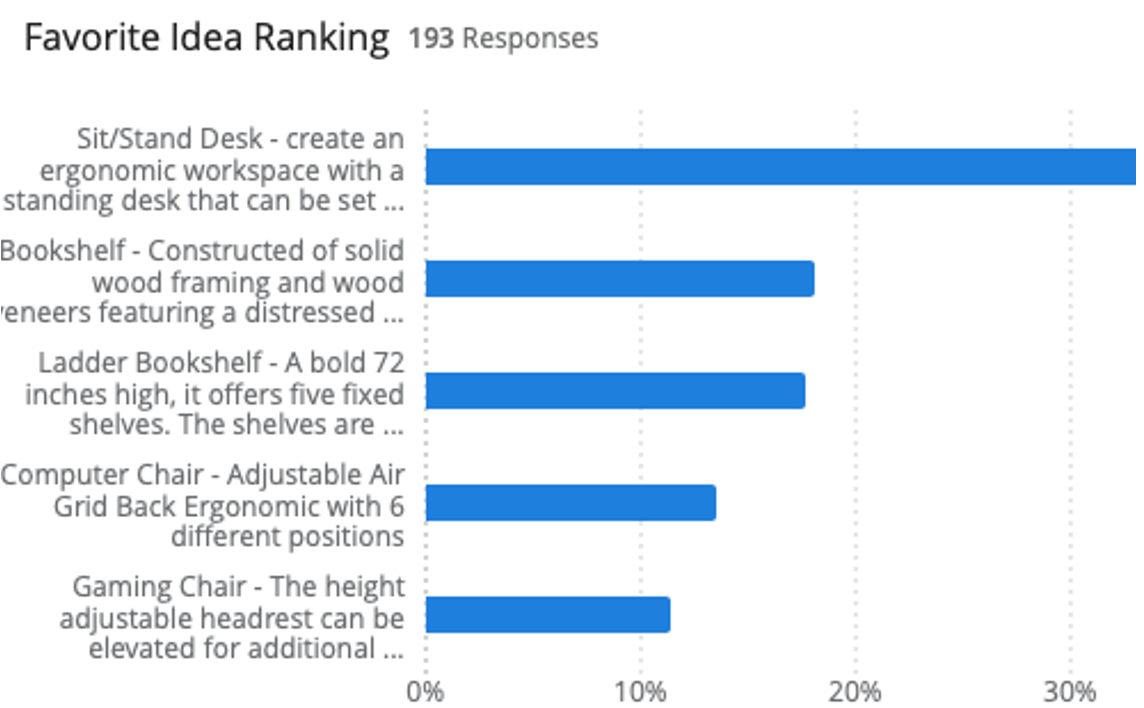 Concept Testing Program
The Concept Testing Program is new and improved, making it easier than ever to understand which concepts are the most likely to become your next breakthrough products. With this XM solution, you can dive deep into which concepts resonate, understand the 'why' behind that rating, and uncover any additional trends. You can also build your own concept testing benchmarks to predict how the market will respond to your new product or service — it's an incredible way to stack the deck in your favor.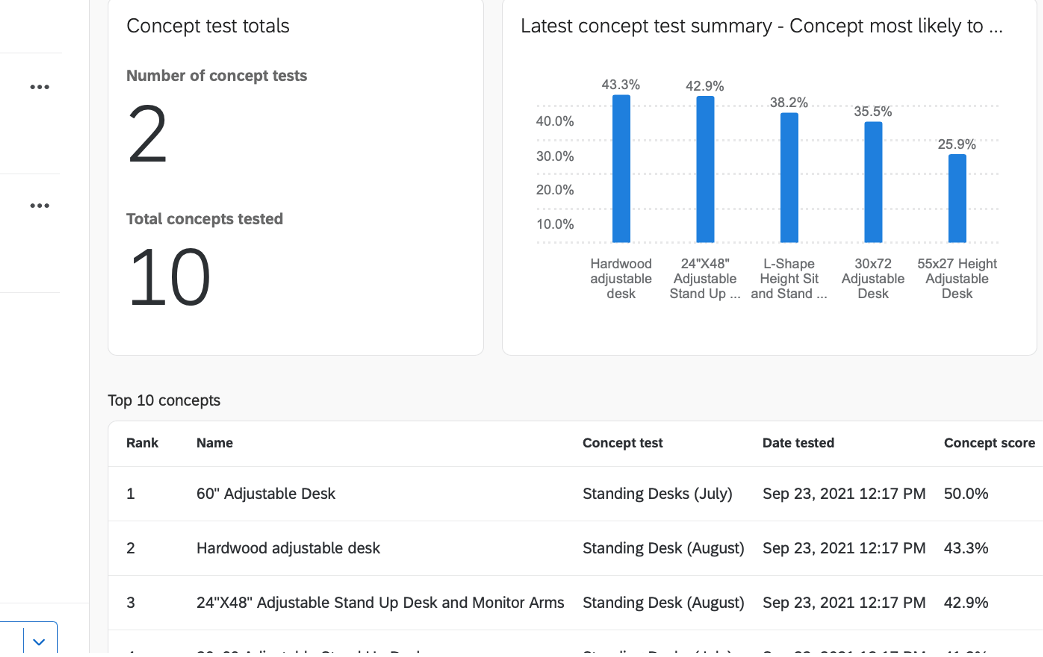 Conjoint Dynamic Images
Conjoint is a powerful methodology to understand what tradeoffs customers are willing to make based on product attributes like size, color, or power. Conjoint Dynamic Images is a new solution that uses images in lieu of text, enabling you to obtain the same insights from customers with less survey fatigue. The end result? Confidence in the packaging and design options you bring to market. If a picture is worth a thousand words, Conjoint Dynamic Images can speak volumes.
XM Solution Service Packages
Our XM Solutions enable users to run complex market research studies through pre-configured surveys and reports created in just a few clicks.
But we know that some organizations would prefer to learn how to build best-in-class market research studies with the aid of an expert.
That's why we've launched our XM Solution Service Packages, pre-scoped consulting services specially designed to offer the best of research automation with a hands-on approach. With these packages, DesignXM users can tap into Qualtrics' research experts for help configuring and launching XM Solutions, sourcing panel samples, scrubbing data of poor-quality feedback, and reviewing and interpreting their results.
New in Stats iQ™:
Stats iQ helps you uncover meaningful insights in data, identify hidden trends, and produce impactful results quickly. And now we've made it more powerful than ever.
R Integration
R integration is one of the most exciting enhancements to Stats iQ in the past few years and radically changes the paradigm for our advanced stats users. With R Integration, you can run virtually any type of statistical analysis directly within Qualtrics — including factor analysis, cluster analysis, TURF analysis, and more. Simply bring your own R scripts to the platform and get insights in just a few clicks. You won't need to export your experience data to another tool or platform to get deep, rich insights on customer behavior.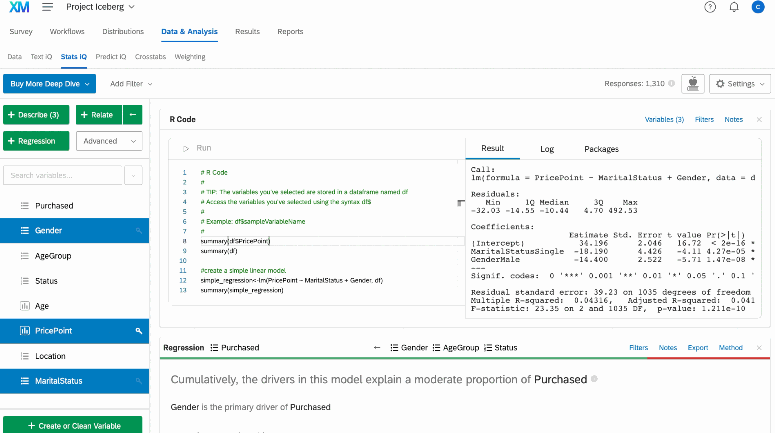 These innovations will help you uncover the insights you need to take your experience design work to the next level.
If you're ready to rethink and redesign your experiences at every touchpoint to attract, engage, convert, and delight prospects, customers,  and employees — our solutions can empower you to make it happen.
See them in action, request a demo.