Product Experience
Operationalizing agile at Deluxe Corp
Too often product teams equate agility with speed. They forget that agility also requires situational intelligence and adaptability. As a result, methodologies and cultures built around DevOps and 'speed' tend to move organizations in one direction quickly but not necessarily the right direction. It's like having a dragster for a curvy road, all that horsepower but almost no ability to turn.
Many of us (especially those reading this Qualtrics blog!) have realized that customer experience analytics and direct customer feedback are the hallmarks of building effective situational intelligence. This input allows teams of product, technical, operations, and business leaders to make sound decisions together, turning that dragster into a high-performance sports car that can handle those curves customers throw at us.
CX teams have come a long way in helping digital product teams incorporate customer research and voice of customer data into problem resolution, product planning, and design scenarios. Both site intercept surveys and always-on feedback tabs have become mainstay features of websites. Many CX teams have even begun to incorporate session replay data to contextualize their direct customer feedback.
But what has been missing is an easy way to build a business case for prioritizing projects that both business and technical teams can agree upon. This is why more than 125 of the world's largest ecommerce sites operated by forward-thinking teams have begun to incorporate continuous product design, a methodology to build better digital products faster and with more confidence.
Starting from scratch
Kristi Olson, Digital Customer Experience/VOC Manager for Deluxe Corporation, a leader in providing financial services to small businesses, has been at the forefront of this CX-driven revolution. Before Kristi arrived, Deluxe had multiple brands and online sites that had neither a consistent experience nor standardized monitoring that could help them reach that goal.  She has spent the past 12 years building the digital CX capabilities throughout Deluxe's properties and has implemented bi-directional integrations among Adobe Experience Platform, Qualtrics, and Quantum Metric to ensure CX teams provide customer insights impactful to each business unit.
Watch Kristi explain her CX program in-depth in her upcoming webinar
Kristi started her journey by realizing that e-commerce teams, which were new at Deluxe didn't have the appropriate tools or culture to measure customer engagement, satisfaction, or dissatisfaction with the various sites. She realized that she needed to educate both business and product leaders about the benefits of customer-centric design and development. She then introduced session replay and VoC tools to infuse direct customer feedback into the culture.
She started slowly by adding feedback mechanisms (a feedback button and intercept survey) to Deluxe websites. Kristi reported VoC data directly to product teams who could then decide how best to resolve lower satisfaction scores or specific requests entered through open-ended questions. She then took this process a step further by adding a session replay link to all VOC feedback/intercept submissions, making deep dive easy for product teams while facilitating CX thinking/adoption. These customer behavioral insights helped to dramatically reduce the time to resolve customer pain points - giving Kristi even more momentum in reshaping the culture as customer-centric.
Evolving from CX to continuous product design
However, sifting through session replays took a lot of time, making it difficult to quantify particular pain points identified in surveys. Kristi had only one other person on her CX team, and additional headcount wasn't coming anytime soon, so she knew that empowering stakeholders with a combination of training and consulting while building a user-friendly program was the key to success and program value.
Plus, she wanted to expand the CX program to add journey deep dive surveys for additional learning while engaging customers in real-time. She wanted to evolve from find-and-fix patterns to diagnosing deep systemic issues impacting various sites and the customers' experiences.  If she was to offer site-intercept surveys, for instance, she would need ways to trigger them in intelligent ways without impacting experience. Kristi goes into considerably more detail in an interview on Quantum Metric's blog.
Today's CX tech stack includes Adobe Analytics, Qualtrics and Quantum Metric, but it's the bi-directional integration among the tools that takes her program to the next level - prioritizing feedback by quantifying impact of your most important segments.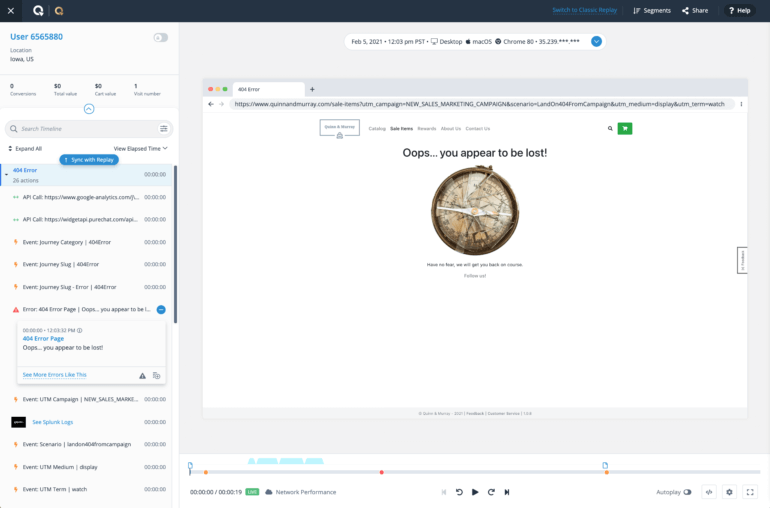 According to Kristi, "A lot of times it starts with the customer expressing a need or sentiment. Then you need to put that feedback in the right context to fully understand the impact. It doesn't necessarily mean a lot of people are having an issue or it's persistent or ongoing, or that we're losing a lot of dollars from it.
Now with the Quantum Metric and Qualtrics integration, every one of my feedback buttons and intercept surveys has a session replay link to understand the user's perspective and then we also get that context in Quantum Metric in terms of quantifying business impact.
That visibility from the session replay though is the key starting point of adoption for all stakeholders within your organization. When she starts a conversation about the program with a stakeholder, she calls that cohesive view a "VOC closed-loop replay," which is the first step in building a robust program for new implementations. Even pushing adoption across so many different parts of the organization, people can immediately connect by viewing the session replay. And it's really hands on. It's quick, direct, powerful."
During the pandemic, many additional Deluxe business units began to ask for Kristi's assistance to stand up CX methodologies to understand pain points and business opportunities of digital products. Deluxe has transformed from "the check company" into a partner that can deepen customer relationships through trusted, technology-enabled solutions – with the talent and skill of each and every one of our employees, and the portfolio of strategic acquisitions that make up Deluxe today. She's finding that her CX tech stack works equally as well for digital products as it has for the ecom sites it's been serving for the prior 11 years.
The next step is to use the CX stack to support new digital innovations being planned for the short-term as well as longer-term horizons. Kristi is now working with Product Managers across the organization to efficiently implement the stack in early dev phases then execute on a Continuous Product Design method capturing ongoing insights from beta users via Qualtrics and Quantum Metric. Imagine the number of curves to navigate on that road!
On February 23, 2021, Kristi is going to dive deep on her CX program and how she leverages her CX stack across Deluxe. It's a great opportunity to learn pragmatic lessons about rolling out, managing, and evolving a CX program. Please register here for this webinar
Watch Kristi explain her CX program in-depth in her upcoming webinar