Experience Management
10 Places to Eat & Drink in Downtown SLC
Downtown Salt Lake City is a city of juxtapositions. It's a modern downtown city with skyscrapers and recently renovated industrial buildings, but it's nestled up against the rugged backdrop of the Wasatch Front. Working professionals and startup CEOs sit and work in the same coffee shops and breweries as students and artists. On Main Street you'll find a row of cocktail bars and taprooms, which naturally dead ends into Temple Square. And just a few blocks from the LDS Church headquarters you have the Utah State Capitol building. These contradictions make Downtown Salt Lake City one of the most interesting cities to explore.
There is nothing I enjoy more than showing out-of-town friends around and shattering their misconceptions about this beautiful city. And today, Qualtrics and I have partnered to give you a quick guide to the best eats and drinks in Downtown SLC. I co-run a food blog with my partner called Salt Plate City where we cover the best restaurants, bars, festivals, and events in SLC, and I'm so excited to be sharing 5 restaurants and 5 bars in Downtown SLC with you that are worth adding to your itinerary. Cheers!
Best Places to Eat in Downtown Salt Lake City
Oquirrh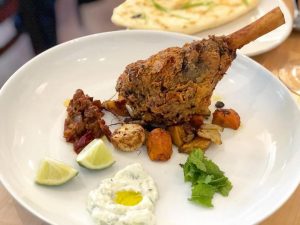 Oquirrh is one of SLC's newest restaurants, and it's already making a name for itself with a meticulously designed menu in an intimate and lively space. From top to bottom, this chef-driven New American menu is all hits, with highlights including the curry fried lamb shank and house made spaghetti with butter poached lobster.
Pretty Bird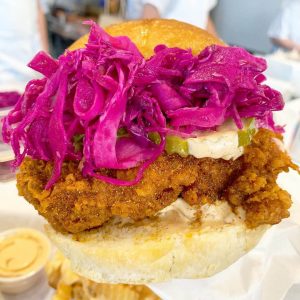 Some restaurants thrive on variety. Pretty Bird thrives on doing one thing and doing that thing extremely well. Created by Iron Chef champion Viet Pham, Pretty Bird is the best Nashville hot chicken spot this side of Memphis. Located in the newly renovated Regent Street area of Downtown SLC, Pretty Bird will surely warm you up even on the coldest winter night.
Bambara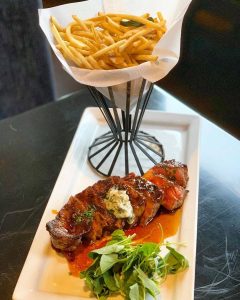 Located inside the Hotel Monaco, Bambara is far from what you'd expect from a hotel restaurant. Hotel restaurants usually feel like a last resort when you are starving but can't find another spot fast enough. But you aren't settling with Bambara. Bambara is a destination. And when you start with a pork cheek and belly or fried calamari appetizer, and finish with seared elk loin, Maine scallops, or Alaskan halibut, you'll see why.
Chile-Tepin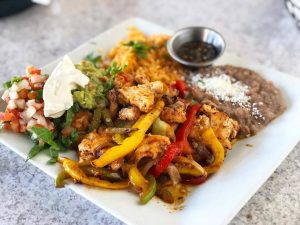 If SLC does one cuisine better than any other, it has to be Mexican food. And in order to stand out as a Mexican restaurant here, you have to do it better than anyone else. Located in the historic Crane Building, Chile-Tepin hits you with more molcajetes, tacos, moles, and (most importantly) margaritas than you'll know what to do with. You might find yourself coming here a few days in a row with every meal being better than the last.
The Copper Onion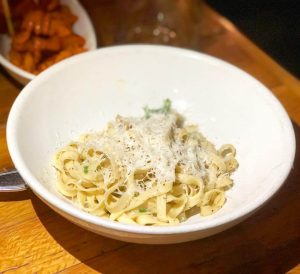 The Copper Onion is the quintessential SLC restaurant, and maybe it comes back to juxtapositions. It's fine dining without pretension. It's excellent service without a stuffy dress code. When I dream, I dream of their wagyu beef stroganoff, the pasta carbonara, and the pork shank over creamy polenta. Strangely enough, you'll also find one of the absolute best burgers in the city in the Copper Onion Burger.
For more, see our list of the Best Downtown SLC Restaurants
Best Bars in Downtown Salt Lake City
White Horse Spirits & Kitchen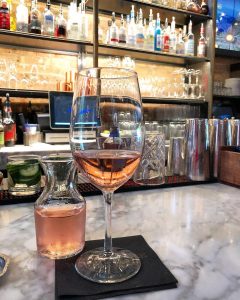 When you have a hard time deciding whether to put a spot in the Best Bars or Best Restaurants list, you know you have a good one. White Horse is a modern bar with a classic feel, and that translates to it's menu where you'll find a wide range of wine, rare spirits, and unique cocktails. Be sure to stop in for lunch, brunch, and/or dinner as well where everything from the patty melt and oyster po'boy to the braised short rib and Snake River steak lyonnaise are elevated so far beyond what you'd expect from "bar food."
Alibi Bar & Place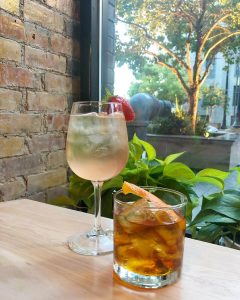 Alibi is the bar of my dreams. Exposed brick, big windows, and overgrown hanging plants all add to Alibi's chic but welcoming atmosphere. It's my preferred downtown destination for an after work Negroni, late night dance parties with a live DJ, and welcoming casual conversation with regulars and out-of-towners alike.
Quarters Arcade Bar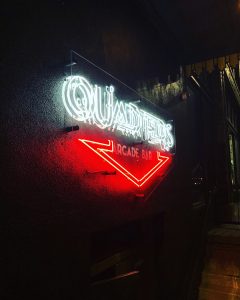 Cabinet gamers and pinball wizards rejoice! Quarters is leveling up the arcade bar experience. Just down off street level are rows and rows of classic arcade cabinets, pinball machines, card games, and modern gaming consoles… oh, and a huge selection of local craft beers and unique gaming-themed cocktails.
Under Current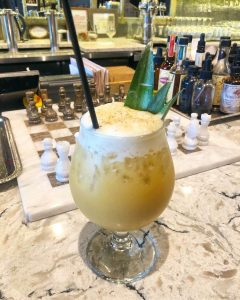 With creative house cocktails, daily oyster and ceviche selections, and a knowledgeable staff - all in a modern industrial setting, Under Current is the upscale bar that Downtown SLC deserves as an up-and-coming metropolis.
Lake Effect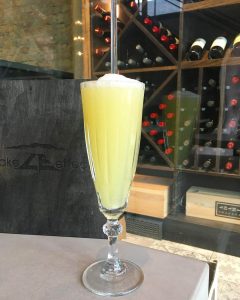 In a similar vein to Under Current, Lake Effect is that classic big city bar that Downtown SLC has earned. Located in the heart of Downtown SLC near the Salt Palace and surrounded by hotels and shopping, Lake Effect is the perfect spot for a post-convention craft cocktail.
For more, see our list of the Best Bars in Salt Lake City
Dicover Salt Lake City While Attending the X4 Experience Summit