Customer Experience
A COVID-19 vaccine without vaccinations? Here's how governments can ensure a successful roll-out
A vaccine for COVID-19 is coming, and with it a myriad of challenges for those tasked with rolling it out. From tracking uptake and managing inventory to addressing public skepticism of the COVID-19 vaccine, here's how we're helping governments to ensure a successful vaccination program.
The race to launch a COVID-19 vaccine is well underway — around the world 20 vaccines are currently undergoing clinical trials, with many showing positive signs that they could offer a way out of the current crisis.
While debate rages about exactly when the first vaccines will be available, they're widely expected to start rolling out in 2021 making it the fastest vaccine ever to be developed, approved and deployed.
Demand from governments around the world will be huge. Already, the world's wealthiest countries, including the US, UK, and Japan have ordered more than 2 billion doses, with some of those earmarked for developing countries via the World Health Organization's COVAX plan.
So for governments, it's now a case of 'when', not 'if'.
And when the time does come, there are plenty of challenges they'll need to address:
Prioritization — vaccine production takes time, and initial supplies will be limited so state and local governments will need to be able to prioritize vaccination for those most at risk
Trust — many people have indicated they do not plan on being vaccinated even when it does become available. One study of the 19 hardest hit countries in the pandemic found 3 in 10 people would refuse the vaccine, while our own research showed 40% of people in the US either don't plan on being vaccinated or are unsure of what they will do. Successful vaccination programs rely on uptake, and so state and local governments will need to work with their communities to overcome skepticism and build trust to ensure a successful roll out.
Privacy + compliance — tracking uptake means capturing residents' data, and sensitive data at that. Add to that the fact that governments will be required to report any adverse effects to the relevant health bodies and it's clear they need bullet-proof data collection and sharing infrastructure in place to keep all the right bodies informed of what's happening on the ground.
How we can help ensure a successful vaccination program
To help address these challenges, we recently launched our Vaccine Management + Citizen Experience solution. It's an end-to-end, automated workflow that communities can quickly deploy to:
help prioritize residents to receive the vaccine
schedule appointments and follow-up
provide a record of vaccination after the vaccine has been administered
continually monitor the patient experience at every step in the vaccine administration process.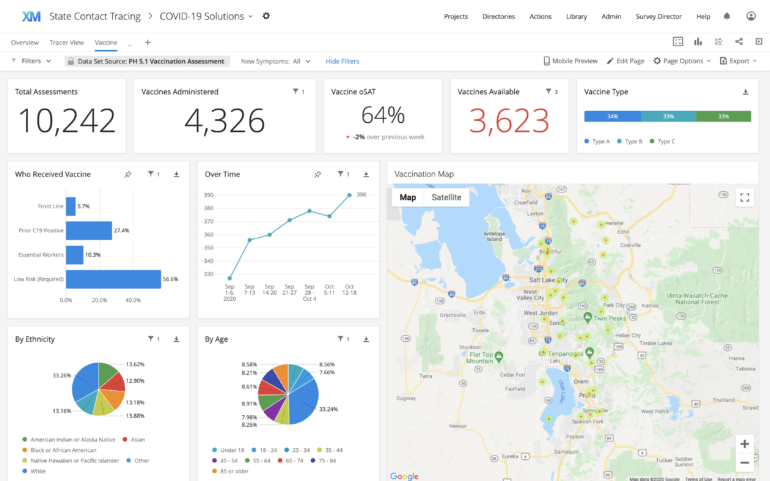 It's designed to remove barriers to entry by bringing feedback channels directly to participants in the vaccination program to help increase participation. We're working with governments around the world during COVID-19 to help them reach their citizens using text, SMS, mobile apps, and direct person-to-person communication to handle processes like testing, scheduling, and contact tracing.
But more than just disseminating information, it helps you to track key operational and experience metrics around the program. Like distribution for example, identifying areas where there's adequate penetration, and highlighting areas where new approaches like mobile vaccination units could be deployed.
Or, understanding residents' concerns around vaccination and taking action on their feedback to build trust and increase uptake. With a real-time view into how people in the community feel, and knowing the key drivers of concern, you can put steps in place to work with the community to increase trust.
Here's what's included in the solution:
Patient Assessment and Scheduling: patient assessment, consent, and scheduling is centralized on a single system, making it easier to streamline and automate their vaccine administration and monitoring of patient outcomes post-vaccination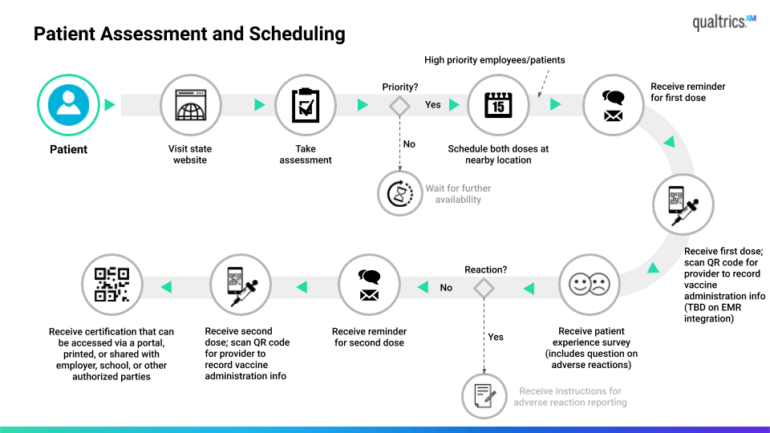 Public Awareness and Trust: governments can gauge resident perception and sentiment by demographic groups, including marginalized communities. In addition, they can align those insights with strategy and policy, and quickly address concerns to deliver a better experience. These insights will help local leaders understand their residents' intent to take the vaccine and the key drivers and barriers.
Vaccine Reporting and Dashboards: provides government officials real-time experience analytics and dashboards for monitoring, decision-making, and provider accountability.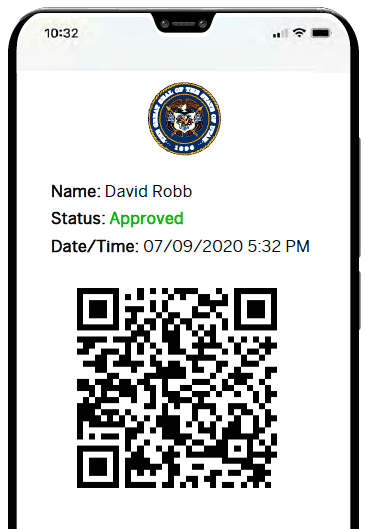 See our Vaccine Management + Citizen Experience solution in action