Customer Experience
Back in the air: How to get travelers flying again during COVID-19
Travelers are facing a crisis of confidence. Bookings are down 85% from a year ago, and after rising gradually during the summer ticket sales have stalled in the past month. But airports and flights have generally been safe with no U.S. carriers reporting safety lapses or outbreaks associated with their passengers. With this window of opportunity, here's how airlines can instill the confidence people need to get back in the air: Offer careful boarding and deplaning experiences, vigorously enforce safety standards among passengers and crew, and provide special booking and in-flight experiences.
In early August, in partnership with a major U.S. airline, Qualtrics studied the customer experience and expectations of regular air travelers, people who had taken at least one leisure flight in the 12 months before the COVID-19 outbreak. We found that half of this group is likely to travel again in the next six months, while only 20% are, in their own words 'extremely unlikely' to step on a plane.

But there's another group, the third of travelers who are undecided or somewhat unlikely. They will need some reassurance to get back to air travel. By bolstering confidence for travelers hoping to fly in the near future and convincing those who aren't sure but aren't against it, airlines can help their customers back to the skies. And travelers themselves can point the way.
What Worries Travelers
The good news: People's general concern about COVID is stronger than their concern about catching it while traveling.
The challenge: More people are concerned today about catching COVID on an airplane than any other location we tested, including in an airport, at a train station, or in a restaurant or grocery store.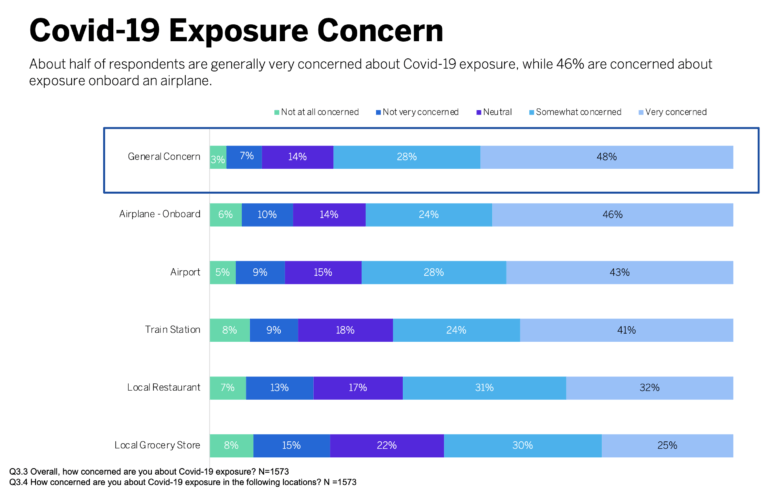 Once on the plane, travelers are mostly concerned about the places they actually touch: headrests, armrests and tray tables. These are the top five specific areas of concern:

How to Win Travelers Back
Travelers want consistency, and most of all they want to feel like airlines are protecting them and their space from their fellow passengers. There may even be an opportunity for the airlines that do it best: 6 in 10 travelers say they are willing to pay more to fly on an airline with the best COVID-19 response.
But regardless of which airline they choose, travelers are eager to have policies that protect them. These are the three most promising actions airlines can take. In our choice-based modeling, not only, not only did they drive consideration, but customers are less price sensitive when we tested packages with these items included.
Cautious transitions including entering and leaving the aircraft in small groups. "Board passengers in groups of 10 at a time, with social distancing" was the most popular precaution for boarding (37% preference). And "Passengers deplane 2 rows at a time (flight crew managing exits from the back and front simultaneously)" was the most popular deplaning precaution (40% preference).
High crew and passenger expectations, including masks, pre screenings, and avoiding interactions during the flight. For crew precautions, the most popular choice (52% preference) was "Flight crew must wear masks at all times, pass a temperature check before each flight, and crew is required to test COVID-19 negative every week." The preference for passengers was similar. The highest preference (51%) was for passengers to wear a mask, and complete a temperature screen and detailed symptom check administered by airline personnel the day of travel. For service precautions, the most popular choice (37% preference) was providing a snack bag to passengers upon boarding with no in-flight service.
Special booking and in-flight experiences. "No penalty or fee for cancellations or ticket changes" was the most popular choice among cancellation and rebooking policies (24% preference). And guaranteeing that the middle seat will be open was the most popular center seat policy (50% preference). Passengers even seem to be willing to pay up to $150 more for an airline ticket if they knew the middle seat was open.
Not everyone will be convinced, and that's OK. But enacting and advertising these deliberate changes will help reassure those eager to return to travel, and ease the legitimate concerns of those who are undecided. If the pandemic has showed us anything it is that customers are willing to change their minds and be persuaded as the situation changes.
Related Articles