Customer Experience

Employee Experience

Brand Experience

Product Experience

Core XM

Design XM
Getting Started with Employee Engagement
What's on This Page:
Getting Started
Welcome to the Employee Experience Platform! We are excited to help you launch your Employee Engagement project. This guide will walk you through every step necessary to launch your project.
Below is a list of all of the content you should have prior to building your project:
The list of questions/items you want included and their associated category/driver
The list of employees that will be taking the survey
Final drafts of the email messages (invites and reminders)
A general idea of the information you want to report in your dashboard
Templates to Get You Started
Throughout these Getting Started pages, we will provide example files to guide your first Employee Engagement project. However, there's another resource available to you to make this go even faster. Every Employee Experience customer gets access to template projects, which include survey questions, messages, and dashboards developed by our subject-matter experts.
For our Employee Engagement users, we recommend the Engagement Feedback template. This template measures drivers of employee engagement and enables managers at every level to action and drive improvements. With research-based and validated engagement survey items and pre-configured dashboards from Qualtrics, this template is ideal for annual or biannual employee engagement programs.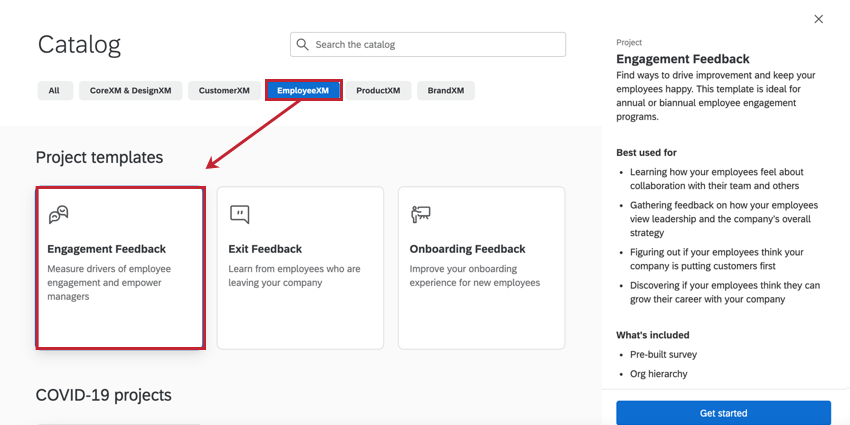 The Employee Feedback project can be found when you create an EX project and look at the Template section.
Related Articles