Customer Experience

Employee Experience

Brand Experience

Product Experience

Core XM

Design XM
Automatic Deduplication
What's on This Page:
About Automatic Deduplication
XM Directory allows you to set up deduplication rules for your directory so that newly added contacts are automatically compared against existing contacts to see if there are any duplicates. If the contact already exists, a new contact will not be created with the same information as another. Instead, the existing directory contact will be updated with any new information you have added, such as new or updated embedded data values.
Qtip:
Access to the Directory Settings tab requires the Manage Directory permission. Talk to your
Brand Administrator
if you're interested in getting access to this setting.
Setting Up Automatic Deduplication
Qtip: Selecting multiple fields for deduplication does not mean XM Directory looks at one or the other; it means all fields must match before duplicate contacts are combined. For example, if you want to duplicate by first and last name, Jane Smith and Jane Doe won't be combined, but multiple contacts named Jane Doe will.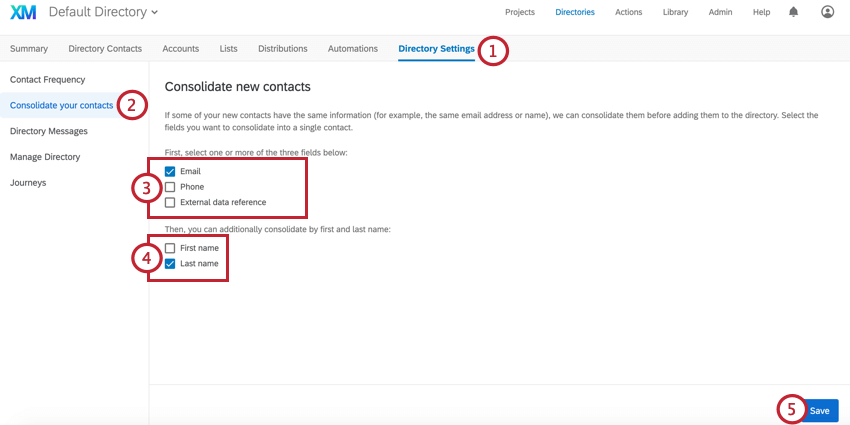 Navigate to Directory Settings.
Select Consolidate your contacts.
Choose one or more of the following contact attributes to begin deduplicating by:

Email
Phone
External data reference

If desired, select one or more of the additional attributes to deduplicate by. These are optional.
When finished, click Save.
Attention:
These settings are not retroactive. Only contacts uploaded to the directory
after
these settings are saved will be deduplicated. If you need to deduplicate contacts that are already in your directory, see
Consolidate Duplicates
.
Related Articles