Customer Experience

Employee Experience

Brand Experience

Product Experience

Core XM

Design XM
User Types
What's on This Page:
About User Types
Setting user permissions one account at a time can be tedious. As a brand administrator, you can quickly update and maintain permissions for many users at once by using user types. User types are sets of permissions that can be assigned to user accounts. Whenever you want to make a widespread permission change, just edit the user type and all associated user accounts will update automatically.
Creating a New User Type
Select User Types.
Click Create a New User Type.
Name the user type and enable/disable permissions as desired.

Click Save.
Setting a Default User Type
If your users are creating accounts via the self-enrollment feature, they will automatically be assigned a default user type. You can specify which user type will act as the default by checking the box under the Self-Enrollment column. The user type that has that box checked is the user type that will be assigned to self-enrolled users.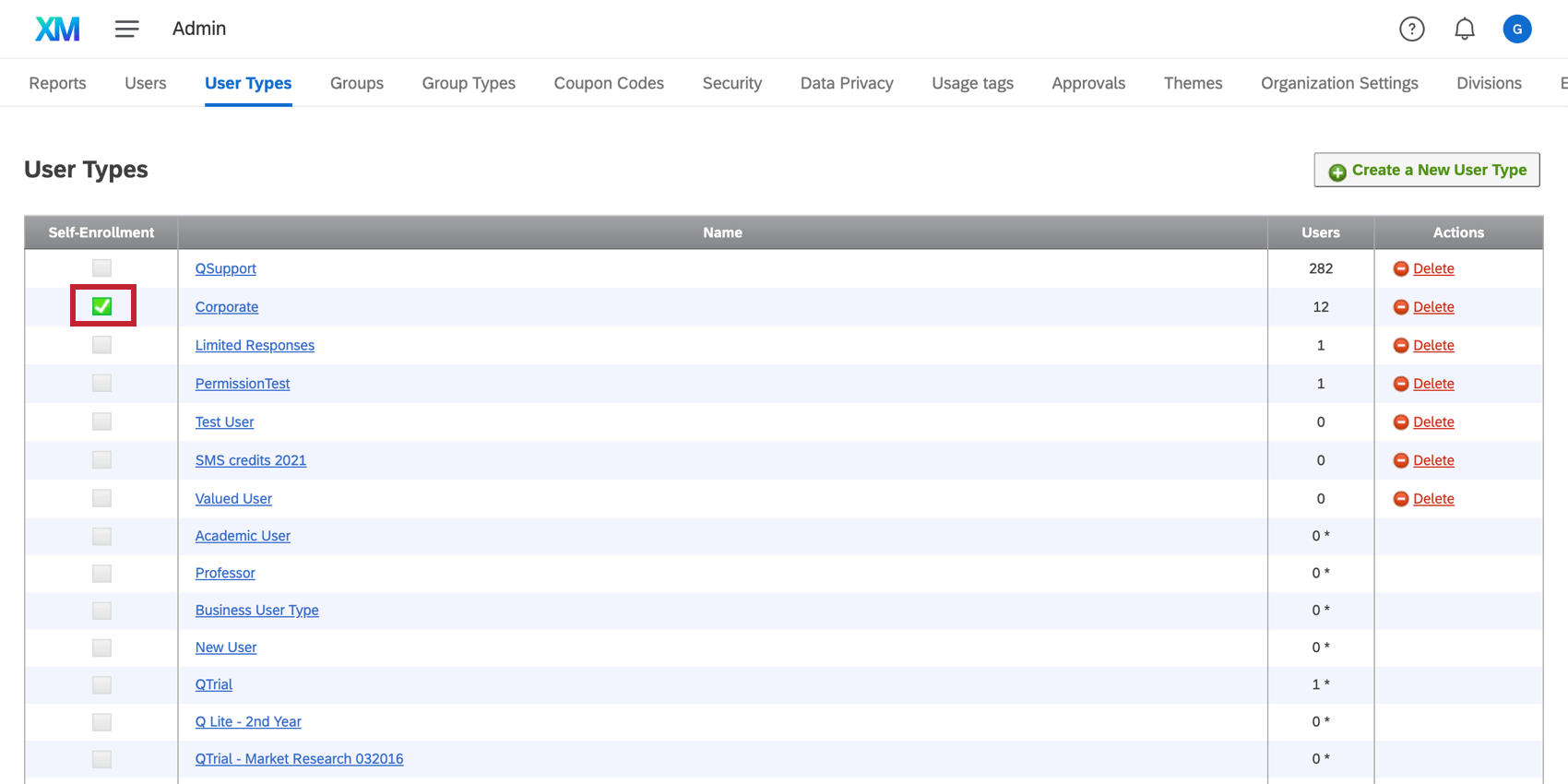 Assigning a User Type
Qtip: Changing the user type of a user will automatically update the user's permissions without needing to manually change each permission.
Select Users.
Search for the existing user by using any of the search criteria and filters (Username, First Name, Last Name, etc., as well as Division, User Type, and Account Status). You can use multiple criteria at once.
Click on the username of the desired account.
Click on the User Type dropdown list and select the user type you would like to apply.

Click Save.
Existing User Types
If you don't feel like building every user type from scratch, Qualtrics has provided two primary ready-made user types:
Brand Administrator: The brand administrator is a special user type with the ability to edit administrative settings for the whole brand. Most users with access to the Admin page are Brand Administrators, with the exception of division administrators (which are a division setting, not a user type).
Standard Account / Qualtrics – Standard: This user type generally has access to all the features in the brand except administrative ones.
Qtip: The permissions of an existing user type cannot be changed. To customize a user type, you can create a new user type and select the appropriate permissions.
Qtip:
These are not the only user types capable of the indicated functions. You can find a list of all possible permissions you can apply to a user type on the
User, Group, & Division Permissions
support page.
Specialty User Types
The following pre-made user types are used only for the corresponding premium software.
Related Articles