Customer Experience

Employee Experience

Brand Experience

Product Experience

Core XM

Design XM
Survey Tools
What's on This Page:
About Survey Tools
Survey tools are features to help you create online surveys and give them advanced functionality. These features include options like auto-number questions, generating test responses, reviewing survey accessibility, and more! You can access survey tools by clicking on Tools in the Survey tab.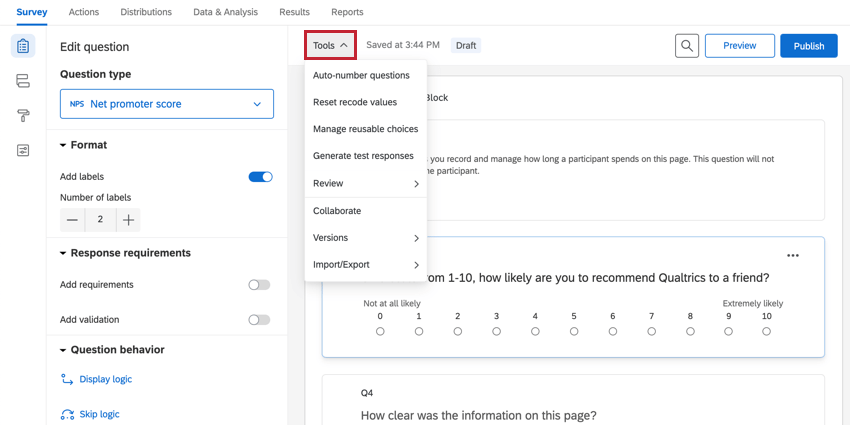 The following are the different survey tools available:
Collaborate: Allows you to share your survey with another Qualtrics user so you can edit it and / or analyze the results together.
Versions:

Create new version: Save a version of your survey in order to view and restore it later if needed. By default, Qualtrics will also periodically create versions for you that can be viewed and restored.
View version history: See past versions of your survey and, if desired, restore them so they become the current survey revision.

Import/Export:

Print survey: Use this option to print or save a PDF version of your survey. This PDF file can also be exported to your computer or mobile device.
Import survey: Import a survey from a QSF, TXT, or DOC file.

Qtip:

You can use the export and import options to transfer a copy of your survey file from one account to another without having to

share the project

.

Export survey: Export your survey as a QSF file to be imported into another account.
Export survey to Word: Export your survey as a DOCX Word document that contains the plain text of your survey questions and answer choices.

Qtip:

The exportable Word document can also be used as a "data dictionary" or "codebook" for those who need to know which

recode values

are associated with each answer choice.
Related Articles