Customer Experience

Employee Experience

Brand Experience

Product Experience

Core XM
Managing Multiple Directory Contacts
What's on This Page:
Qtip:
XM Directory is an improvement upon the old Target Audience, with user interface (UI) changes made to integrate more seamlessly with the XM platform. If you do not have XM Directory and would like to purchase access, contact your
Account Executive
.
About Managing Multiple Directory Contacts
When you are inside the Directory Contacts tab, you can edit multiple contacts at a time by selecting the checkbox to their left.
Qtip:
 There are several differences between editing a single contact and editing multiple contacts. For information on 
managing a single directory contact
, visit the linked support page.
Contacts Information Menu
When you select multiple directory contacts, a menu opens to the right where you can edit all their values en masse.
Click any of the headers in the menu to expand and collapse the information displayed.
Contact Info & Directory Embedded Data
The Contact Info section contains editable contact information. The Directory Embedded Data section displays the Embedded Data assigned to the contacts. Because several contacts are selected and their information might vary, specific values are not displayed unless there is no value. Instead, the number of contacts given a value for this field are listed.
Once you click a value, the Contact Details window will open.
Click into any value to change it.
Select a different contact field or Embedded Data to edit by using the dropdown or the arrows.
Save your changes by clicking Done.
Qtip:
 You are editing the values of Embedded Data, but sometimes you may want to change the name of it. To do this, go to 
Directory Options
.
Contacts Actions
Contacts actions can be accessed by clicking the gear next to the number of selected contacts in the right-hand menu.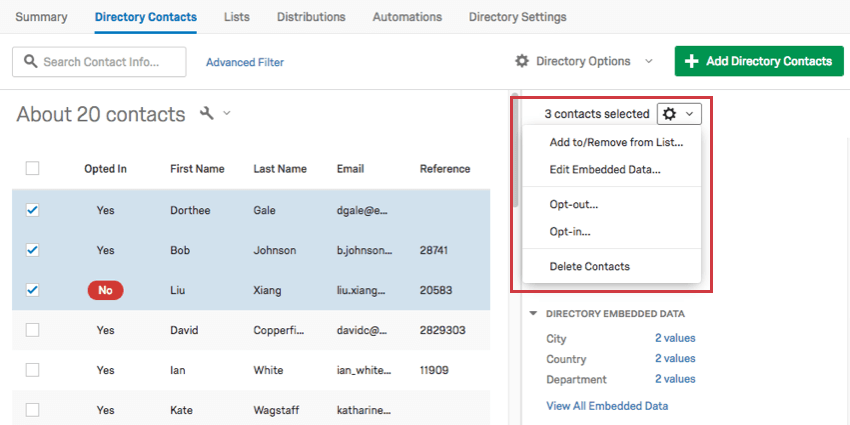 Attention:
The tool icon to the left has similar options, but it doesn't edit just your selected contact. 
It edits the entire directory
. To only edit those contacts selected, be careful to
select the dropdown menu on the far-right
!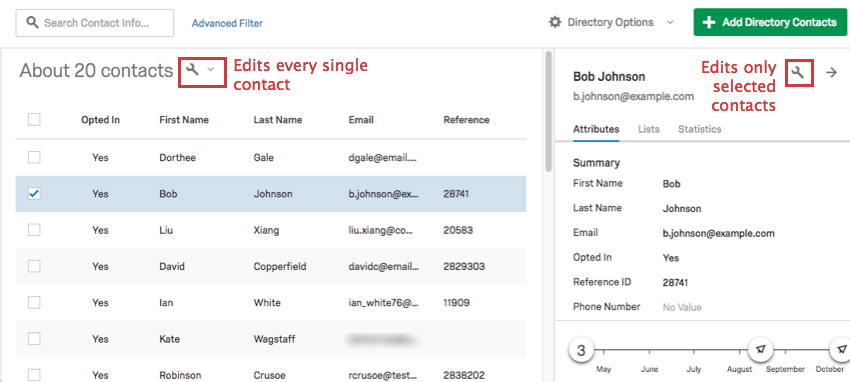 Adding & Removing Contacts from a List
The process of adding and removing multiple contacts from mailing lists is exactly the same as adding and removing a single contact. See the Adding and Removing a Contact from a List page for instructions.
Edit Embedded Data
You can view all the Embedded Data for a contact and edit the values. This brings you to the same window as clicking values in the Contact Information menu.
Opt-out & Opt-in
Opting a contact out of the entire directory will prevent them from receiving any mailing from any list they are a part of. They also will not be able to receive emails sent to just them. You can reverse this at any time by opting them back in.
Opting multiple contacts in and out of the directory is the same as opting a single contact in and out of the directory.
Delete Contacts
Deleting multiple contacts from the directory is the same as deleting a single contact from the directory.
Managing All Contacts
On the far-left of the Directory Contacts tab, the total number of contacts in the directory is displayed. Next to this is an icon with a dropdown menu. This menu affects all contacts in the directory.
Warning: Be careful when selecting Delete Contacts. This will delete every contact in your directory.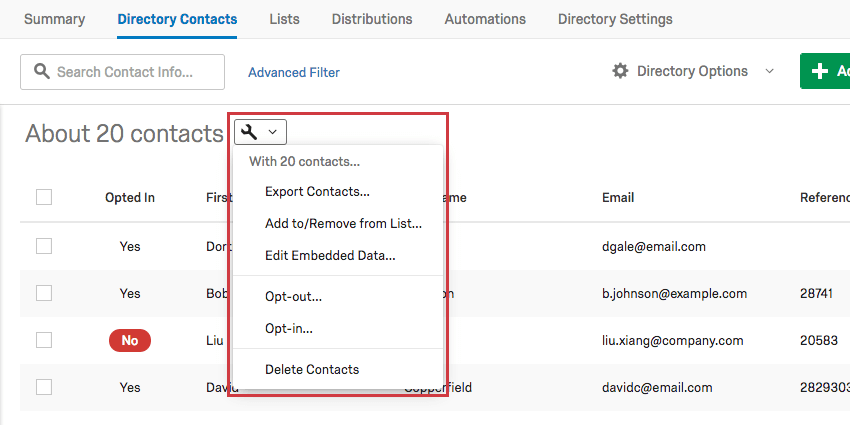 In addition to allowing you to export your contacts, this menu has many of the options managing a single contact or managing multiple contacts have.
Edit Embedded Data
This option allows you to create new Embedded Data fields for the entire directory.
You can set a value for all contacts or leave it blank. Remove Value from Contacts works differently for new fields versus old ones, either creating a blank value or erasing all values, respectively.
Example: In the image above, Desk is a new Embedded Data field and City is an existing Embedded Data field. The Desk field will be added to each directory contact without a value. The City field's values will be erased.
Meanwhile, everyone in the directory is a salaried employee, so everyone will be assigned an Hourly or Salary of Salary.
As soon as you fill a field out, an additional one will appear. Leave the field blank if you do not wish to add another.