Customer Experience

Employee Experience

Brand Experience

Product Experience

Core XM

Design XM
Add Default Choices
What's on This Page:
About Adding Default Choices
You can use the Default choices feature to pre-populate answer choices within a question when the respondent opens the survey. This can be useful in situations when you ask respondents to update previously collected data, such as mailing address, email, name, etc.
How to Add Default Choices
While editing your survey, select the question you want to add default choices to.

In the Question behavior of the survey editor, select Default choices.
Provide the answers you want to be pre-populated (e.g., a selected choice or specific text).

Questions with default choices will have a gray circle icon located in the top right corner.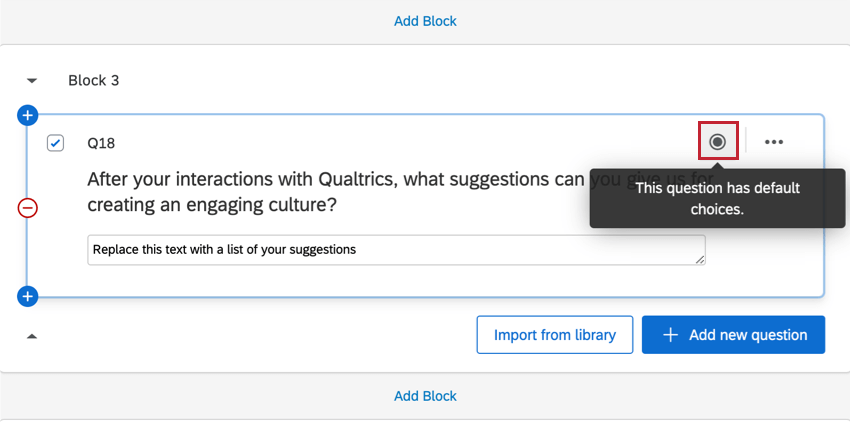 Qtip:
The default choices feature pre-selects an answer choice for your respondent. So if a respondent decides to skip this question, then your results will still display data as if the respondent had given an answer. In these scenarios where you need to suggest an answer but you would like respondents to have the option of a non-response, it is a good idea to use the
force response
feature and to allow respondents an NA option so they can specify that they don't want to provide an answer.
Question Compatibility
You can add default choices to the following list of question types.
Displaying Piped Text in Default Choices
You can use piped text as the default choice in any type of question where the respondent can enter text.
To access piped text in a default choice, edit your default choices and click the blue dropdown menu directly next to any text field.
Example:
Using piped text as a default choice from your
contact list
can allow respondents to quickly update any personal information without the hassle of remembering or re-entering all the information.
Related Articles