Customer Experience

Employee Experience

Brand Experience

Product Experience

Core XM

Design XM
Searching & Filtering Directory Contacts
What's on This Page:
About Searching & Filtering Directory Contacts
Finding contacts in the directory is made easier by searching and filtering. You can use a simple search to find the desired person, or you can build incredibly complex searches to be saved and re-used for later.
Searching Contacts
You can search contacts using the search bar on the upper-left. Type in a search term and press Enter on your keyboard to search. Click the X next to a search term to clear it from the search bar.

Qtip: You cannot use the search bar when you have a filter applied. If you want to combine the two, make a search first, then click Advanced Filter to start building a filter.
You can search by these default fields:
First Name
Last Name
Email
External Data Reference
Phone Number
You cannot search by embedded data.
If you have edited one of these columns out by default, the search bar will still look through these fields, and temporarily add a column for the applicable term when a match is found.
Qtip:
You may not be able to search by a value if it just changed. If a result you know should appear isn't included, click the account icon and click
Refresh Account
.

Qtip: You can hit Enter to generate results for search terms under 4 characters.
Qtip:
Some brands can only search by name and email address, and will not see highlighting. If you are interested in moving over to a new XM Directory experience, reach out to your
Customer Success Representative
.
Adding a Filter
Qtip: This section covers the basics of adding a filter. Read on to learn about building more complex filters!
In the first field, decide what kind of information you'd like to filter by.

Fill out the following fields according to your desired filter.
When you're done, click Apply Filter.
Fields You Can Filter By
Qtip:
This section includes the fields that you can
filter
by. To view fields that can be used to
search
contacts, see the
Searching Contacts
section.
Contact Info: Filter by basic contact info such as name, email, External Data Reference, Language, or Phone.
Opt-Out Status: Whether or not the contact is opted in or out of the entire directory (not a mailing list).
Embedded Data: Filter by embedded data in the directory.

Qtip: Date fields must be saved in a YYYY-MM-DD format to work.

Mailing List: A mailing list the contact does or does not belong to.
Transactions: Filter based on transactional data. If you decide to filter based on a transaction date, you will be able to filter On or after a date, Before a date, Between a certain date range, or In the past "n" number of Days/Weeks/Months/Years.

Example: You may want to filter for contacts that purchased one of your products in a certain period of time. In the above example, we filter for customers that purchased beer more than 3 times in the past 6 months.

Qtip:

Click the date text to enter a specific date or click on the calendar icon to the right of the date field in order to select a specific date from a calendar. The date must conform to

ISO 8601 format

.
All & Any Sets
Qtip: You can add up to 10 conditions on a set.
You add statements to your condition by clicking New Condition, or by highlighting over the previous condition and clicking the plus sign (+).
Whenever you have more than one condition, you'll need to decide how the conditions are connected to each other. Do both conditions need to be met (e.g., a response must be from a particular month AND for a specific manager to be included)? Or does only one of the conditions need to be true (e.g., data may be included in the report if it was collected either in the Northeast OR the Southeast)?
Conditions linked by an AND conjunction are called ALL condition sets (i.e., "only show data where ALL of these conditions are true"). Conditions linked by an OR conjunction are called ANY condition sets (i.e., "only show data where ANY of these conditions are true").
Condition Sets
Conditions within the same Condition Set are all indented the same amount and are beneath the same ALL/ANY header.
You can create new condition groups by clicking New Condition Set. This will nest a new condition set under the condition set you're currently working on.
At any point, you can delete an entire condition set by hovering over the ANY/ALL header and clicking the minus sign (–). Note that this deletes all conditions nested underneath, including additional condition sets!
Nesting Logic
Nesting condition sets allows you to create more advanced criteria to filter your data by.
This report will only include responses from people who are from the USA and have a qualtrics.com email address OR who are from the UK and have a qualtrics.co.uk email address.
In the above example, the very outermost group is an ANY group. People are either one thing OR they're another. Nested within that ANY group are two ALL groups:
People who are from the USA and have a qualtrics.com email address
People who are from the UK and have a qualtrics.co.uk email address
Essentially, you'll make a new condition set every time you want to switch from an ANY to an ALL (and vice versa).
With this structure, it is therefore very important to consider which type of group (ALL or ANY) is your very outermost group before you start adding conditions and nesting. The question to ask is whether, at the highest level, you are looking for responses that meet all necessary conditions (ALL group) or are you looking for responses that meet one or more of possible conditions (ANY group).
Nesting Basics
Clicking New Condition will add a new statement within the same condition set.
Clicking New Condition Set will nest a new condition set under the one you're working on.
Click the minus sign (–) next to a statement to delete it.
Clicking the minus sign (–) to the right of a condition set's header will delete the whole group and everything inside it, so be careful!
To nest ANY/ALL headers directly above each other, like in the examples above, delete the condition just below the header.


You can only do two levels of nesting.
Saving Filters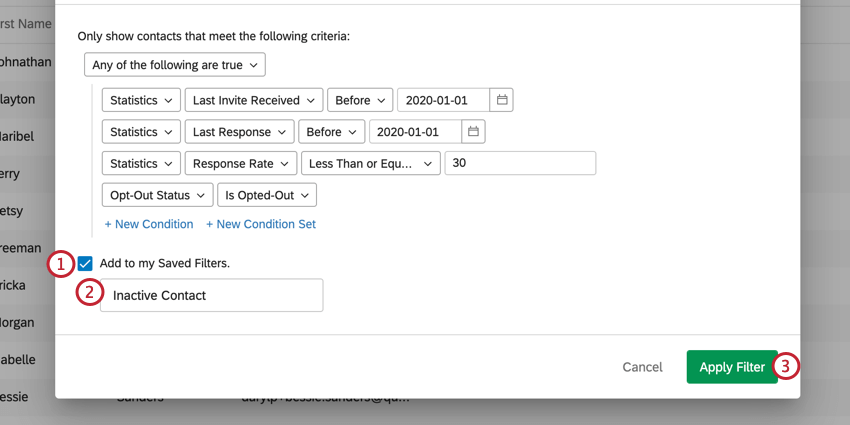 Select Add to my Saved Filters.
Name the filter.
Click Apply Filter.
Once your filters are saved, you can access them from the Saved Filters dropdown in the upper-right corner.
Removing Filters
Once you've applied a filter, you can remove it by clicking the X next to it. Or, if you prefer, you can click the name of the filter to change the criteria.

Related Articles