Customer Experience

Employee Experience

Brand Experience

Product Experience

Core XM

Design XM
Getting Started with Employee Lifecycle
What's on This Page:
Employee Lifecycle projects are a means of getting feedback on important experiences in your employees' tenure. For example, you can interview employees on their onboarding experience, request feedback when they leave, or even analyze how effective they found the promotion process. The major benefit of Employee Lifecycle is that it provides a means of automating the upload of participants and distribution of feedback surveys to your employees. Because there are many employee lifecycle touchpoints, there is no one right way to run an Employee Lifecycle project. However, many programs generally use the following steps:
Lifecycle Support Pages
All support pages with (EE & EL) at the end are compatible with Employee Lifecycle and Employee Engagement. However, the following pages explicitly reference features unique to Employee Lifecycle:
Qtip:
People Import Automations
can technically be applied to all Employee Experience projects, but can be especially useful for Onboarding and Exit Lifecycle projects. To use the People Import Automation, it is important to switch your brand over to
unique identifiers
.
Templates to Get You Started
There's a resource available to you to make getting started with Lifecycle quick and painless. Every Employee Experience customer gets access to template projects, which include survey questions, messages, and dashboards developed by our subject-matter experts.
For our Employee Lifecycle users, we recommend the Exit Feedback and Onboarding Feedback templates. These templates measure drivers of employee experience for key employee events, and enables managers at every level to action and drive improvements. With research-based and validated engagement survey items and pre-configured dashboards from Qualtrics, these templates are ideal for measuring the effectiveness of your exit strategies and onboarding programs.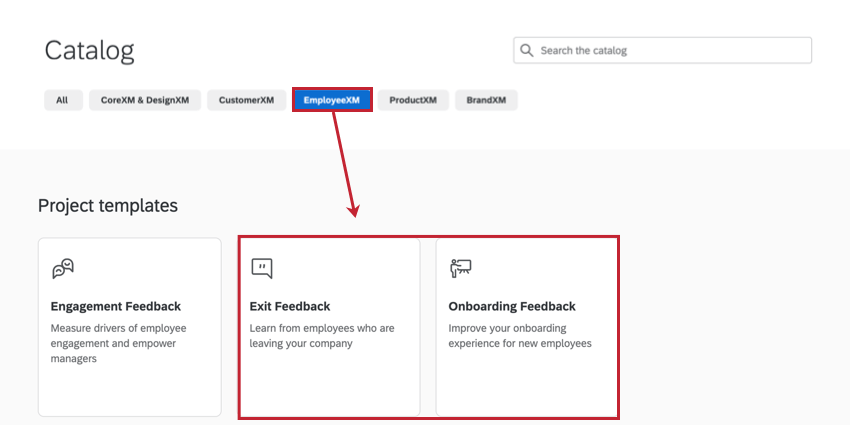 These projects can be found when you create an EX project and look at the Template section.
Qtip:
For an Engagement template, see
Templates for Employee Experience
. Note that while similar, Lifecycle projects are not the same as Employee Engagement projects.
Employee Lifecycle vs. Employee Engagement
Employee Lifecycle projects are incredibly similar to Employee Engagement projects. However, there are a few major differences.
| | | |
| --- | --- | --- |
| | Employee Lifecycle | Employee Engagement |
| | Yes | No |
| | No | Yes |
| | Yes | No |
| Action Planning | Yes | Yes |
Attention:
Lifecycle has action planning, but no hierarchies or
hierarchy-based data restrictions
. That means that when
reporting on action plans,
this data is not restricted by place in the hierarchy, and so every user with access to action planning will see this data. As such, be careful who you give access to action planning.
Related Articles