Customer Experience

Employee Experience

Brand Experience

Product Experience

Core XM

Design XM
Text iQ (EX)
What's on This Page:
About Text iQ (EX)
There will be times you include text entry questions in your surveys, inviting employees to provide open-ended feedback. You can include the responses themselves in your dashboard, but sometimes you may want to do more sophisticated text analysis.
In the Text section of your Data & Analysis tab, you can tag responses by Topics, build sophisticated searches that will tag new topics as they come into the platform, or analyze Sentiments.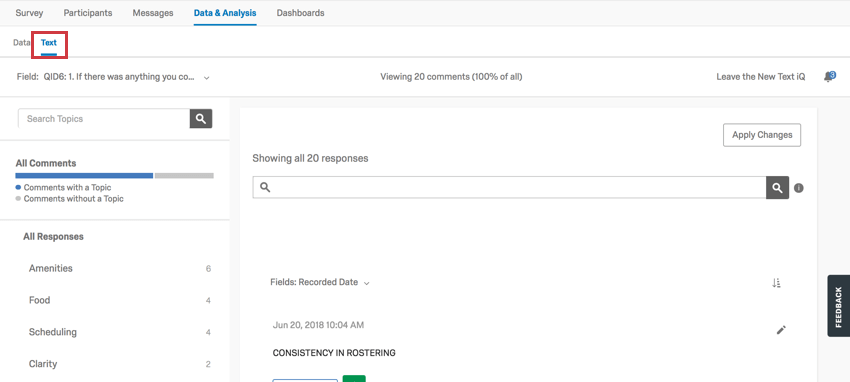 Basic vs. Advanced Text iQ Functionality
This section explains the differences in the features accessible to Basic versus Advanced text clients. While these links go to Survey Platform support pages, this is because the functionality is the same there as in EmployeeXM projects.
Qtip:
Text iQ automatically supports responses in English, Spanish, German, French, Portuguese, Japanese, Dutch, Thai, Simplified Chinese, and Korean for all clients, Basic and Advanced. Depending on the level of access you have, this language support can include
native language sentiment analysis
, recommended topics, and topic queries.
Qtip:
Our XM Scientists team has created a text topic library specifically for Employee Engagement to get you started analyzing your text responses. See
Importing Topics
for more information on how to use these topics in your analysis.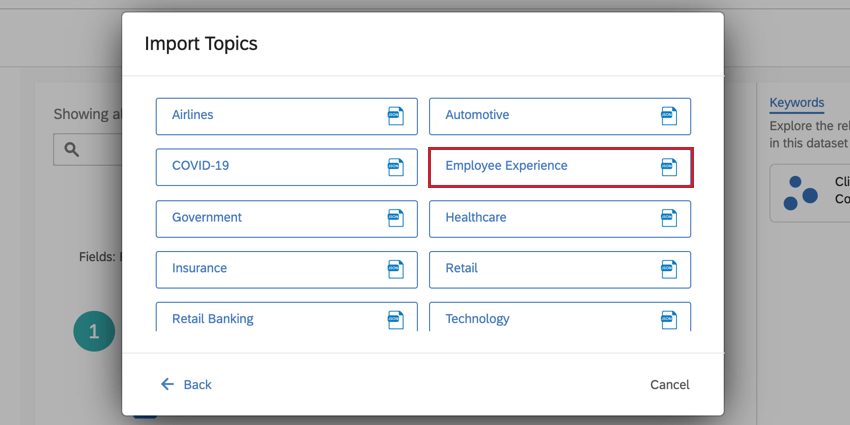 Mapping Text Topics to Dashboards
In order to start putting text Topics into widgets, you'll first need to map them to your dashboard.
If you create a dashboard after your text topics and sentiments are created, everything will map automatically! But if you created a dashboard before performing text analysis, you'll need to map them manually, according to the following steps:
Enter your dashboard or create a new one.
Click Add Field.
Name your field. The name should be short and descriptive.


Example: Here the field name is "Anything could change – Topics," since it's going to be the text topics for the following question: "If you could change anything about our company, what would it be?"

Click where it says Not Mapped.
Select Show All.
Under Embedded Data, you will see fields with names like QID# – Topics for Topics, QID# – Sentiment Label for Mixed/Negative/Positive/Neutral, or QID# – Sentiment Numeric for Sentiment Scores. The QID is the internal ID of the question. Normally if you scroll up in the list and see a Question with the same QID, this is the question you're selecting topics for.


Example: QID6 is "If you could change anything about our company, what would it be?" QID6 – Topics are the text topics created for QID6.

Change the field type. Sentiment labels should be Text Set, Topics should be Multi-Answer Text Set, and numeric Sentiments should be Numeric Value. This will allow you to create different charts and tables showing the frequency of the topics.

Once you've added the desired fields, click Save.
Widgets Compatible with Topic Fields
The widgets available to each field will depend on the field types assigned to them.
Topics
For example, here is a simple chart where text topics have been added as the X-Dimension:

Qtip: Untagged responses are indicated as a topic named "Unknown." You can deselect this field to exclude it from charts.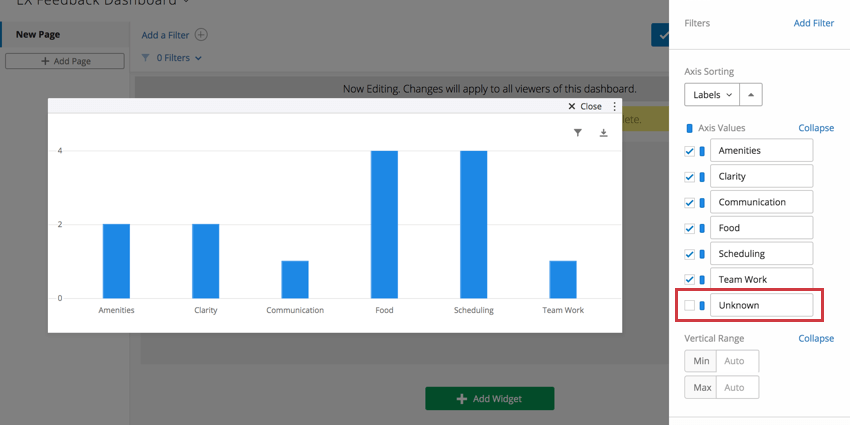 Sentiment Labels
Numeric Sentiments
Related Articles