Customer Experience

Employee Experience

Brand Experience

Product Experience

Core XM

Design XM
Step 3: Soliciting Feedback from Employees
What's on This Page:
About Soliciting Feedback from Employees
Now that your feedback form has been created, it's time to start collecting feedback. You can send the project to individual employees, or get a general link that you can widely distribute to all employees.  This page explains the two methods to collect feedback and the use cases for each. For step by step instructions on how to share the project with your employees with either method, read our page on Sharing.
Method 1: Link Sharing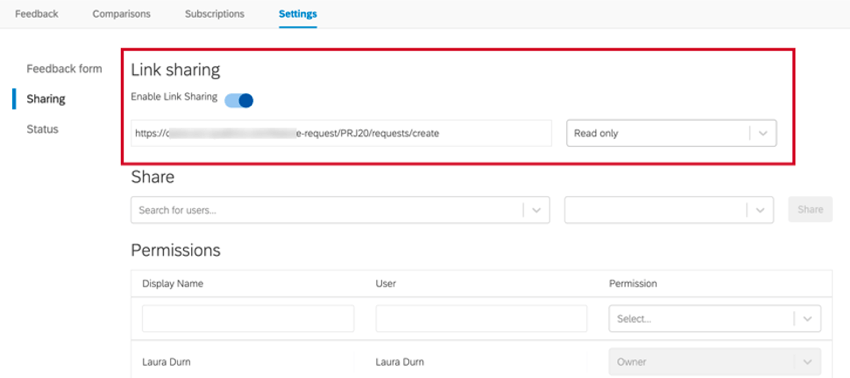 The link sharing option is useful if you want to give access to your entire organization. Once enabled, all users in your license will see the Frontline Feedback project in their account. They can access it via their Projects Page or via the link you provide.
With link sharing, you can grant two levels of access: contributor and read only. Contributors will be able to submit, comment on, and vote on feedback requests. Read only access lets employees view feedback, but not create new requests or interact with existing requests. You can disable access via the project link by disabling the link sharing option.
When your employees use this link, they'll be brought to the Qualtrics login screen. After logging in with their Qualtrics account, they'll be brought to the Frontline Feedback project.
Method 2: Individual Sharing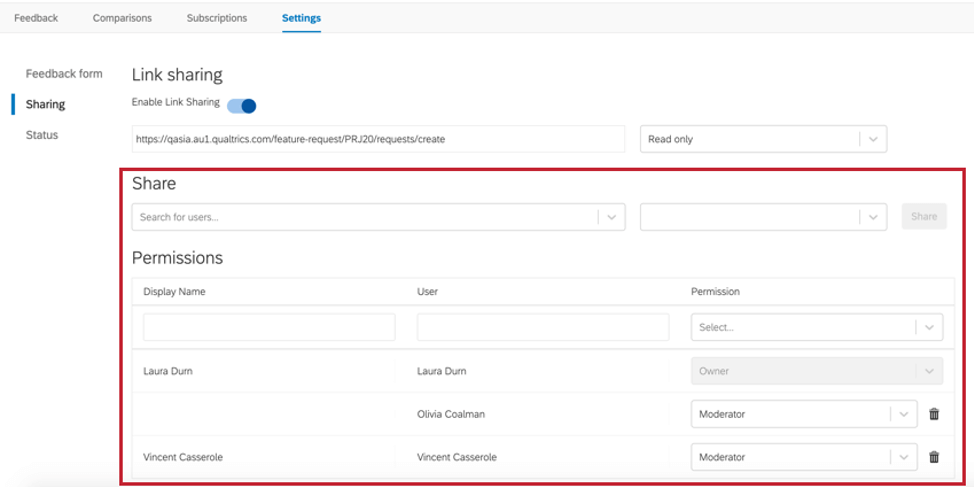 The individual sharing option is useful if you're giving access to a smaller group of employees, or if you would like to give administrative access to certain employees. Individual sharing allows four levels of access: Owner, Moderator, Contributor, and Read Only. An explanation of each access level is below:
Owner: Owners have full administrative access over the project. They can add/remove users, interact with feedback, manage collections & comparisons, and change all project settings.
Moderator: Moderators can edit and delete all feedback and comments within the project, as well as contribute their own feedback. They can also manage all collections & comparisons.
Contributor: Contributors can interact with existing feedback and submit their own feedback, as well as create and manage their own collections and comparisons.
Read Only: Users will be able to read existing feedback & view comparisons, but not submit feedback of their own.
Once you've shared the project with individuals, they will be listed in the Permissions section of the Sharing tab. In this section, you can perform these tasks:
Filter by Display Name, User, and Permission fields to find specific users.
Change the level of access available to users.
Remove users from the project.
Related Articles