Customer Experience

Employee Experience

Brand Experience

Product Experience

Core XM
Survey Protection
What's on This Page:
Warning:
We recommend you take extra care when setting up surveys that involve incentives (e.g., with the
Tango Card extension
,
setting up an anonymous raffle
, or setting up your own incentive survey). Using the correct settings and configuration is essential to ensure that the incentives are restricted to your intended respondents. Without appropriate settings, it may be possible for people to take advantage of your survey distributions and claim the incentives. Please carefully review the settings you can use to protect your survey below.
About Survey Protection Settings
Some surveys require more privacy than others. Using the Survey Protection settings available in Survey Options, you can password protect your survey, specify a date and time for the survey to close, prevent respondents from taking the survey more than once, and more.
To access your Survey Protection settings, click Survey Options in the Survey tab.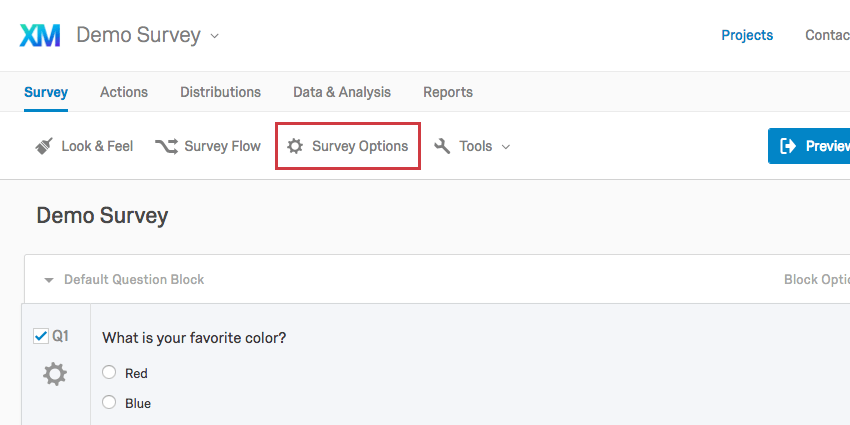 You will see the following Survey Protection settings:

Qtip:
If you have Bot Detection, Relevant ID, Email scan roadblock, and additional options once you select Prevent Ballot Box Stuffing, see the
Fraud Detection
support page.
Determining Who Can Access Your Survey
There are two ways a respondent can enter your survey. The first is to do so anonymously, by clicking an Anonymous Link. The second is to click an Individual Link generated just for them (either through the Emails section or the Personal Links section in the Distributions tab).
By default, respondents with either type of link can take your survey. If you would like to restrict access to only those who have received the Individual Link in an email invitation, select By Invitation Only. If an individual tries to access your survey with an Anonymous Link when the By Invitation Only setting is turned on, they will receive a message that says, "This survey can only be taken by invitation."
Warning:
In addition to disabling the Anonymous Link, the By Invitation Only setting also disables the
Multiple Completes Link
.
To change survey access
Setting a Survey Password
You can set a single, general password that any respondent must enter to access your survey. This is helpful when you are using the Anonymous Link and want to restrict who can enter the survey.
Qtip:
If you want to have a unique password for each survey taker, you might consider using an
Authenticator
in your survey.
To set a survey password
Select the Password Protection checkbox.
Preventing Respondents from Taking Your Survey More Than Once
In circumstances where you are offering an incentive or conducting a sensitive vote, you may want to prevent participants from taking a survey more than once. The Prevent Ballot Box Stuffing option helps keep respondents from taking a survey multiple times by placing a cookie on their browser when they submit a response. The next time the respondent clicks on the survey link, Qualtrics will see this cookie and not permit them to take the survey. Note that this setting only affects respondents accessing the survey via the anonymous link.
Prevent Ballot Box Stuffing is a great deterrent, but can be circumvented by savvy participants clearing their browser cookies, switching to a different web browser, or using a different device. With surveys that have a higher incentive to cheat, consider distributing your survey using the Qualtrics Mailer (which creates a unique, one-time use link for each participant) or using an Authenticator.
To enable Prevent Ballot Box Stuffing
Select the Prevent Ballot Box Stuffing checkbox.


Qtip:

If you have additional options once you select Prevent Ballot Box Stuffing, see the

Fraud Detection

support page.
Restricting What Website a Respondent Comes From
Using the HTTP Referer Verification option, you can specify the URL your respondents must come from in order to access your survey.
This setting is useful if your survey link is posted on a particular website (such as an internal university or company page) and you want to make sure the link does not get copied and sent to others. Only those who can access that page would be able to take the survey.
Example: A retailer might want to provide a short survey with a $10 coupon at the end. Concerned that participants might forward this to all their friends, they add HTTP Referer Verification stating that the participant must click on the link while on a specific logged-in page of the website.
To restrict what website a respondent comes from
Select the HTTP Referer Verification checkbox.
Enter the URL of the website respondents must come from.


Qtip: The URL entered here needs to match the URL of the corresponding website exactly. We recommend copying the URL from your web browser. For example, if we wanted to restrict respondents to a survey accessible on our support site, we would need to use https://www.qualtrics.com/support/ as the HTTP Referer. Using just qualtrics.com/support will not work.
Preventing Search Engines From Finding Your Survey
Search engines work by creating what is called an index, or a map of all pages on the Internet so they can be searched quickly. With the Prevent Indexing option, you can keep search engines from finding your survey and presenting it in their search results.
To prevent indexing
Qtip: Prevent Indexing is selected by default, but may be unchecked for surveys that should be visible in web searches.
Securing Your Participants' Files
With this option enabled in your Survey Options, files uploaded as responses can only be viewed by users with permission to view responses. This includes files for both the File Upload and Signature question types. If you cannot access the URL from your data export, it is because you are not the survey owner and the survey owner has Secure Participants' Files turned on. If you'd like anyone to be able to view the links from the dataset, you will need to turn off the Secure Participants' Files option.
Qtip: Secure Participants' Files is selected by default, but may be unchecked for surveys whose file uploads need to be able to be downloaded by anyone. This can be turned on or off at any time.
To Secure Participants' Files
Setting the Message that Displays When Respondents Revisit a Completed Link
If you use the default Individual Link when emailing surveys, respondents can only complete the survey once. If they want to change their response, they will need to reach out to the survey's creator for a retake link. Sometimes, if the user clicked into the link and then didn't return within the partial completion settings, their session expired, and they need a new invitation.
You can write a custom message that will appear when the respondent tries to enter a link they already completed.
To set a custom message when a respondent revisits a completed link
Specifying When Your Survey Can Be Started
By default, surveys can be taken at any time as long as they are active. Setting the Survey Expiration allows you to specify the exact date and time when respondents can begin your survey.
Example: If your survey needs to only collect responses that started before the new year, you could set New Years Day as the expiration date so that you can enjoy the holiday festivities without needing to remember to deactivate your survey.
Respondents trying to access your survey before or after the specified range will receive a simple message explaining that the survey is currently unavailable. The expiration date specifically affects participants' ability to start the survey. Those who are in the middle of a response will be allowed to continue taking their survey and finish after the expiration date.
Qtip:
The start and end times are based off of your account time zone, which can be changed in your
Account Settings
.
To set a survey expiration date
Select the Survey Expiration checkbox.
Set the date range the survey will be available.

Determine whether you want to use the Default expiration message, or create your own Custom one using your Qualtrics library.