Customer Experience

Employee Experience

Brand Experience

Product Experience

Core XM

Design XM
Step 3: Distribute Conjoint
What's on This Page:
Qtip:
Conjoint Projects are an additional purchase. Please contact your
Account Executive
if you are interested in learning more about this product.
Once you have set up, previewed, and published your conjoint survey, it's time to distribute to your respondents! Click Collect Responses on the Overview tab, or check out the Distributions tab to proceed.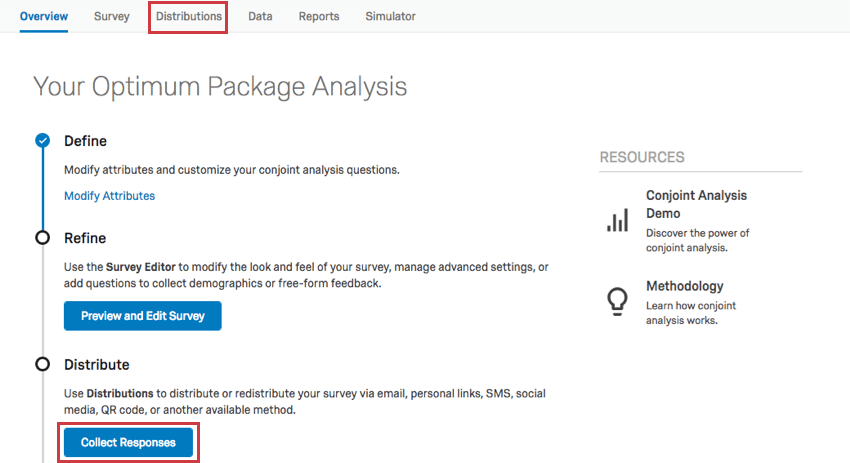 Ways to Distribute Your Conjoint
Qtip: The following pages link out to the Survey Platform pages, but have the same functionality in Conjoint projects.
There are a number of ways you can distribute your surveys to your respondents, including but not limited to:
See the Distributions Basic Overview page for more distribution options.
Determining Your Sample Size
If you're not sure how big your sample should be, don't worry! Conjoint projects will calculate how many respondents you should have to consider your results statistically significant.
You can find this information in several places:
Go to Overview and select Modify Attributes. The desired sample size will be on the right in the Respondents Needed section.

The number Qualtrics recommends is based off research best practices, the number of attributes, and other design parameters. These numbers are recommended to be your minimum sample required to get a statistically significant result. In contrast, collecting too few responses won't give you a very clear vision of your sample's preference.
QR Code is a registered trademark of DENSO WAVE INCORPORATED.
Related Articles