Customer Experience

Employee Experience

Brand Experience

Product Experience

Core XM

Design XM
Text iQ Bubble Chart Widget (CX)
What's on This Page:
About the Text iQ Bubble Chart Widget
Attention:
This page is about the use of Text iQ bubble chart widgets directly inside a CX Dashboard. While it works almost exactly like
the Text iQ feature
, the setup and location is different, and you must have access to
Text iQ in CX Dashboards
.
Text iQ bubble chart widgets provide a way to visualize the sentiment breakdown of each of the text topics analyzed in the dashboard Text iQ tool. These widgets provide a great way to display common topics of feedback and customers' feelings on those topics.
This page goes over the setup necessary to create a Text iQ bubble chart in your CX Dashboard. To understand how to read a Text iQ bubble chart, see the Bubble Chart page from the Survey Platform. The interpretation of data is similar across all areas of the platform.
Dashboard Text iQ Setup
Before you use the Text iQ bubble chart, make sure you have the appropriate Text iQ data set up in your dashboard.
Mapping Initial Dashboard Data
When adding a feedback source, whether it's survey data or an imported CSV, make sure you change the feedback questions to the Open Text field type.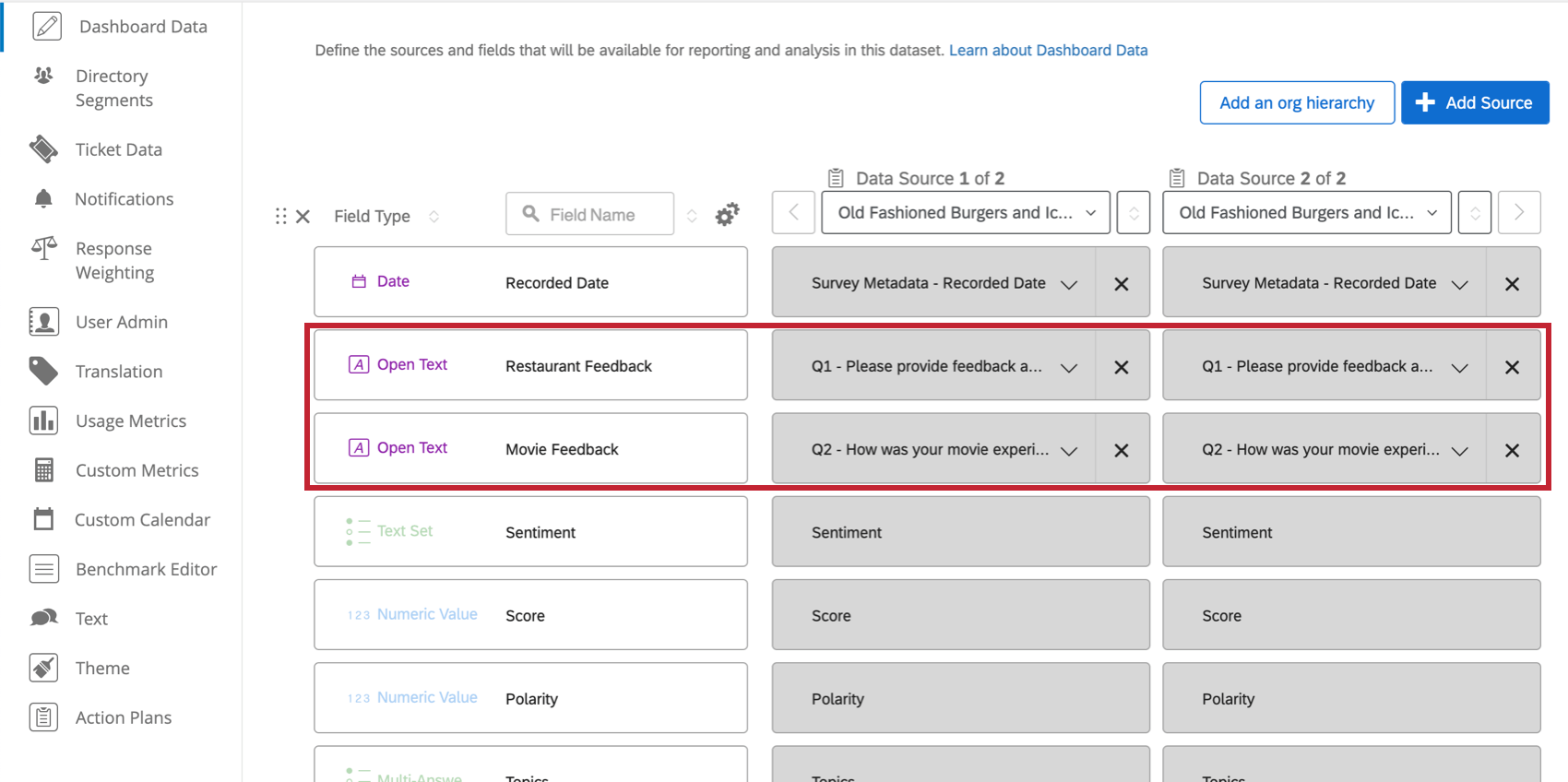 Text iQ
Before a Text iQ bubble chart can be generated, it needs to have dashboard Text iQ data.
Enter your dashboard's Text iQ.

Create topics.

Widget Customization
Exit Text iQ and return to a page of the dashboard to add a Text iQ bubble chart widget.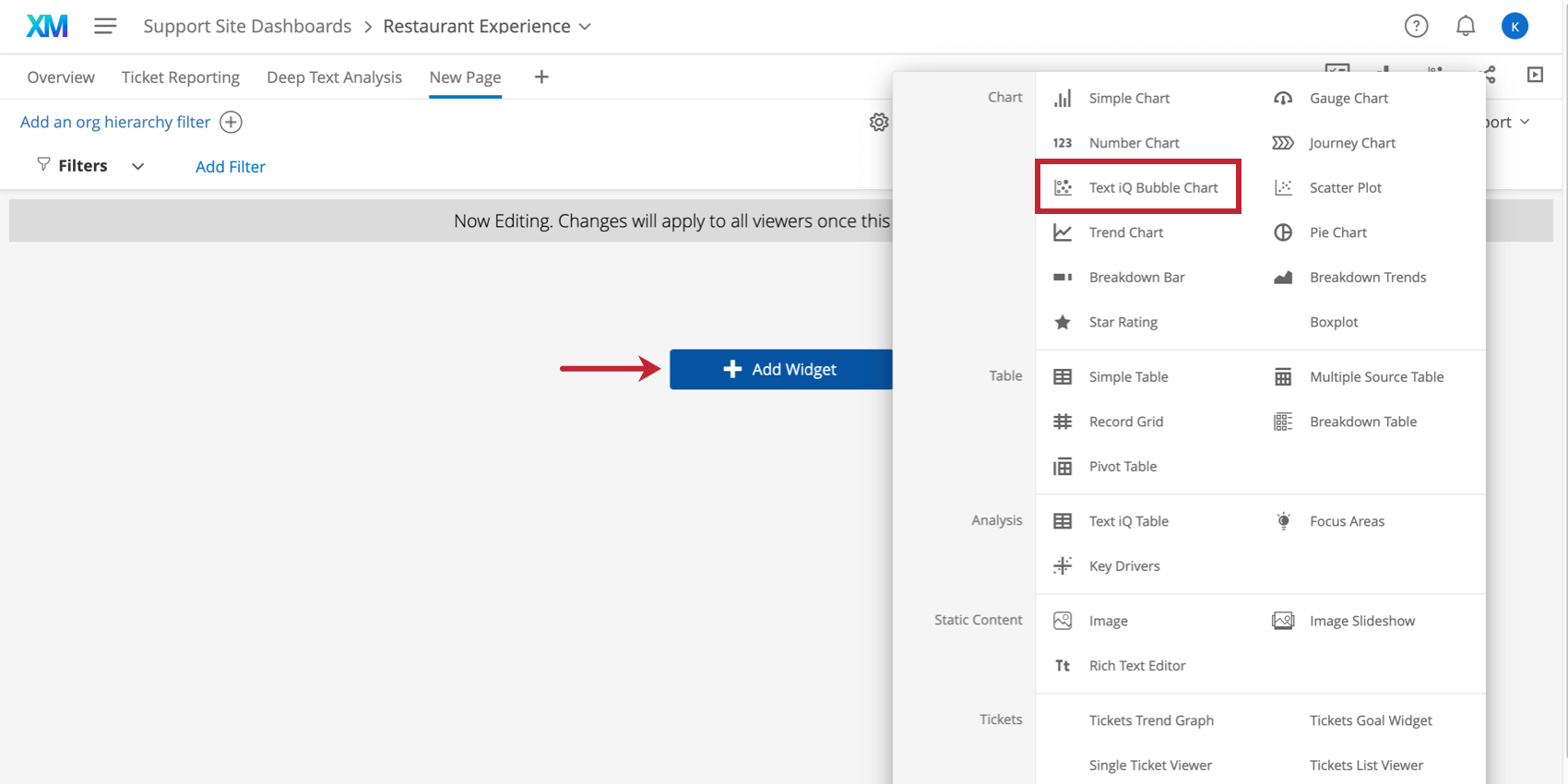 Source
Select the topic you would like to visualize in the widget. If you haven't added topics to this field yet, no data will appear in the widget.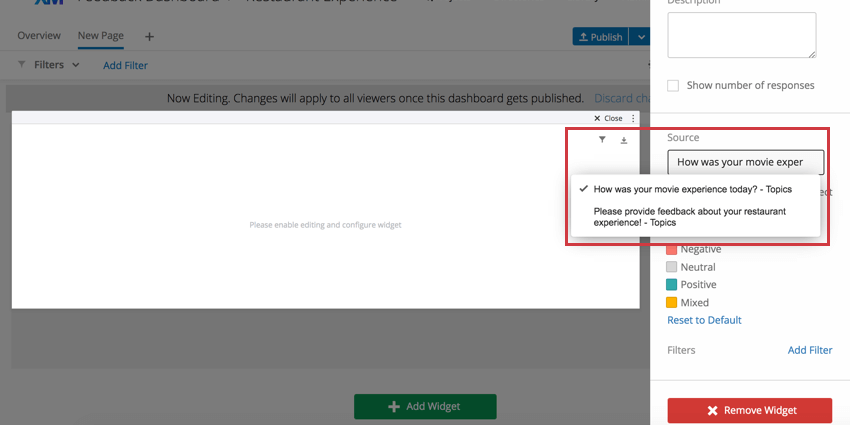 Sentiment Colors
Click the color next to a sentiment to choose a new color. To remove your changes, click Reset to Default.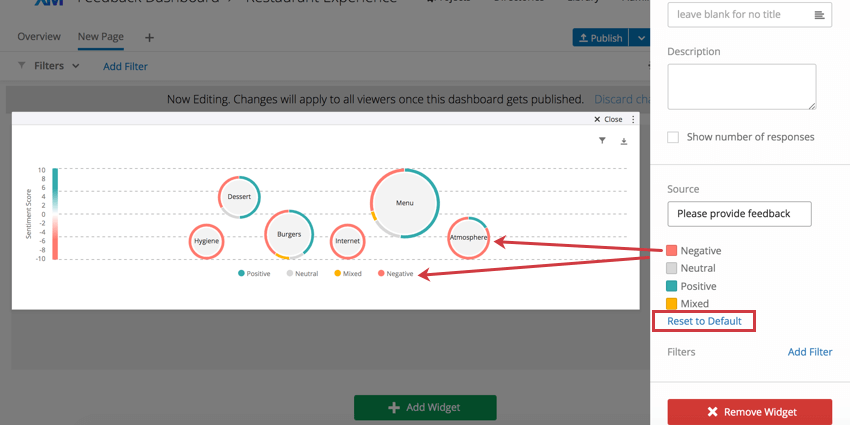 Filters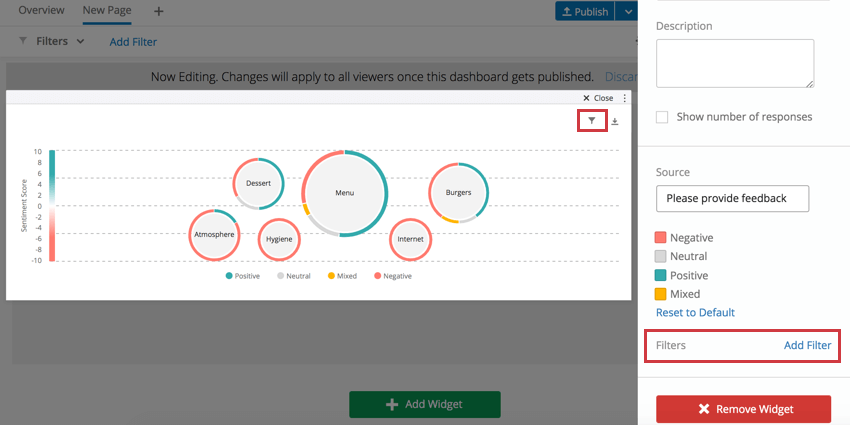 Filtering by Topic
As you click on topics in your Text iQ bubble chart widget, you filter down the rest of the dashboard page. Therefore, it can be incredibly valuable to pair other demographic or scoring information on the same page as this widget. That way, when you select different topics, you can narrow down data on the people who discussed these topics.
Select a topic bubble.

See how the Text iQ bubble chart is now narrowed down to the terms in a topic, and how the pivot table widget displaying sentiment scores has adjusted.

Use the dropdown to adjust the page filters, or remove the filter altogether.