Customer Experience

Employee Experience

Brand Experience

Product Experience

Core XM

Design XM
Managing Public Results-Reports
What's on This Page:
About Managing Public Results-Reports
You can publish your each of your results-reports to the web. Your associates won't need to have a Qualtrics account to view the reports; they'll just need the link you provide. This link will update whenever new responses come in, so that whenever someone opens the link or refreshes the page, they'll be seeing the most recent data.
Qtip:
You can also share your reports by
sharing your project
to a colleague's account. Having a shared project allows you to share that project's Results section directly with your colleagues. You and your colleagues can view, edit, and create reports.
Publishing a Results-Report
Select Manage Public Report.
To add an access code or password to a public report, select Access Code Protection. This means that only individuals you give the password to can view your work.
Enter a code of your choosing.
Copy the link.
Click Done.
Send the link to whoever you want, or paste the link into a browser to view.
Hiding Pages
Oftentimes, there will be certain pages or worksheets you don't want to display in your published report. To hide a page, simply click the Page Options menu and select Hide Page.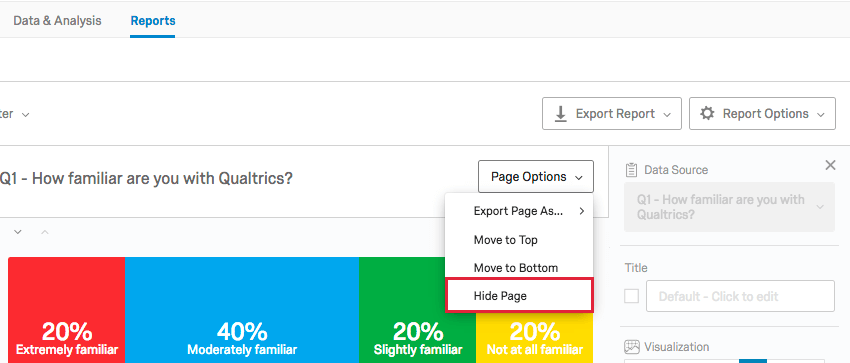 Hidden pages appear grayed out in your page list and and will have a yellow bar across the top of the report editor.
At any time, you can choose to again display the page by clicking Page Options again and selecting Unhide Page.
Related Articles