Customer Experience

Employee Experience

Brand Experience

Product Experience

Core XM

Design XM
Pre-Made Qualtrics Library Questions
What's on This Page:
About Pre-Made Qualtrics Library Questions
In addition to providing survey templates, Qualtrics has saved some common questions you can put into your survey. For example, have you ever needed your respondents to select a date, but didn't know how to make a clickable calendar? Have you ever wanted them to select from a list of countries without having to find a list of every single one yourself? The Qualtrics library questions are here to help!
The questions in the Qualtrics library are available to everyone! It has a lot of content and it's always changing, so remember, you can always check back to see what's available!
Adding a Question from the Qualtrics Library
Select Survey Library.


Qtip: You can also use the Search bar to locate content! For example, type "date" to see all date-related questions!

Select a category of content.

Select a survey to take content from.

Select the question(s) you'd like to import.

Click Import Question(s).
Qtip:
For more on importing your own library content, visit the
Survey Library
support page.
Categories of Content Available
Several categories of surveys are available to you. Their content differs based on these categories.
Customer Research
DEI Survey (Diversity, Equity, and Inclusion)
Demographics
Employee Research

Attention: This category is being removed at the end of 2021. Use the Employee Engagement category instead.

Healthcare Research
Higher Education
K-12 Education
Market Research
Website Experience
Certified Questions
Certified questions leverage Qualtrics best practices to generate high-quality, standardized data to accelerate time to insight. By standardizing metrics — for example, age, gender, industry, location, CSAT, etc. — an entire XM workflow can be created that delivers better value in the form of unified datasets for comparative analysis, benchmarks, and continually updated and standardized profiles.
Certified demographic questions use prebuilt questions that collect demographic data from your respondents to automatically push that data to the respondent's contact entry in your XM Directory. Additionally, demographic data you already have about your respondent will be prefilled in certified questions.
Qtip: For certified questions to work properly, your respondents must be associated with their survey responses. In other words, certified questions do not work for anonymized surveys.
Select Qualtrics Library.

Qtip: Use the search bar in the top right to search for "Qualtrics Certified Questions" to find the certified questions quickly.

Choose the questions you'd like to import by clicking them.

Click Import Questions.
Note all certified questions will be locked so that you cannot edit them. This is to maintain consistency and ensure alignment to XM Directory fields.

To delete unwanted certified questions, click the red minus sign (–) next to the questions you want to delete.
How Certified Questions Map to Attributes in XM Directory
Below is a table showing which certified question maps to which attributes in your XM Directory.
Attention: You should not edit or delete these attributes from your directory.
| | | |
| --- | --- | --- |
| Question Text | Attribute Name in XM Directory | Possible Values |
| How old are you? | Age Range | Under 18, 18-24 years old, 25-34 years old, 35-44 years old, 45-54 years old, 55-64 years old, 65+ years old. |
| How do you describe yourself? | Gender Identity | Male, Female, Non-binary / third gender, Prefer to self-describe, Prefer not to say. |
| How many under 18 live with you? | Children Count | Free response. |
| What is the highest level of education you have completed? | Education Level | Some high school or less; High school diploma or GED; Some college, but no degree; Associates or technical degree; Bachelor's degree; Graduate or professional degree (MA, MS, MBA, PhD, JD, MD, DDS). |
| What best describes your employment status over the last three months? | Employment Status | Working full-time, Working part-time, Unemployed and looking for work, A homemaker or stay-at-home parent, Student, Retired, Other. |
| What is your current marital status? | Marital Status | Married, Living with a partner, Widowed, Divorced/Separated, Never been married. |
| How many people live or stay in this household at least half the time? | Household Member Count | Free response. |
Highlights
Below are examples of some of the most useful pre-made questions. You can find the questions discussed below by typing the Block/Survey name listed in the Search bar.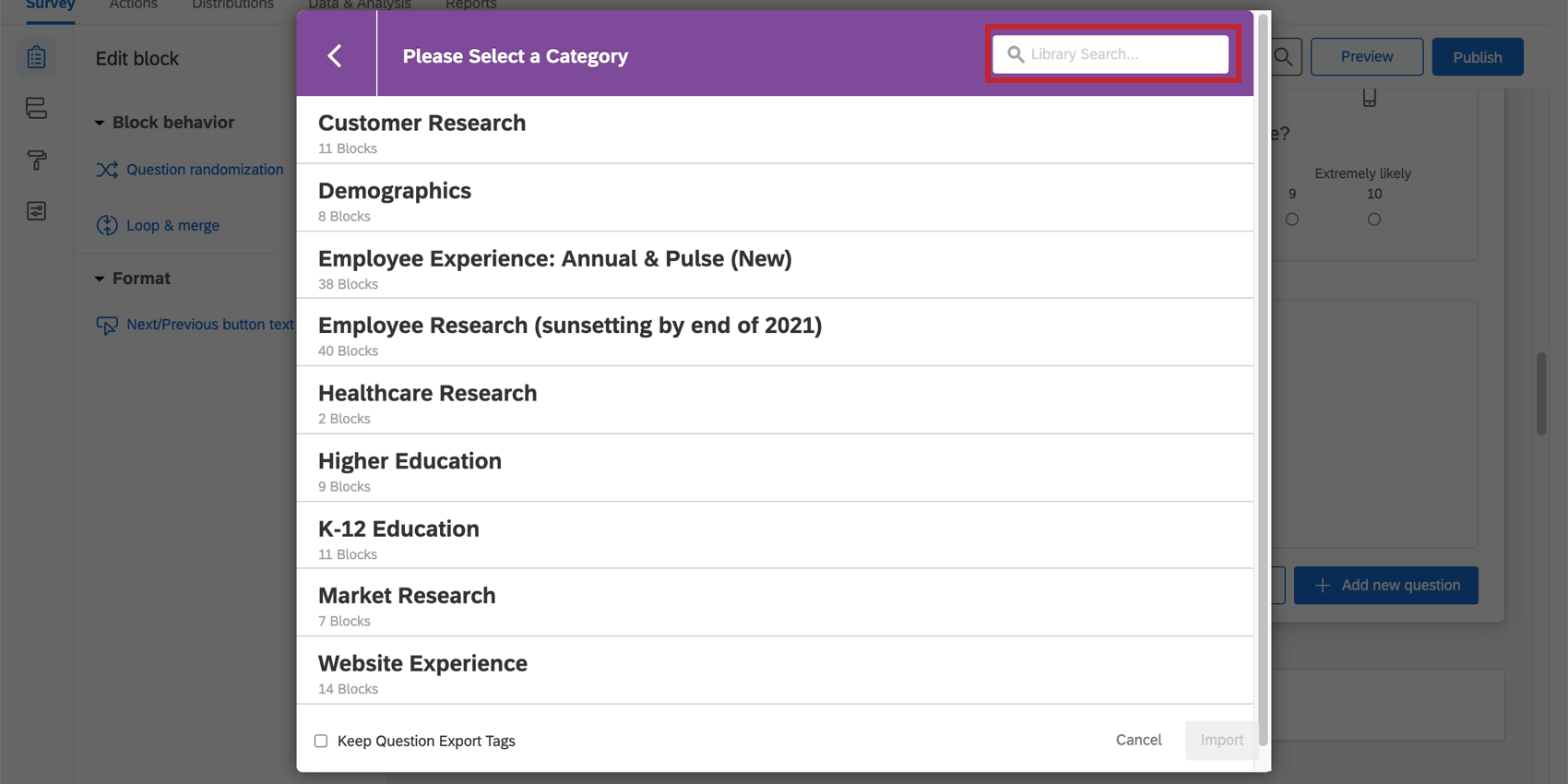 Calendar Question
Question Name: Enter a date:
Block/Survey: Calendar & Date Questions
Category: Demographics
Function: Allows you to select a date from a calendar.
Here is what it looks like in the library:
Here is what it looks like in your survey:
Qtip:
Be careful when editing this question! There's special code here to make the calendar appear. If you want to change the content of the question, be sure to open the 
HTML
view of the question and only edit the 
Enter the date:
text.

Date Drill Down
Question Name: What is (or will be) the date?
Block/Survey: Calendar & Date Questions
Category: Demographics
Function: Allows you to select month, day, and year. The number of days is based off the maximum each month can have. For example, you cannot select February 30 or 31.
Warning:
 Because this is a Drill Down question, you must take caution 
not
to edit this question after you've collected any kind of data, whether it is test or real data. Read the
Drill Down
support page for more information on this question type.
Choose from a list of Countries
Question Name: List of Countries
Block/Survey: Country & US State
Category: Demographics
Function: Allows you to select from a dropdown of 195 countries.
Choose from a list of U.S. States
Question Name: 50 States, D.C. and Puerto Rico
Block/Survey: Country & US State
Category: Demographics
Function: Allows you to select from all 50 United States, Puerto Rico, and Washington D.C.
EX Library Questions
The EX library includes 33 important categories of questions. Each category of questions is organized in a block. To use the EX questions, select the Employee Experience: Annual & Pulse (New) category.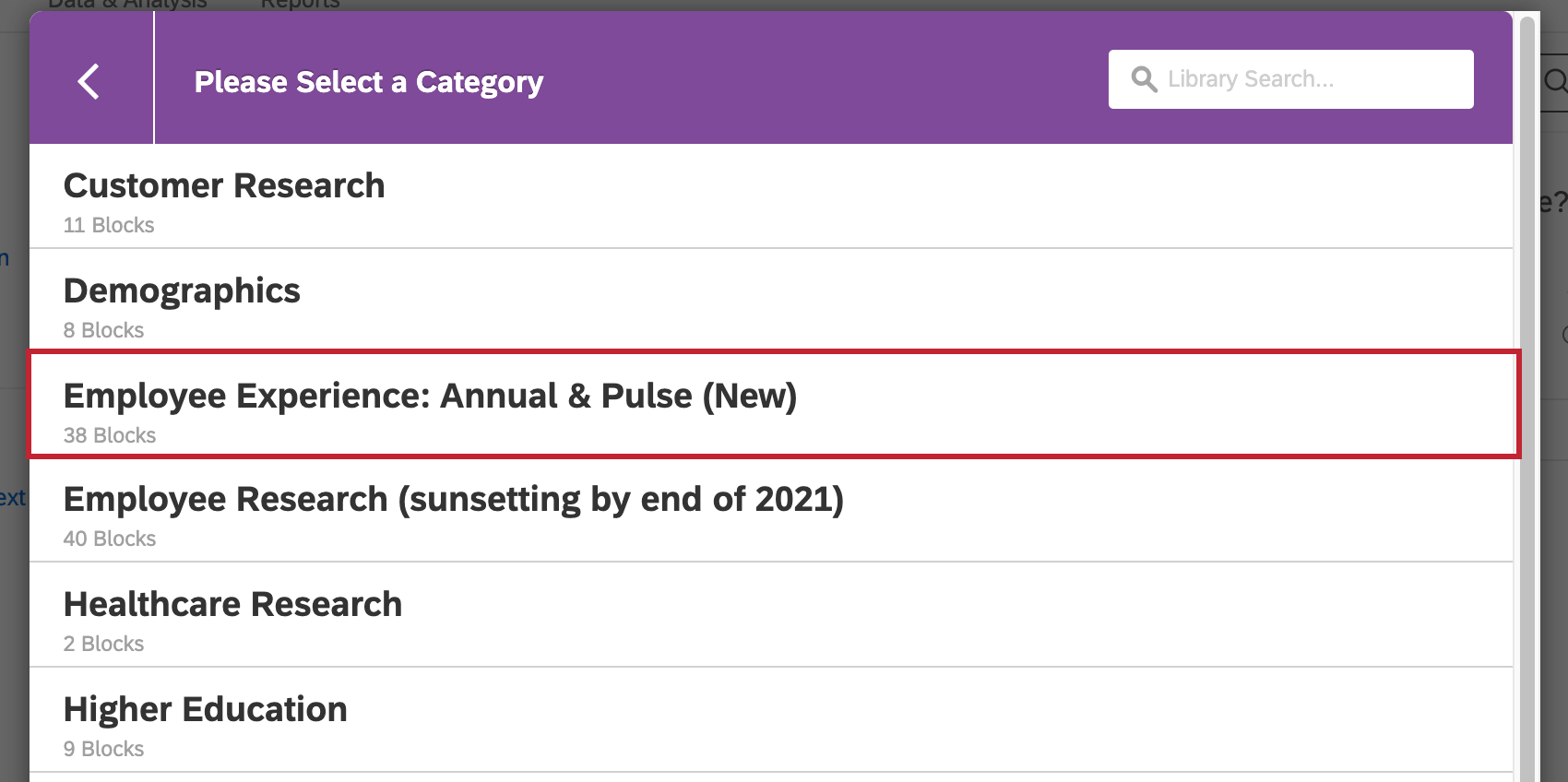 Related Articles