Customer Experience

Employee Experience

Brand Experience

Product Experience

Core XM

Design XM
Response Editing
What's on This Page:
About Response Editing
Perhaps you'd like to remove profanity, spelling errors, or sensitive information from a respondent's text entry response. Maybe a respondent has told you they answered one or two questions incorrectly before they submitted their response. Response editing allows you to revise survey responses right inside the Data & Analysis tab. Qualtrics will even maintain the original data so you can revert back to the original responses any time.
Qtip:
If you have one respondent that needs to change many answers, try sending them a
survey retake link
instead. Note that while you can also export and
import
edited data, importing edits does not change the original response, instead uploading duplicates with different Response IDs and Recorded Dates.
Changes made with response editing will be reflected in the Results and Advanced-Reports, and in CX Dashboards. You can also export raw data with response edits with the default (Data Table) format.
Editing Individual Responses
This workflow allows you to edit one response at a time.
Qtip: If you want to edit a certain question or embedded data field, you must add its column into the Data & Analysis tab. Columns may already be added by default. If there are no editable fields displayed on the page, the Edit button may be grayed out. This button may also be grayed out if the person who invited you to collaborate on the survey didn't give you the permission to edit responses.
Click on the field you'd like to change.
Edit your response. For multiple choice questions, you will have a dropdown to select from. For text entry, you will be able to type answers directly.
Click out of the field to finish editing.
Qtip: When making edits, you can only input data that matches the field's data type. For example, if you've created a text entry question with Numeric Validation, you will only be able to type in a numeric answer.
Editing Multi-Answer Questions
Some questions allow respondents to select multiple answers. Editing these fields is a little different.
To remove an answer, click on it, then click None Selected. In this screenshot, we're removing the "Lizard" option from the response, but leaving "Cat" and "Horse" alone.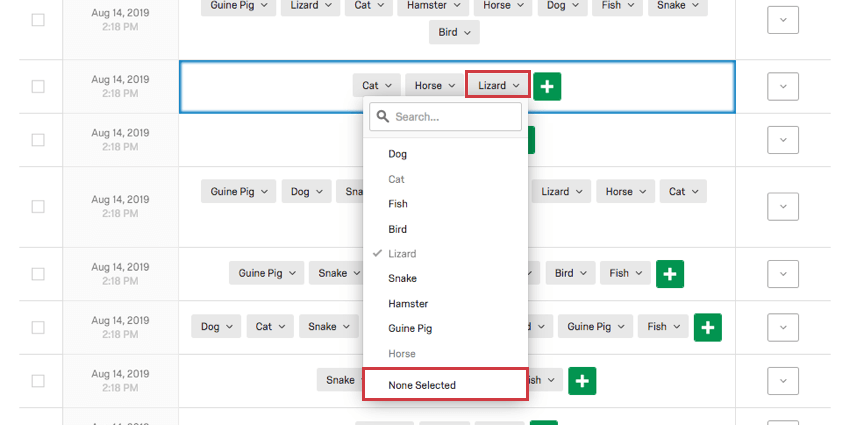 To change an answer into a different one, click the answer and choose the replacement from the dropdown. In the screenshot below, we want our answers to be "Fish" and "Snake," instead of "Lizard" and "Snake." The order of answers does not matter in a multi-answer question.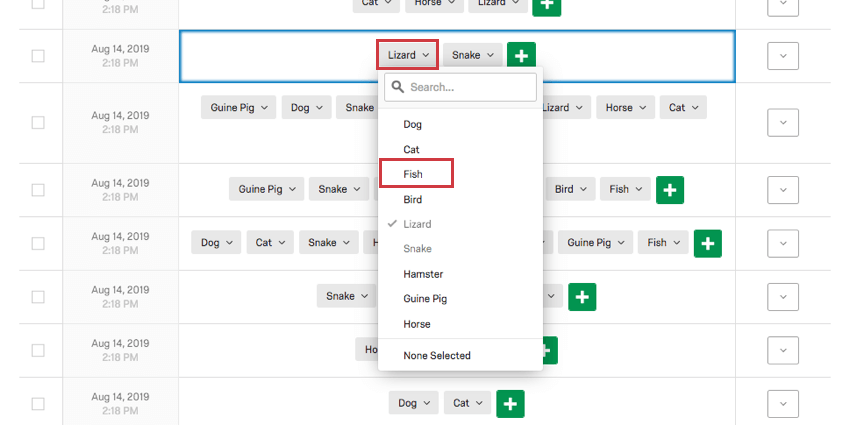 To add another answer (in addition to those already selected), click the green plus sign ( + ). You cannot add the same answer choice multiple times. For example, if "Fish" is already selected, you can't choose "Fish" again.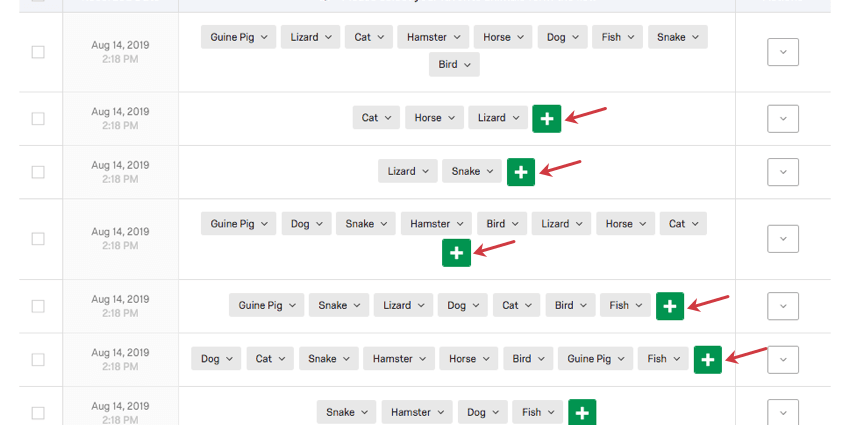 The green plus sign will disappear if you've provided every possible answer for this question. If you have the maximum answers and try to change one of the choices you made, your only option will be to leave it unchanged or remove it.
Editing Multiple Responses
This option allows you to edit the same field for multiple responses at a time.
Select the responses you'd like to edit using the checkboxes to the left of each response. You can select all fields by clicking the column header left checkbox.

Qtip

: Adding filters to your Data & Analysis tab can help you narrow down what responses you want to select for editing. See our

Filtering Responses

page for instructions on building filters.

Select Edit.
Where it says Value, select or type in the new value.

Qtip:

If you see a "replace existing values?" option, then you are editing a custom field. See

Tagging Multiple Responses

for more information.

Click Update Response(s) in green to save your edits.
Restoring Original Data
A gray triangle will appear in the upper-left corner on any response you've edited. Clicking on this triangle will tell you when the data was edited and by whom.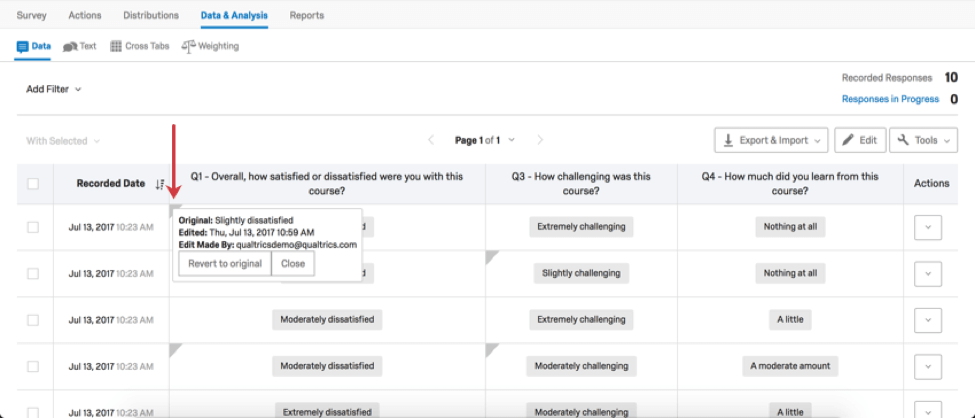 It will also give you the option to restore data. This is the only way to restore the original edits; there is no way to restore more than one field at a time.
Locate the cell of data you'd like to restore to its original state.
On the top-left of the cell, click on the gray triangle
Select Revert to original to restore the original response.
Warning: Once you choose to revert your fields back to the original data, your edits are not retrievable.
Fields That Cannot Be Edited
Nearly all question types and fields are editable via the response editing tool, including text entry questions, multiple choice questions, slider questions, and embedded data fields. However, there are a few types of data that are not editable:
Survey metadata, such as response ID, start date, and other fields Qualtrics records automatically for your survey.

Qtip: The only exception is User Language, which can be edited.

The contact field called Distribution Channel.
Viewing order data of randomized choices, questions, or elements.
Heat map questions
Pick, group, and rank questions
File upload questions
Signature questions
Timing questions
Meta info questions
For Net Promoter® Score questions, groups cannot be edited, but you can change the numeric value, which will assign the Group accordingly.
Scores and scoring categories
The outcome of formulas and fields created through bucketing cannot be edited directly. However, if you edit the questions the custom variable is derived from, the outcome of the custom variable will change, too. Notice that when the height is modified in the example below, BMI changes to fit the new data.
Before editing height:

After editing height:

To learn how to edit the rule behind the formula or bucketed variables, visit our Editing Custom Variables support page.
Related Articles