Customer Experience

Employee Experience

Brand Experience

Product Experience

Core XM

Design XM
Anonymous Link
What's on This Page:
About Anonymous Links
The anonymous link is the URL used to take your survey. You can distribute your survey by pasting this link into an email, onto a website, or into any mode of communication you use with your recipients. Anyone who clicks on the link will be able to take the survey.
It's called the "anonymous" link because it does not collect identifying information such as name or email address, unless you specifically ask for it in the survey. However, by default, the anonymous link will collect the user's IP Address and location data based on that IP Address.
Qtip:
If you do not want to collect IP Address or location data, consider enabling
Anonymize Responses
in the survey options. Before you use this option, see the linked support page for more details on how this setting works.
Here are some other key things to consider when using the anonymous link:
Getting the Anonymous Link
The process of retrieving the anonymous link is easy and accessible.
Navigate to the Distributions tab.

If your survey isn't active yet, you will click on the green Get a single reusable link button.


Qtip:

Doing this will activate your survey. Once your survey is activated, it will be open to c

ollecting new responses

– although you will likely not see any new responses until you share your survey link with your respondents. If you continue to edit the survey after it is activated, remember to

publish your changes

.

You can click Copy this link or highlight and right-click it to copy. The user interface will tell you when it's been successfully copied.
Paste the link into an email or onto a website.
Qtip:
If your link will be printed on paper, consider using a link shortening service such as
TinyURL
,
bit.ly
, or
goo.gl
. You simply give the service your survey link, and it will give you a short, easy-to-type link that will direct participants to your survey.
Other Ways to Get the Anonymous Link
You will also be presented with your anonymous link right after you publish changes to your survey for the first time.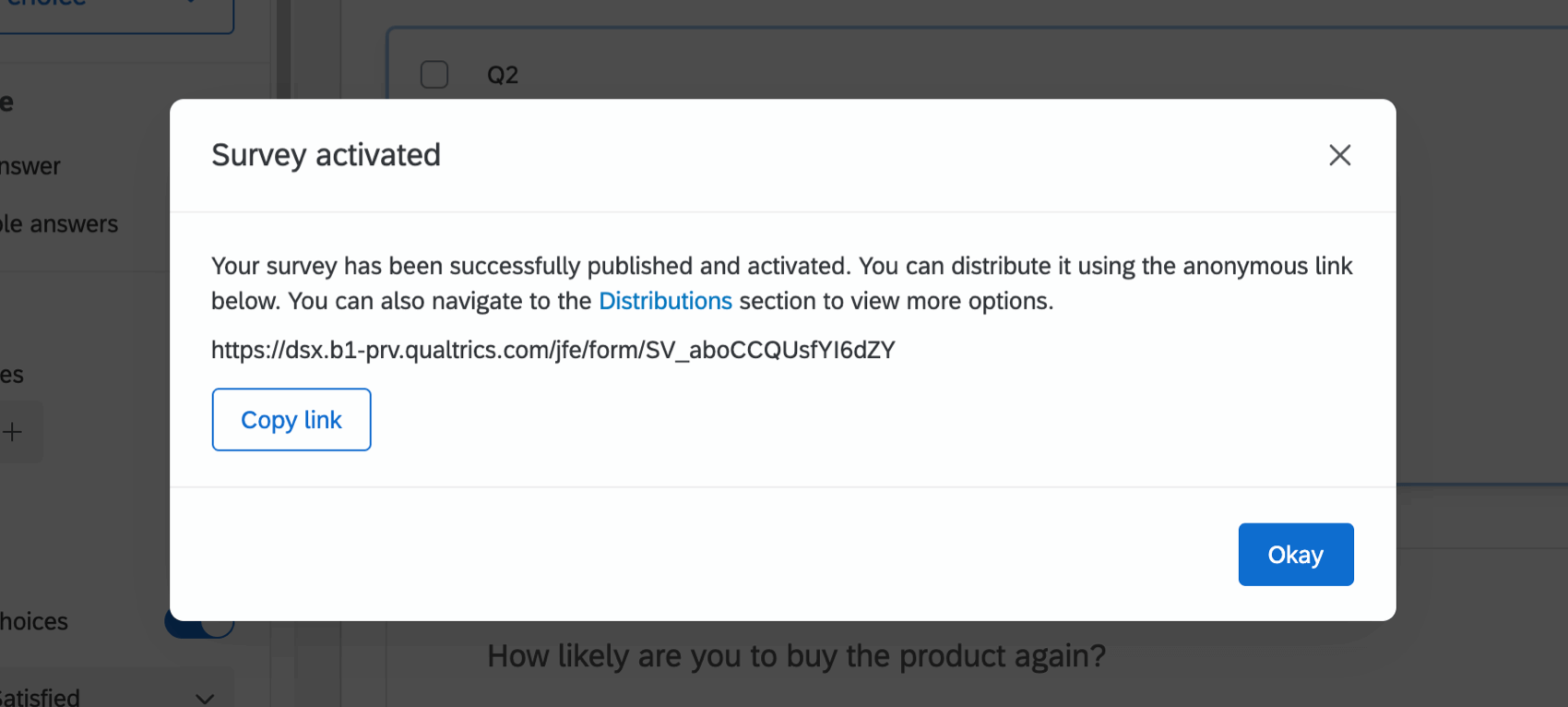 Whenever you publish the anonymous link afterwards, the link will appear on the publish window in the lower-left.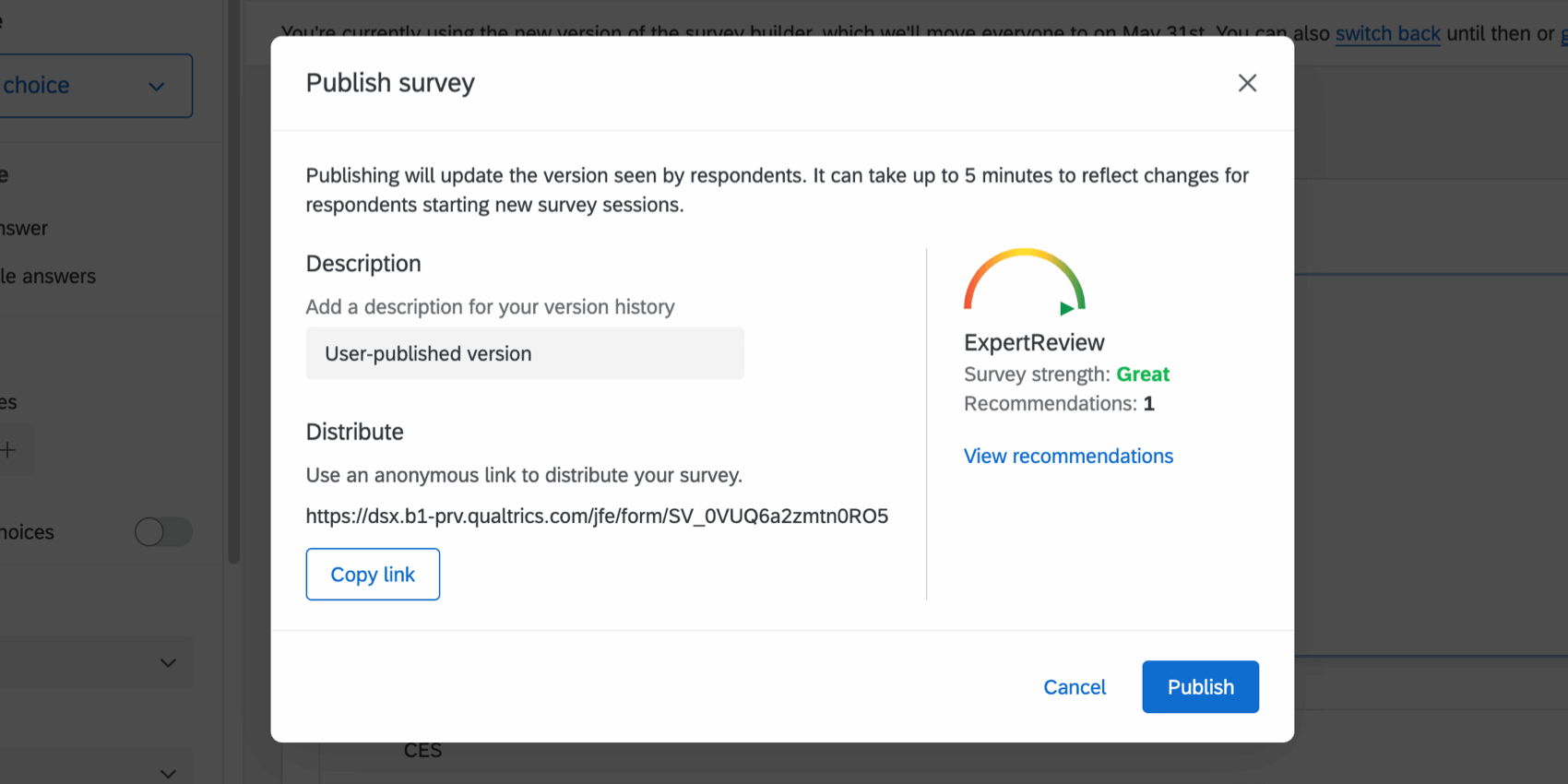 "This survey can only be taken by invitation."
If an individual tries to access your survey with an anonymous link when the Invitation Only setting is turned on in the Security section of your survey options, they will receive a message that says, "This survey can only be taken by invitation." You will need to change the setting to Available to anyone instead if you would like individuals to be able to use the anonymous link.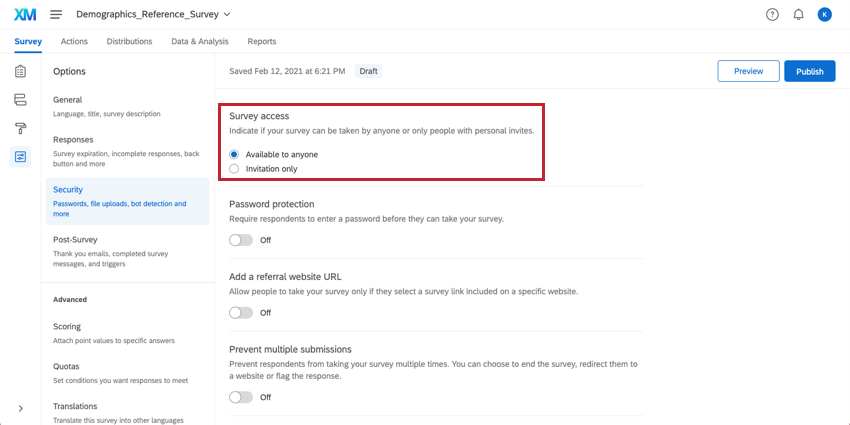 Related Articles