Customer Experience

Employee Experience

Brand Experience

Product Experience

Core XM

Design XM
Data Tab (PX)
What's on This Page:
About the Data Tab
The Data tab in Conjoint and MaxDiff projects is exactly like the Data section in the Survey Platform. However, this tab only includes data for non-conjoint and non-MaxDiff questions. This section contains absolutely no conjoint or MaxDiff data, and as such, none of the options will edit or impact conjoint or MaxDiff data.
The Data tab is most helpful if you: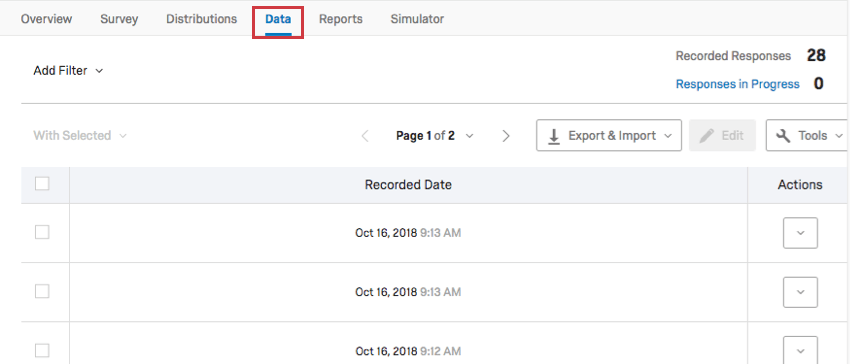 Qtip: If you are conducting a standard conjoint without collecting much non-conjoint data, you can skip this tab altogether. The same goes for if you are conducting a MaxDiff project without collecting non-MaxDiff data.
Data Tab Functionality
All of the following features work exactly the same, with only the non-conjoint / non-MaxDiff data. This means no filtering, exporting, importing, editing, viewing, or building custom fields from conjoint or MaxDiff data.
Qtip: The Data tab is not the same as the Data & Analysis tab. That means that the Data tab does not contain Text iQ, Stats iQ, or anything but the functions described in this section.
Related Articles