Customer Experience

Employee Experience

Brand Experience

Product Experience

Core XM

Design XM
Managing CX Dashboard Users
What's on This Page:
About Managing CX Dashboard Users
Your CX Dashboard has a tab called User Admin that's devoted to managing the users who have access to the dashboard. The Users subsection is where you manage the specific users; you can upload them, add metadata to them, and edit their existing information.
The users listed here are present in your entire brand. When you edit their information, it affects their information in all other projects they're involved in.
Qtip:
Please note that users with the
Manage CX Users
permission enabled will be able to manage CX Dashboard users and
ticketing settings
usually reserved for administrators, all without having to be a Brand Administrator.
Navigating to the User Admin
Go to the Projects page by clicking the XM logo or by selecting Projects from the global navigation.

Select the dashboard project whose users you want to administrate.
Now you can select Users to manage and upload users. Go to Roles to create roles and add users to them.
Searching Users
You can search through your list of users or filter them. This can help when selecting users to remove, export, or email login credentials.
You can do a simple search for users by typing parts of names or whole names into the field.
Search terms go away when you navigate away from the tab.
Advanced Search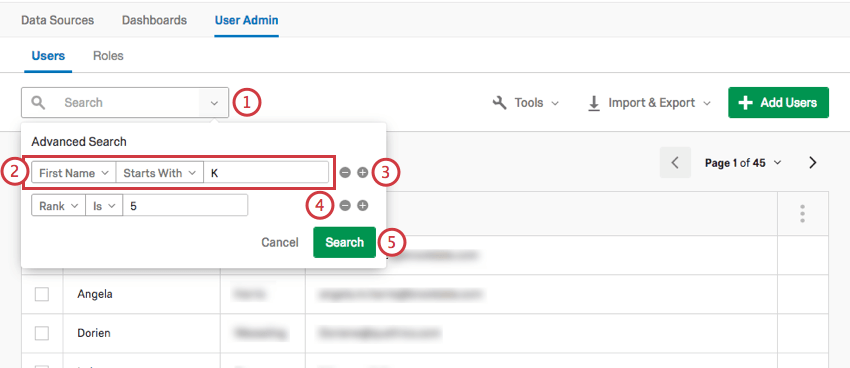 Click the dropdown arrow next to the search box to start adding advanced search criteria.
Fill out the fields. You can only say that a field's value "Is" or "Starts with" something.
Click the plus sign ( + ) to add a criteria.

Qtip: Multiple criteria is treated with "AND" logic. In the pictured example, the first name must start with K and the Rank must be equal to 5.

Click the minus sign ( – ) to remove criteria.
When you're ready, click Search.

Qtip: You can remove an advanced search entirely by clicking Cancel next to it instead.
Qtip:
These advanced search terms cannot be used to sort users into roles. See the 
Roles (CX)
 support page instead.
User Information Window
When you click on the first name, last name, or email address of a user, it will open a window that contains all their user attributes and their values along the left, or modify their roles along the right.
Click Save when you're done making changes.
User Attributes
You cannot remove attributes, but you can add attributes by clicking Add Another Attribute. Select from a list of existing attributes.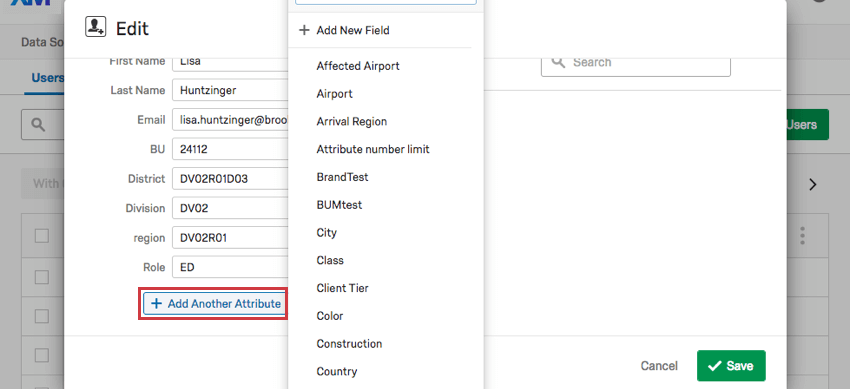 To edit the attribute's value, edit the field on the right of an attribute. In the screenshot above, you would highlight where it says 24112 to change BU's value.
You cannot rename attributes or add new ones. To do so, see the User Attributes (CX) support page.
Roles
Roles that the user belongs to are listed along the right.
Highlight a role and click the red X to remove the user from that role.
Type the name of a role to search for it, then click the appropriate role to add the user to it.
To learn about creating roles and how they work, see the Roles (CX) support page.
Email Login Credentials to Users
When new users that haven't yet signed in are imported or added, they are not sent login credentials automatically. When you are ready to send the users their credentials there are two ways to do this:
Email only selected users: Select a user (or multiple users) and click With Selected, then Email login credentials to selected users.
Email all newly added users: Use the Tools dropdown, select Email login credentials to new users.
This option is also helpful if users forgot their usernames.
If the user has already received an email with login credentials, the password will be omitted from the email for privacy.  This includes if they've been sent login information for any past dashboard project.
If the user is having trouble with their password, advise them to reset their password instead.
Qtip: If your brand uses SSO, you will not have the option to email login credentials. Instead, users access Qualtrics CX dashboards by logging in at their organization's portal with their usual credentials.
Sorting and Adding Columns
You can choose what columns you see and how they are sorted to make locating users easier.
Additional Columns
To customize what metadata is shown in the user table, click on the three vertical dots in the top right corner of the table to select which fields are displayed.
Columns with a check next to them are displayed. You can select any metadata in your brand, or the contact fields First Name, Last Name, and Email. Search fields by name or use the arrows at the bottom of the list to navigate through the list of metadata.
If you don't want a column to appear anymore, highlight the column and click X next to the name. This will not delete the information, just remove it from the table.
Sort results alphabetically
You can sort the First Name, Last Name, and Email columns of the user tale alphabetically. To enable this, go to Tools and select Sort results alphabetically. Once this is selected, you can click on the column header to sort.
Qtip: This option may slow down searches.
Related Articles