Customer Experience

Employee Experience

Brand Experience

Product Experience

Core XM
Survey Options (New Survey Builder)
What's on This Page:
Attention:
You are reading about the new survey builder. This feature is in preview and is not yet available to all customers. If you're interested in learning more, reach out to your
Customer Success Representative
.
Survey Options in the New Survey Builder
The Survey Options menu has all the same choices in the new survey builder; however, some features have been renamed or re-organized for the sake of clarity. This page goes over all the options you'll find in this menu and how they work.
To get started, choose the Survey options icon to the left.
General
The general section contains survey options related to the survey's default language, the title and description displayed in search results, question numbering, and Expert Review.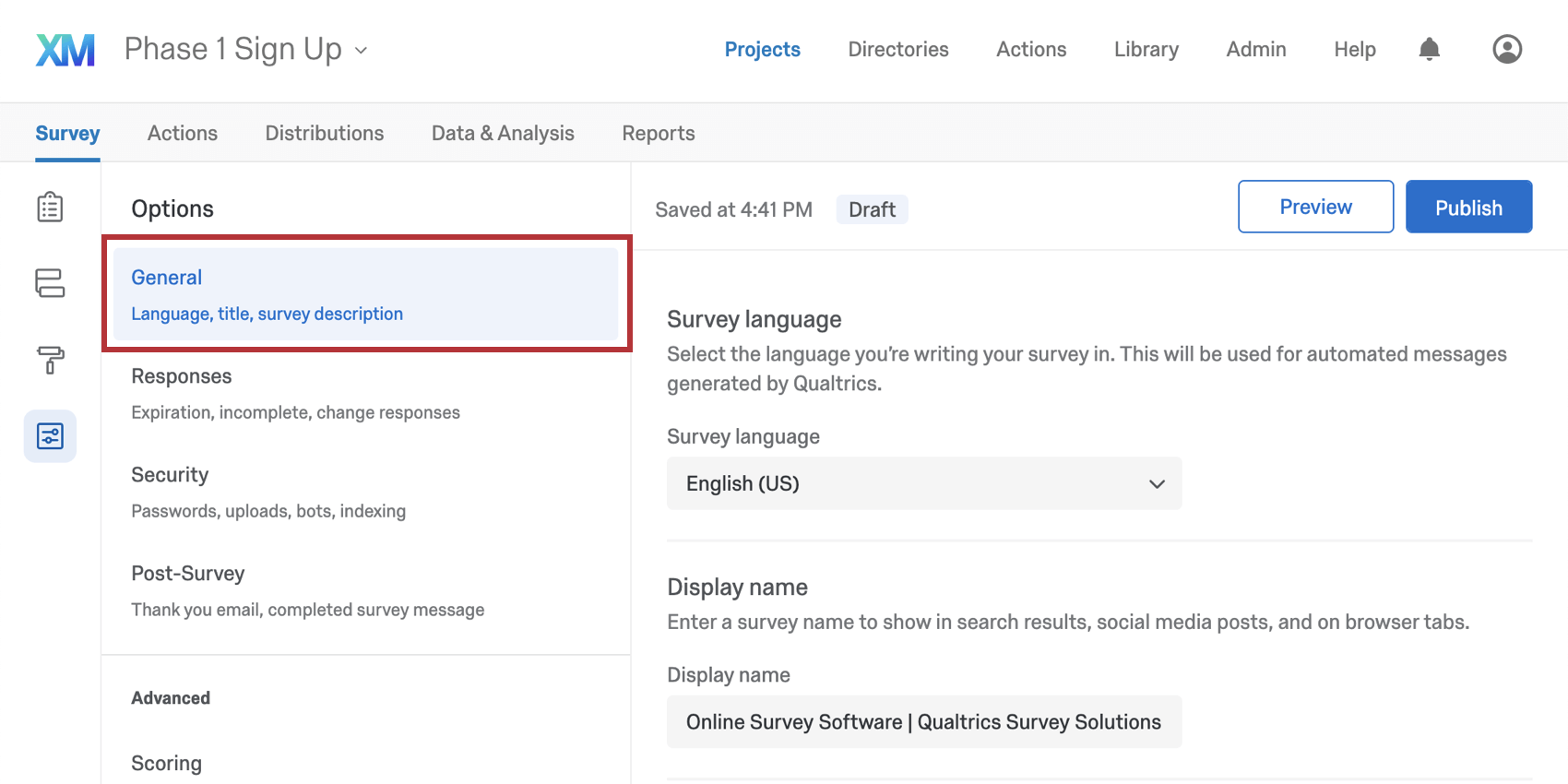 Survey Language
By default, surveys use the language specified in your Account Settings for any default messages that may appear to respondents as they are taking your survey. However, you can change your survey's language using the dropdown under Survey Language.

In addition, some languages like Arabic or Hebrew are read from right to left. Changing the survey language will change the way the survey editor displays the survey questions.
For more information on running a survey in multiple languages, visit our Translation page.
Display Name and Survey Description
The title of your survey as it appears in web results and on social media posts is the Display Name, and the description that accompanies this name is the Survey Description.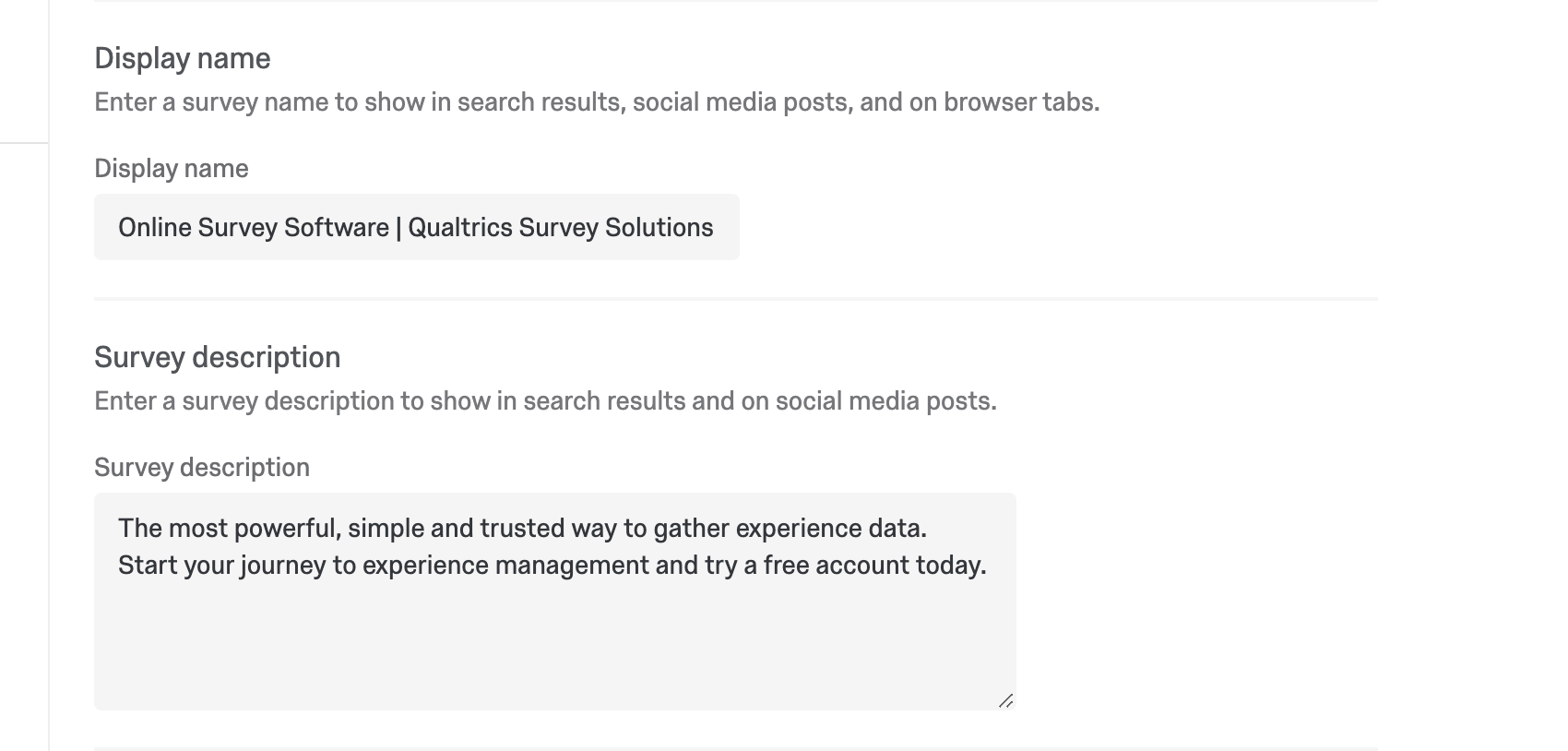 For more on these settings and when they'll appear, see Changing the Survey Title and Meta Description.
Question numbers
To the left of each question you will see the question number, which you can use to help identify questions when exporting your survey data and reference questions while working on a survey with others.
By default, these question numbers are not displayed to your respondents, but you can display them to respondents by enabling Question numbers in your survey options.

Question numbers are often turned on in the testing stage of your survey so those reviewing it can give more specific feedback on which questions they would like to see tweaked.
Expert review
Use this setting to enable or disable Expert Review. This feature is enabled by default.

See Expert Review Functionality for more details. The functionality is the same in the new survey builder, but with a new look.
Responses
These survey options affect how responses are recorded and how respondents experience the survey-taking process. Here, you'll find settings related to how respondents can change their answers during a survey session, the error messages they should receive, what to do with incomplete responses, and more.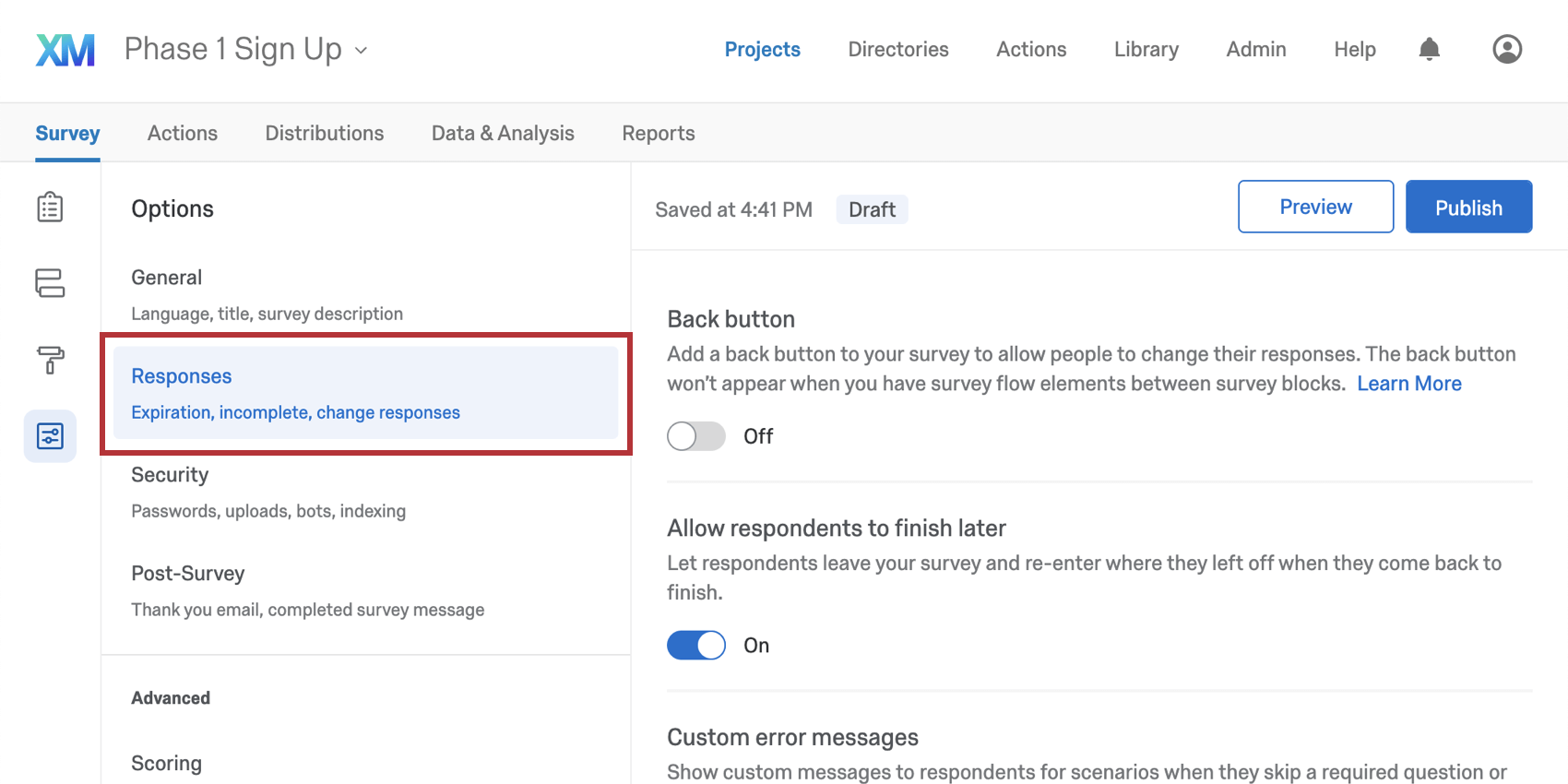 Back button
With a back button, respondents can return to pages they have already visited in your survey and update their responses.

Warning:
In some cases, a back button will not show on a page of the survey even if you have the setting enabled in your survey options. This is caused by having elements between
blocks
in your
survey flow
. Any element (
branch logic
,
embedded data
,
randomizer
,
web service
, etc.) will disable the back button on the first page of the block that follows it.
Allow respondents to finish later
This setting allows respondents to leave the survey and resume their progress later, so long as they return on the same browser where they started the survey.

For more on how this setting works, see Allowing Respondents to Save Progress.
Qtip:
This setting used to be called
Save and Continue
. Do not pair this setting with
authenticators
.
Custom error messages
When building your survey, you have the option of adding "Force Response" to your questions. If a respondent does not answer the question, they are shown the error message, "Please answer this question." In the survey options, you can customize a new standard error message to display in this situation.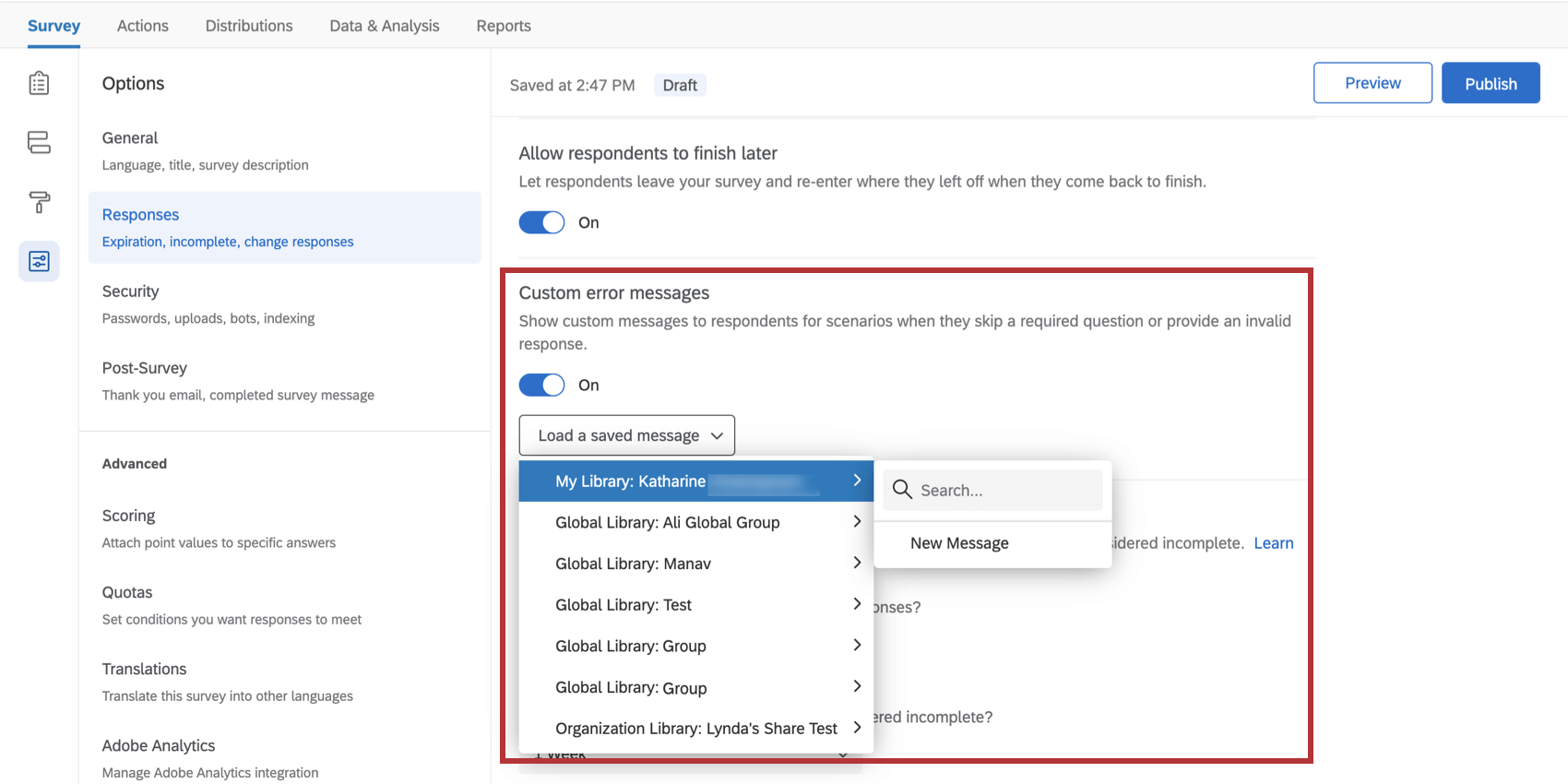 For more details, see Adding a Custom Error Message. Although survey options may look a little different on this page, you follow the same steps to set a custom error message.
Incomplete survey responses
Sometimes, respondents will get partway through a survey before they quit. The Incomplete survey responses settings allow you to determine whether to record or delete incomplete responses, and after how long.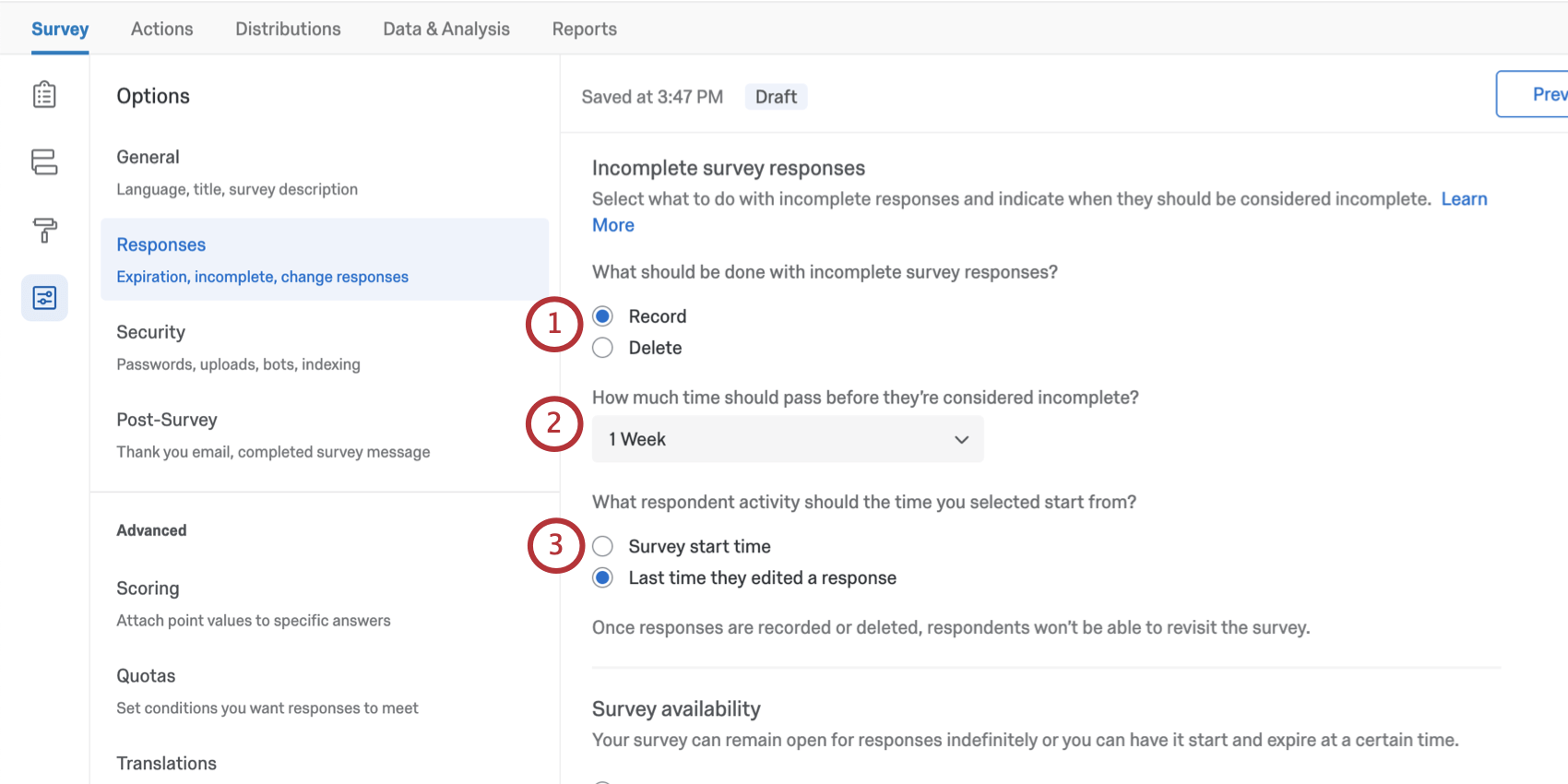 Select what you'd like to happen when the Partial Completion deadline is met.

Record: Record the response when the deadline is met.

Attention: Responses at 0% progress will be deleted, even if this option is set to record.

Delete: Delete the response when the deadline is met.

Select a time frame.

Qtip: Whether you decide to record or delete, your options are 1 hour, 4 hours, 24 hours, 48 hours, 72 hours, 1 week, 2 weeks, 1 month, 3 months, 6 months, or a year.

Choose when the time frame begins counting down. Your options include:

Start survey start time: When your respondent first started the survey.

Example: Let's say I configure it so that partial responses are recorded one week after the respondent starts the survey. I send out the survey on August 1 and the respondent begins their response on August 3 but does not finish it. The respondent has until August 10 to complete their response.

Last time they edited a response: When your respondent last edited their survey response.

Example: Let's say I configure it so that record partial responses are recorded one week after the respondent's last activity. The respondent begins the survey on August 1. They close the survey without completing it, generating a response in progress. Their current deadline is August 8. The respondent revisits their response and edits it on August 5 but still does not complete their response. Their new deadline is August 12.
For more details, see Partial Completion. Although this setting has been renamed, the functionality is still the same.
Survey availability
With the "Survey availability" setting, you can choose to either make your survey available as long as its status is active, or to set an expiration date when the survey will be closed to new respondents.
Example: If your survey needs to only collect responses that started before the new year, you could set New Years Day as the expiration date so that you can enjoy the holiday festivities without needing to remember to deactivate your survey.
Respondents trying to access your survey before or after the specified range will receive a simple message explaining that the survey is currently unavailable. The expiration date specifically affects participants' ability to start the survey. Those who are in the middle of a response will be allowed to continue taking their survey and finish after the expiration date.
Qtip:
The start and end times are based off of your account time zone, which can be changed in your
Account Settings
.
Determine your survey availability.


Always open for responses: The default. The survey will be able to collect responses so long as the status is active.
Starts and expires at a certain time: Set a specific start and end date for your survey. We'll cover these settings in the next steps.

If you chose to set an expiration, review the date and time set. To make changes, click Edit survey availability.
Set the start date, start time, end date, and end time of your survey's availability.

When you're finished, click Save changes.
Inactive survey message
When someone attempts to take a survey that has been deactivated (i.e., when your survey is no longer collecting responses), the following default message is displayed: "Sorry, this survey is not currently active." You can change this message to a custom one by doing the following:
Click Load a saved message.
Select the library you would like the messages to be saved in.

Click New Message.

Qtip: Alternatively, select an existing message for use.

Type your message as you would like it to appear to your respondents.
Click Save.
Qtip:
The inactive survey message will display to respondents once the survey has been deactivated. To deactivate an active survey, you must
pause response collection
. See the linked support page for more details on how to pause responses.
Security
These settings can increase your survey's security and protect your survey from unwanted responses.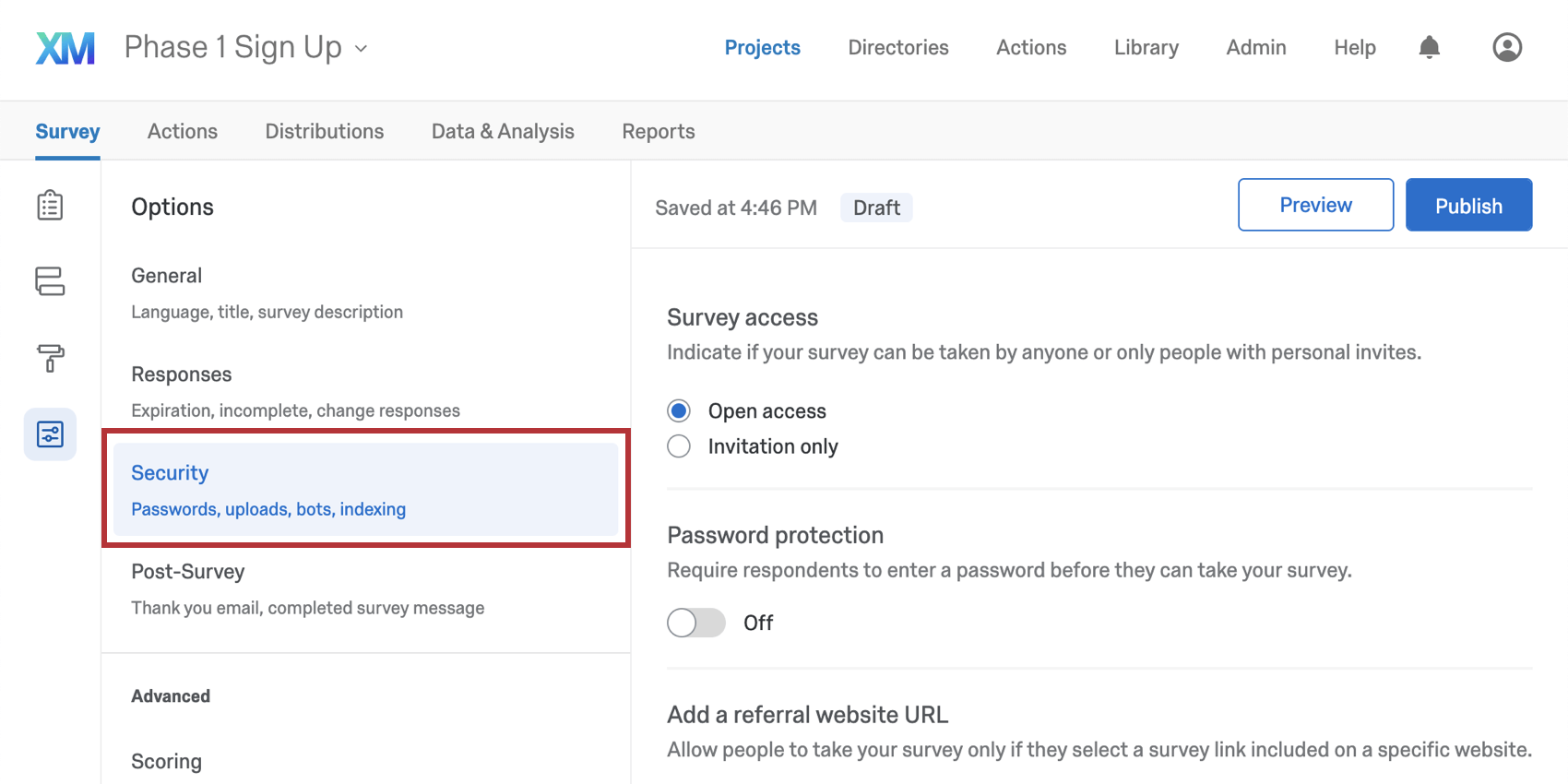 Survey access
There are two ways a respondent can enter your survey. The first is to do so anonymously, by clicking an anonymous link. The second is to click an individual link generated just for them (either through emails or personal links).

Open access: By default, respondents with either the anonymous link or an individual link can take your survey.
Invitation only: Only respondents sent a personal link or invited over email (with the default individual link) can access the survey. No one can enter the survey using the anonymous link or the multiple completes link
If an individual tries to access your survey with an anonymous or multiple completes link when the Invitation Only setting is turned on, they will receive a message that says, "This survey can only be taken by invitation." Password protection
You can set a single, general password that any respondent must enter to access your survey. This is helpful when you are using the anonymous link and want to restrict who can enter the survey.
Enable Password protection and enter your desired password in the field that appears.

There is no limit to how many times respondents can try to guess the password of a survey.
Qtip:
If you want to have a unique password for each survey taker, you might consider using an
authenticator
in your survey instead.
Add a referral website URL
Specify the URL your respondents must come from in order to access your survey. This setting is useful if your survey link is posted on a particular website (such as an internal university or company page) and you want to make sure the link does not get copied and sent to others. Only those who can access that page would be able to take the survey.

Example: A retailer might want to provide a short survey with a password for the next study at the end. Concerned that participants might forward this password and this survey link to friends, they add a referral website URL stating that the participant must click on the link while on a specific page of the website.
Qtip: The URL entered here needs to match the URL of the corresponding website exactly. We recommend copying the URL from your web browser. For example, if we wanted to restrict respondents to a survey accessible on our support site, we would need to use https://www.qualtrics.com/support/. Using just qualtrics.com/support will not work.
Prevent multiple submissions
Qtip: This option used to be called "Prevent Ballot Box Stuffing."
In circumstances where you are offering an incentive or conducting a sensitive vote, you may want to prevent participants from taking a survey more than once. This setting works by placing a cookie on their browser when they submit a response. The next time the respondent clicks on the survey link, Qualtrics will see this cookie and not permit them to take the survey.
"Prevent multiple submissions" is a great deterrent, but can be circumvented by savvy participants clearing their browser cookies, switching to a different web browser, or using a different device. With surveys that have a higher incentive to cheat, consider distributing your survey by email (which creates a unique, one-time use link for each participant) or by using an authenticator.

Some users may see an Action dropdown when they enable this setting. For more details, see the Prevent Ballot Box Stuffing section of the Fraud Detection support page.
Bot detection
Look for respondents that could be bots and flag their responses. For more details, see the Bot Detection section of the Fraud Detection support page.
Security scan monitor
Prevent security scanners from accidentally starting a new session on your survey.
This setting used to be called "Email Scan Roadblock." See the linked support page for more details on how this setting works.
RelevantID
Analyze a respondent's browser, operating system, and location to prevent fraudulent responses.  For more details, see the RelevantID section of the Fraud Detection support page.
Prevent indexing
Search engines work by creating what is called an index, or a map of all pages on the Internet so they can be searched quickly. By enabling Prevent indexing, you can keep search engines from finding your survey and presenting it in their search results.

Require permission to view uploaded files
With this option enabled, files uploaded to responses can only be viewed by users with permission to view responses. This includes files uploaded in response to the File Upload, Screen Capture, and Signature question types.
If you cannot access the URL from your data export, it is because you are not the survey owner and the survey owner has Require permission to view uploaded files turned on. If you'd like anyone to be able to view the links from the dataset, you will need to turn off Require permission to view uploaded files.

Qtip: "Require permission to view uploaded files" is selected by default, but may be unchecked for surveys whose file uploads need to be able to be downloaded by anyone. This can be turned on or off at any time.
Qtip: This option used to be called "Secure Participants' Files."
Anonymize responses
Permanently scrub a response of identifying information.

See Anonymizing Responses for more details on how this setting works.
Post-Survey
These survey settings concern what happens after a survey ends.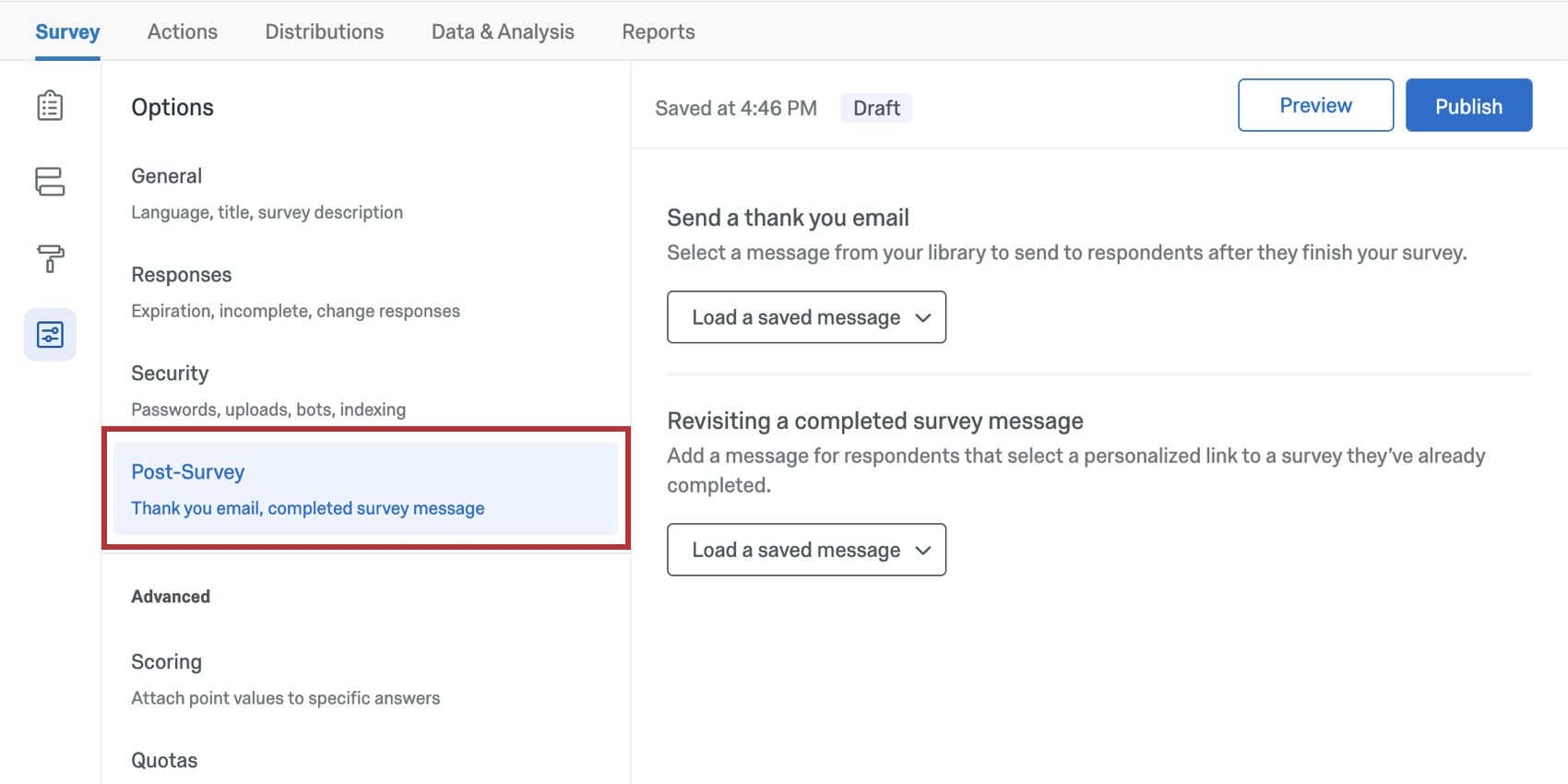 Send a Thank You Email
If you distribute your survey sending an email invitation through Qualtrics, using personal links, or using an authenticator connected to a contact list, you can send a thank you email when respondents have completed your survey. This thank you will send to the email address listed in the contact list for the respondent.
Qtip:
You can send a thank you email to all of your respondents that completed the survey through the
Distributions
tab as well.
Select the library you would like the messages to be saved in.
Click New Message.

Qtip: Alternatively, select an existing message for use.

Type your message as you would like it to appear to your respondents.
Click Save.
Revisiting a completed survey message
If you use the default individual link when emailing surveys, respondents can only complete the survey once. If they want to change their response, they will need to reach out to the survey's creator for a retake link. Sometimes, if the user clicked into the link and then didn't return within the partial completion settings, their session expired, and they need a new invitation.
You can write a custom message that will appear when the respondent tries to enter a link they already completed.
Advanced
In the advanced section of your survey options, you can find some additional settings that can enhance your survey.
Scoring: Assign point values to answer choices to use your survey as a test or quiz.
Quotas: Create and monitor quotas on your surveys.
Translations: Translate your survey into multiple languages, allowing respondents to choose which language to view the survey in.
Adobe Analytics: Augment data you have stored for website visitors with data collected through a Qualtrics survey, or integrate Website Feedback with Adobe Analytics.