Customer Experience

Employee Experience

Brand Experience

Product Experience

Core XM

Design XM
General Survey Options
What's on This Page:
About General Survey Options
The General section contains survey options related to the survey's default language, the title and description displayed in search results, question numbering, and Expert Review.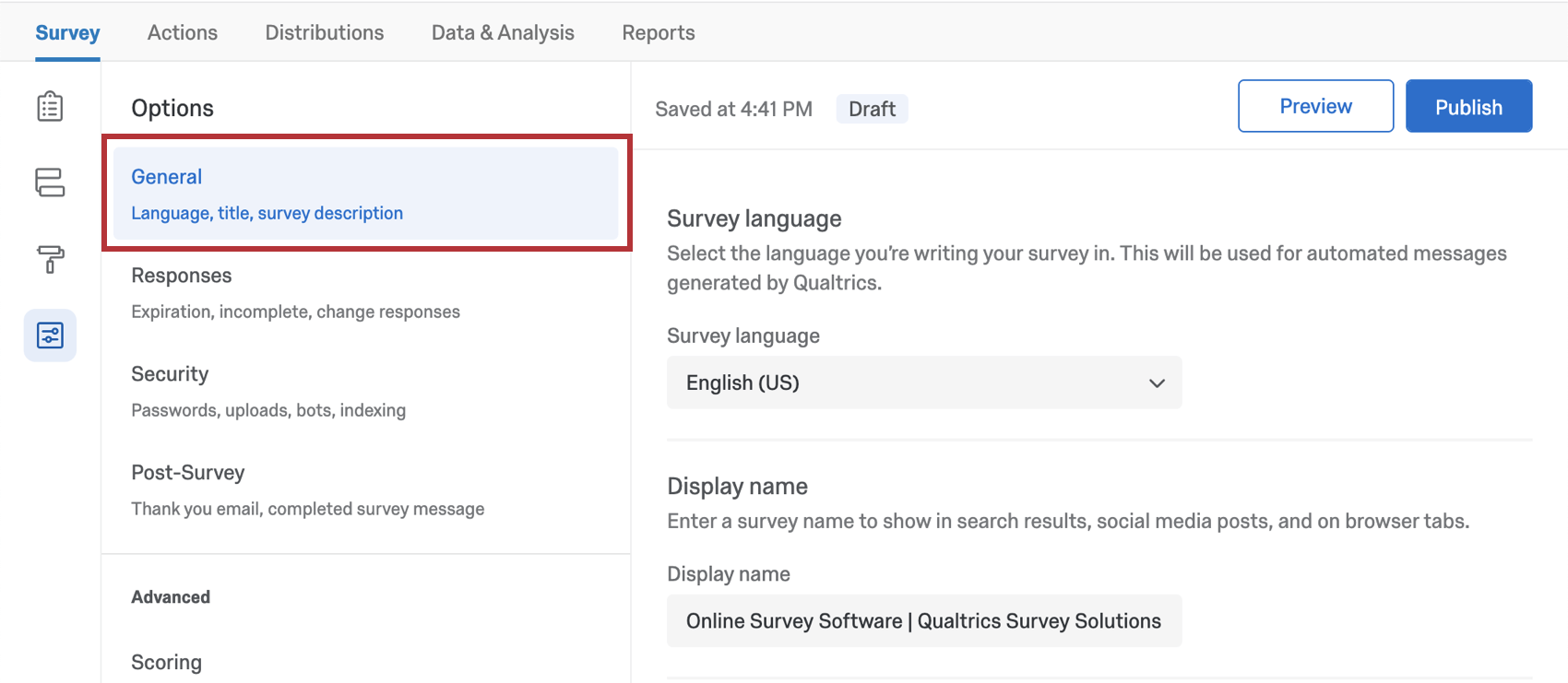 Survey Language
By default, surveys use the language specified in your account settings for any default messages that may appear to respondents as they are taking your survey. However, you can change your survey's language using the dropdown under Survey language.

In addition, some languages like Arabic or Hebrew are read from right to left. Changing the survey language will change the way the survey editor displays the survey questions.
Qtip:
All of the default messages will automatically be translated to any language you added
when translating the survey
. You only need to change the default survey language if you are not adding multiple translations to your survey.
For more information on running a survey in multiple languages, visit our Translations page.
Display Name and Survey Description
In the results of any web search you receive a list of related pages, each with a title and a short description. Similarly, when you post on a social media site such as Facebook, you will see these displayed as a short header and a summary of the link in your post.
The title of your survey as it appears in web results and on social media posts is the display name, and the description that accompanies this name is the survey description. You can change these settings in survey 0ptions in the fields displayed below.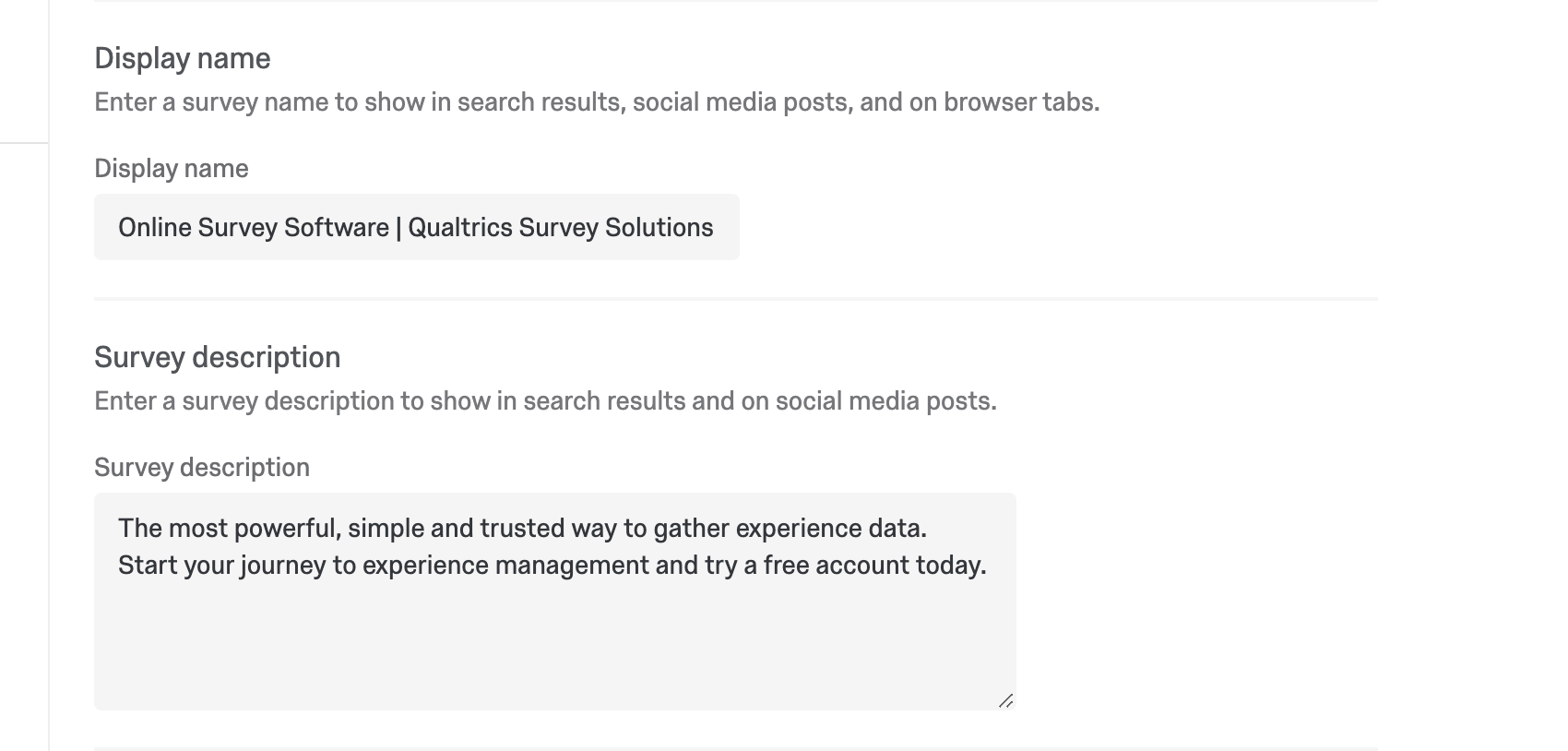 This display name is also displayed as the browser tab title.
The logo you see with the meta description is called an open graph image. It comes from the logo in your survey theme.
Question Numbers
To the left of each question you will see the question number, which you can use to help identify questions when exporting your survey data and reference questions while working on a survey with others.
By default, these question numbers are not displayed to your respondents, but you can display them to respondents by enabling Question numbers in your survey options.

Question numbers are often turned on in the testing stage of your survey so those reviewing it can give more specific feedback on which questions they would like to see tweaked.
Expert Review
Expert review is a digital reviewer for your surveys. It helps a researcher ensure that their surveys collect data of the highest quality. Use this setting to enable or disable this feature. It is enabled by default.

See Expert Review Functionality for more details.
Qtip:
Expert review can also be accessed by using the button in the upper-right of the Survey tab, as shown below: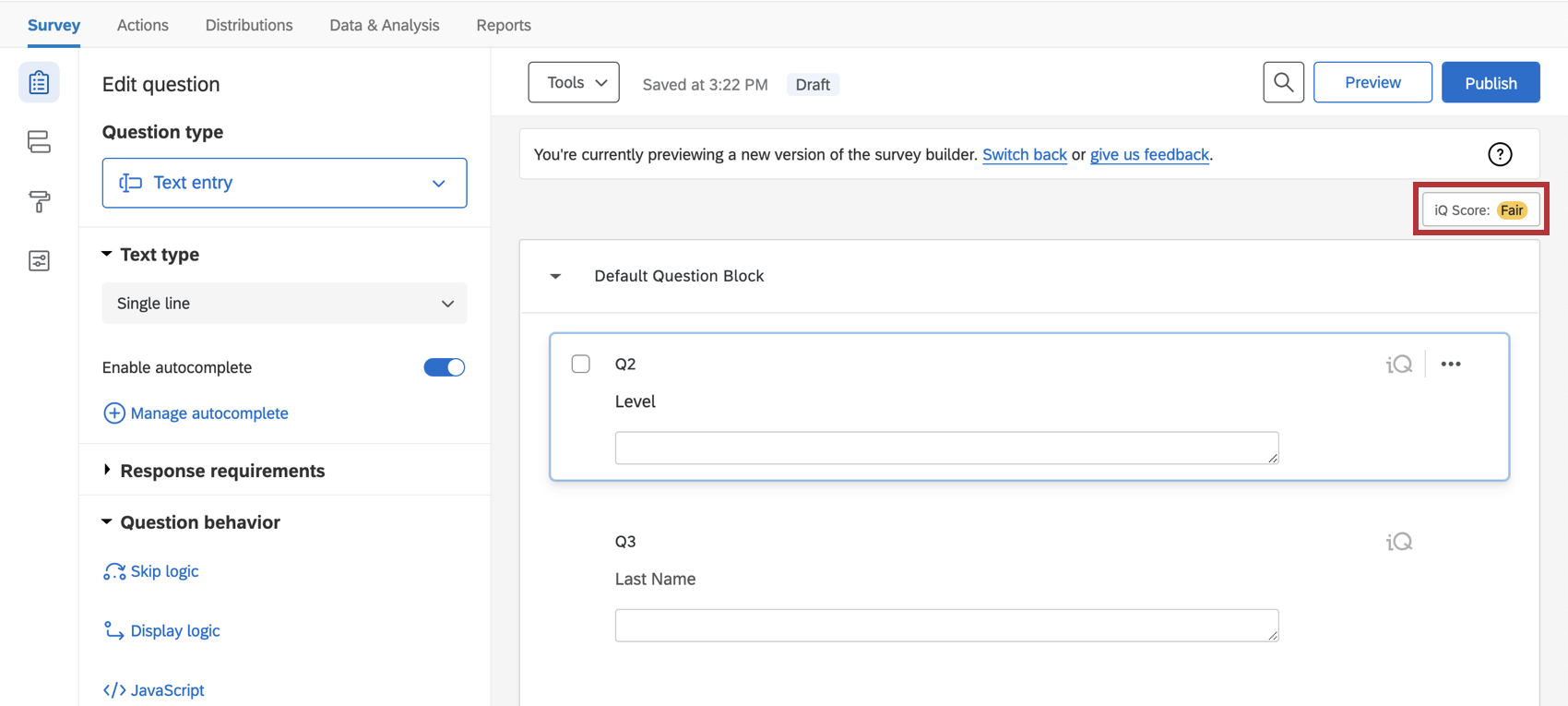 Related Articles