Customer Experience

Employee Experience

Brand Experience

Product Experience

Core XM

Design XM
Deployment Section
What's on This Page:
About the Deployment Section
When you're finally ready to deploy your Website Feedback project on your website, head over to the Deployment section of the Settings tab. Here, there are also several options you can adjust before deploying.
Project Deployment Code
The project code contains all the active intercepts and their creatives in the project. It comes with two options that you can modify.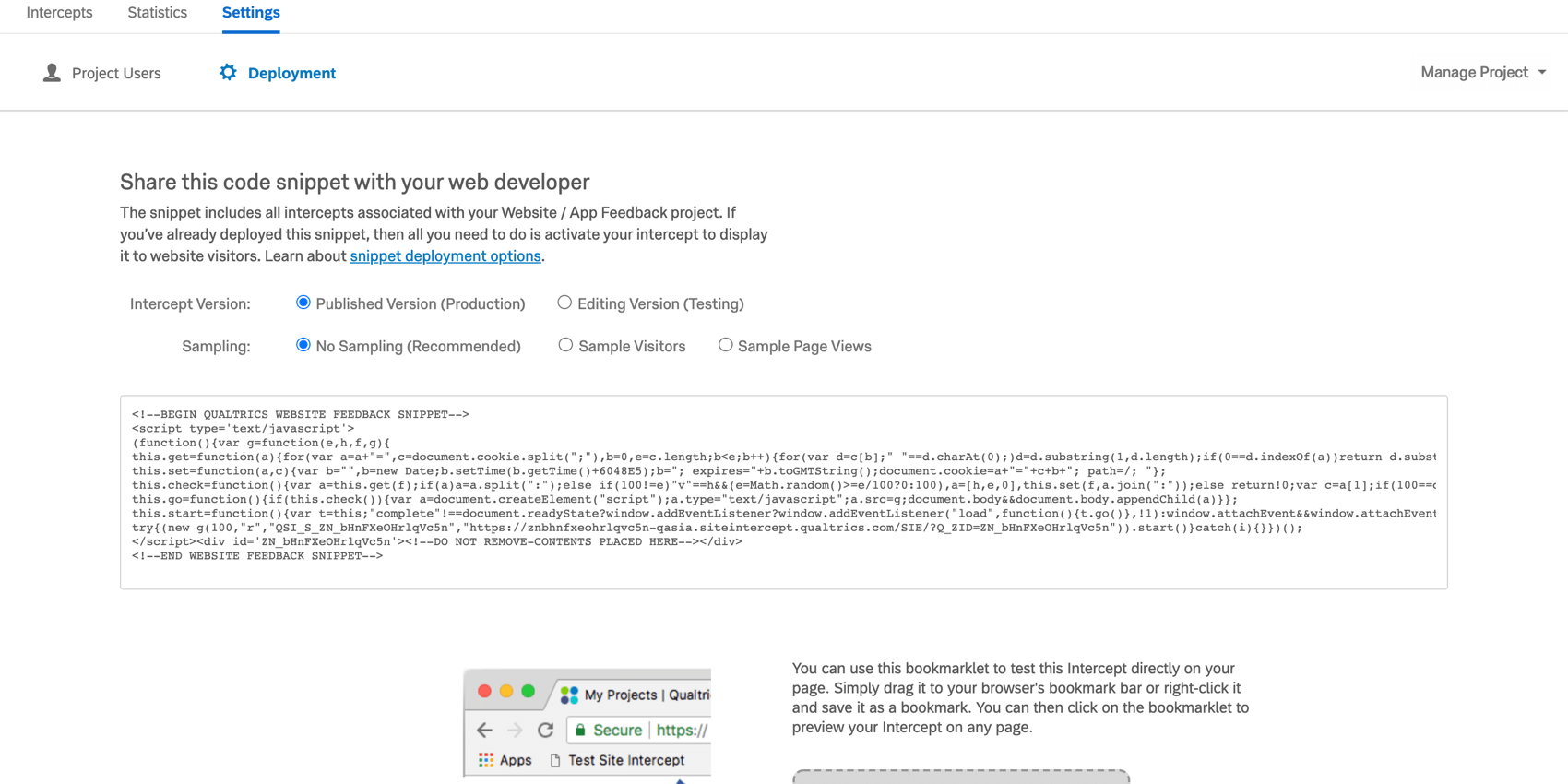 Intercept Version
With the Published version of the code, changes you make to intercepts and creatives in the project won't go live until you click Publish.
The publishing system helps with quality control and is highly recommended. When using Editing code, any changes you make to creatives or intercepts will automatically go live on your website. Editing code may be appropriate for testing on a development or test version of your website.
Sampling
When sampling is in place, deployment code is only run for a percentage of your website visitors or website page views. Changes to this setting actually modify a portion of the code, which means if you already have the code on your website, you will need to implement new code each time you want to modify the sample rate.
Qtip:
Remember you can also manage the sampling in the
Change Options
menu of the individual intercepts, and that this does
not
require you change the code on your website.
No Sampling: No sampling (except that set in Change Options) will take place.
Sample Visitors: The intercepts will only run for a portion of your website visitors. For each visitor, it will either run on every page they visit, or on none of the pages they visit.
Sample Page Views: The intercepts will run the code a random number out of 100 page views for any visitor. Because the code does not run on every page, certain data points tracked by Qualtrics (such as Site History, Time Spent on Site, Page Views, etc.) will be incomplete.
Implementing the project code
The project code can be placed on any page where you may want to display creatives to your visitors. In addition, you will also want to place the code on any pages for which you'd like the Website Feedback project to track or collect information.
Attention: If you create multiple Website / App Feedback projects within Qualtrics, each project will have its own Javascript deployment code snippet. You can create multiple projects and use them on different websites, sub-sites, or even for deployment to testing and staging. However, we strongly recommend that you do not deploy multiple Javascript code snippets from separate projects and have them run concurrently on the same sections or pages on your website. This can lead to timing and loading related issues, especially if you are making calls to the QSI Javascript API.
Attention:
If your project is within our FedRAMP environment, and your website's domain does not end in .gov, you will need to
contact FedRAMP Support
to request that your domain be allowlisted. If you attempt to run an intercept prior to doing so, you'll encounter a console error of "No Access-Control-Allow-Origin". This enhanced security measure will need to be completed for any subdomain that doesn't end in .gov, as well.
Example: Showing a pop over to all visitors on the home page only requires code to be placed on the home page. However, showing this pop over to only those home page visitors who have previously been to the shopping cart page requires the Website Feedback project to know that a visitor has visited the shopping cart. Therefore, code must be placed on the shopping cart page as well.
Adding the Code Snippet to Your Site on Your Own
Copy the code snippet.
While you can place the code snippet anywhere within the page HTML, it is typically placed within the page header or footer.
Qtip: For the easiest implementation, we recommend placing the code in a global header or footer, so it loads on all pages of the website. This is the most flexible and useful implementation because it allows you to run intercepts on any page of your site. However, this method will also lead to a higher level of usage, since each time the code runs on a page it will be considered a page view. Be sure to check that your license will accommodate this volume of usage.
Sending the Code Snippet to Your Website Developer
Instead of updating the website code yourself, you can also choose to have your website developer do it for you. In that case, simply copy the code snippet and email it to your website development team.
Your developer can put the code in the header or footer of each page's HTML, or in the global header or footer, so it loads on all pages of the website.
Using a Third Party Tag Management Solution
Another option for implementing Website Feedback projects on your site is to add it to a tag management system instead of applying it directly to the site code. Code can be copied and pasted from the Qualtrics interface right into a tag manager. Check out our Using Tag Managers page for more information!
Common tag management systems that our clients use in conjunction with Website Feedback projects are Tealium, Adobe, Google Tag Manager, and Ensighten. Tealium has a wizard built that allows for easy implementation of Website Feedback projects.
Qtip:
Qualtrics Support is not able to troubleshoot issues with code applied to tag managers because we aren't able to view or adjust the settings that have been enabled on your end. Please refer to our
Using Tag Managers
page!
Testing Your Project Code
Just like you can test individual intercepts, you can also test your project code!
Use the bookmark highlighted in the image to test your projects on any website. See the Test Intercept Section page for more details.
Manage Project
The Manage Project button appears at the top-right of the page on both sections of the Settings tab.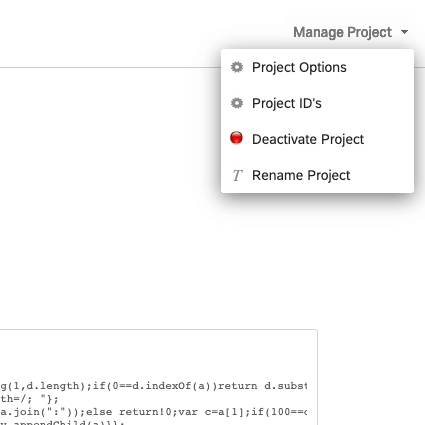 It includes the following:
Project Options
Go to Manage Project and select Project Options to bring up a new window of settings for your project.
Project Testing Setup
Project Testing Setup options are used to specify which intercepts are active by default every time you pull the Editing Version of the project code (e.g., you could implement this on a test server).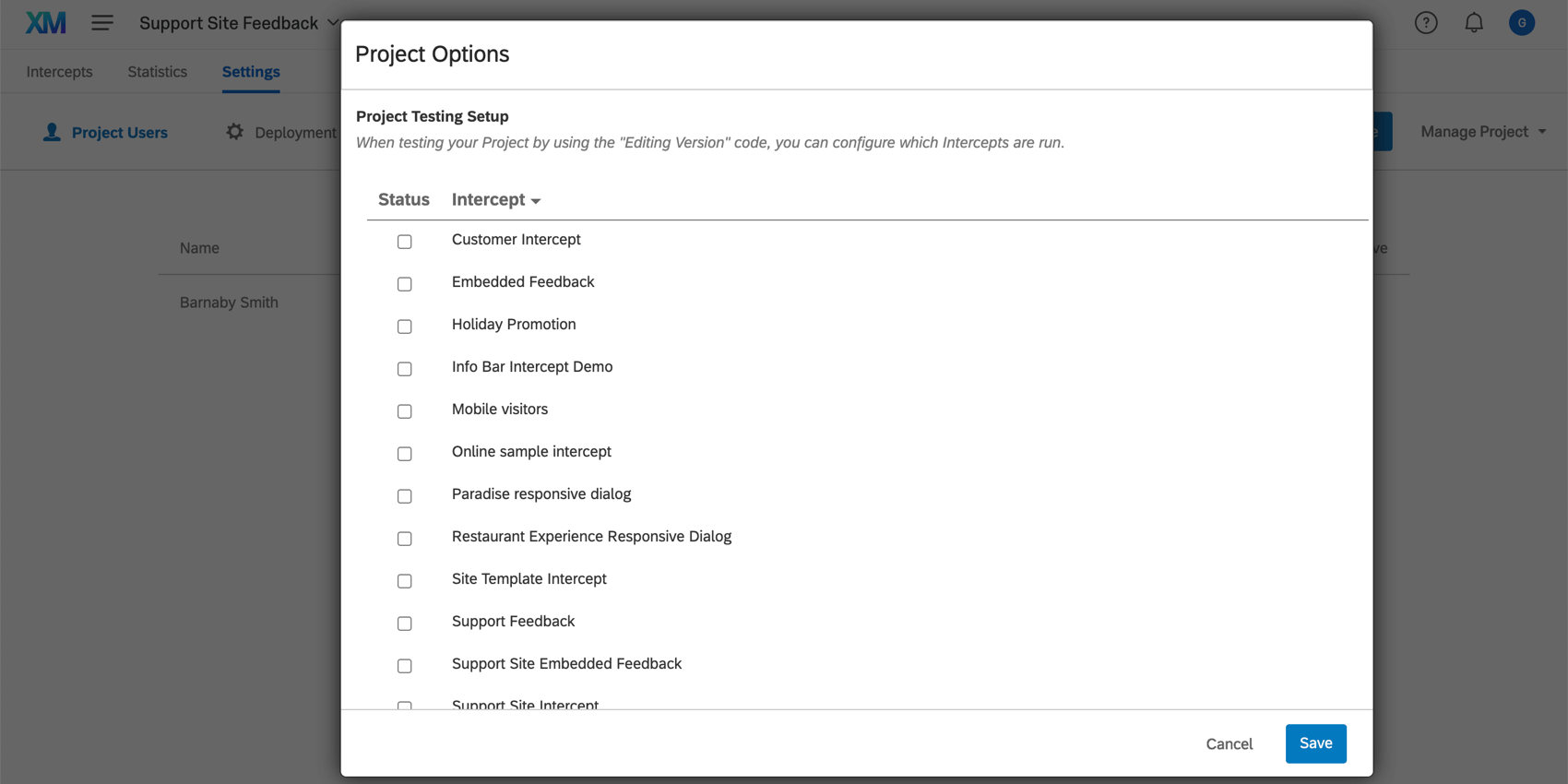 Simply check the box next to any intercept to have it be active when the editing version of the Deployment Code is used. If you change these settings, you do not have to re-copy and paste the code.
Project Loading Options
This option allows you to load the entire project using JavaScript code. Despite the project being active, intercepts will not begin evaluating logic, nor will any creatives display, until the project code is loaded manually with the JavaScript code, QSI.API.run().
Browser Storage

Specify cookie domain: Specify where the cookie that records the visitor's site history will be stored. This can be useful for websites with multiple subdomains (e.g., shop.siteintercept.com and about.siteintercept.com). By default, cookies are saved independently for each subdomain so that each would have its own Site History, Time On Site, and Page Count. You can only add one cookie domain at a time.

Example: Setting the cookie domain to siteintercept.com would ensure just one cookie is used for the entire website.

Storing page visit history information: This refers to how visit history is stored.

Qtip: For older projects, the default is Use Cookies. For all projects made after May 7, 2019, the default is Session Storage.

Use Cookies: Browsing session history and page count are stored as a cookie on the browser.
Session Storage: Browsing session history and page count are stored in that particular browsing session.

Maximum Storage size: In bytes, the maximum storage size you'd like the information to take up on a session or cookie.
Intercept & Creative Approval Requirements
Approval requirements can be used to ensure only quality content is published to your website. With the approval system, you can specify individual users or groups of users who must be given permission for a creative or intercept to be published.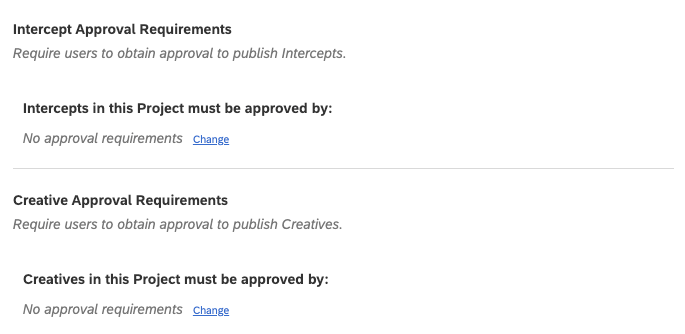 See the Approval Process section for more information.
Notification Emails
In addition to requiring approvals, you can enter email addresses in the Notification Emails area if you wish for yourself or others to receive notification when creatives or intercepts are published or activated.
For information on how to set up this process, see the Approval Process section below.
Approval Process
Approval requirements can be used to ensure only quality content is published to your website. With the approval system, you can specify individual users or groups of users who must be given permission for a creative or intercept to be published.
Adding approval requirements
In this section, learn how to make it so that users must be granted approval before their changes are published.
Navigate to the Deployment section.
Click Manage.
Select Project Options.
Clicking Change adds a new approval requirement.
If set to User Type, you can decide how many users of this type must approve an intercept or creative before it can be published.

Example: In this image, creatives and intercepts need the approval of a brand administrator and the Qualtrics Demo user.

Qtip: Regardless of who the user is, the system will still explicitly require an approval. For example, let's say you are a brand administrator. If you have configured an intercept to require an approval from one brand administrator user, you will still need to explicitly approve your own request to publish.

If set to User, you specifically search for and select the user who must approve an intercept or creative before it can be published.
Click the plus (+) sign to add additional approval requirements to the same feature.
Save your changes.
Approvee Process
When a user goes to publish new content, they will see a Request Approval to Publish button instead of a Publish button.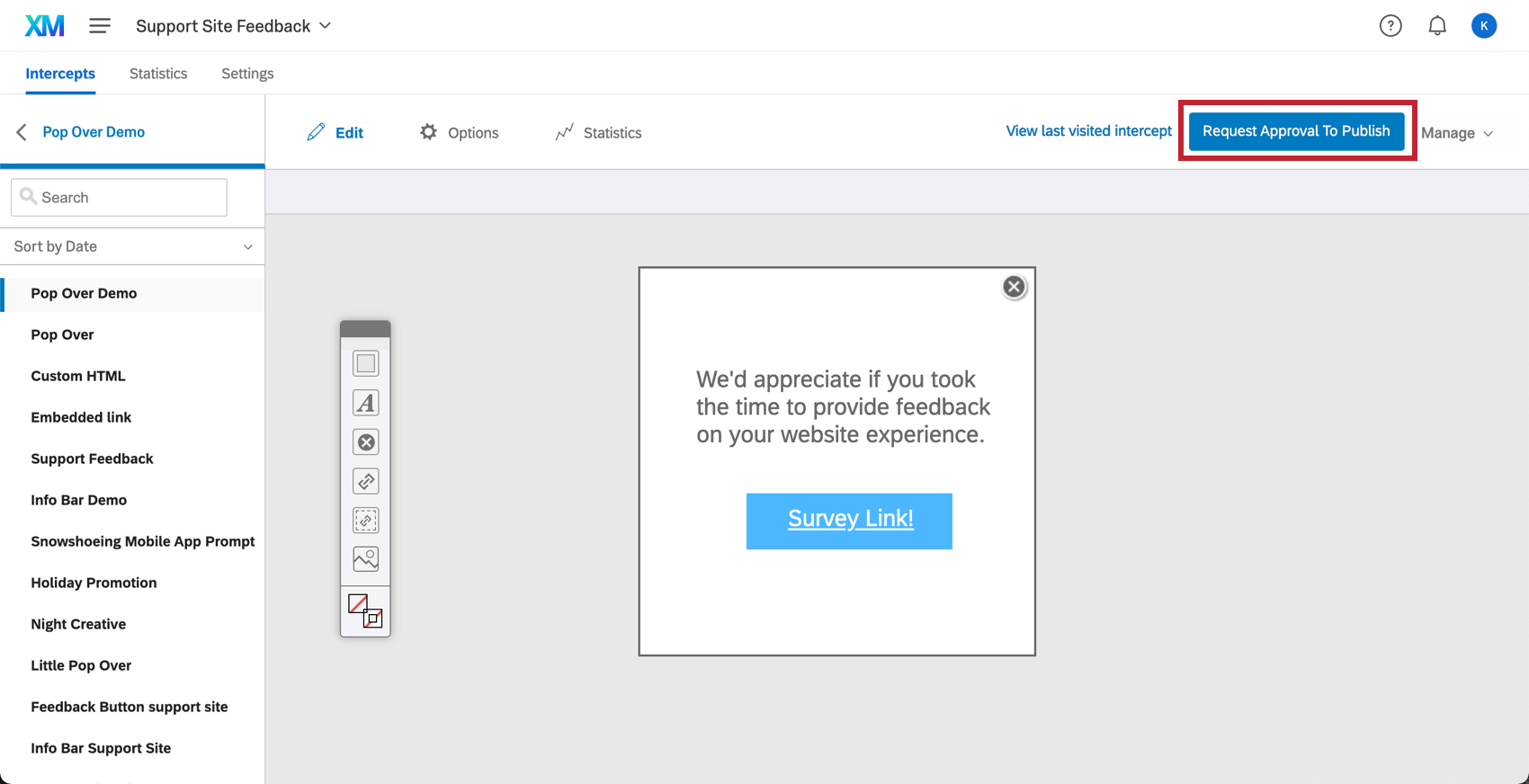 After clicking this, the user will have to select an individual or group from your list to approve their change. That person will receive an email with the opportunity to either approve or reject the changes.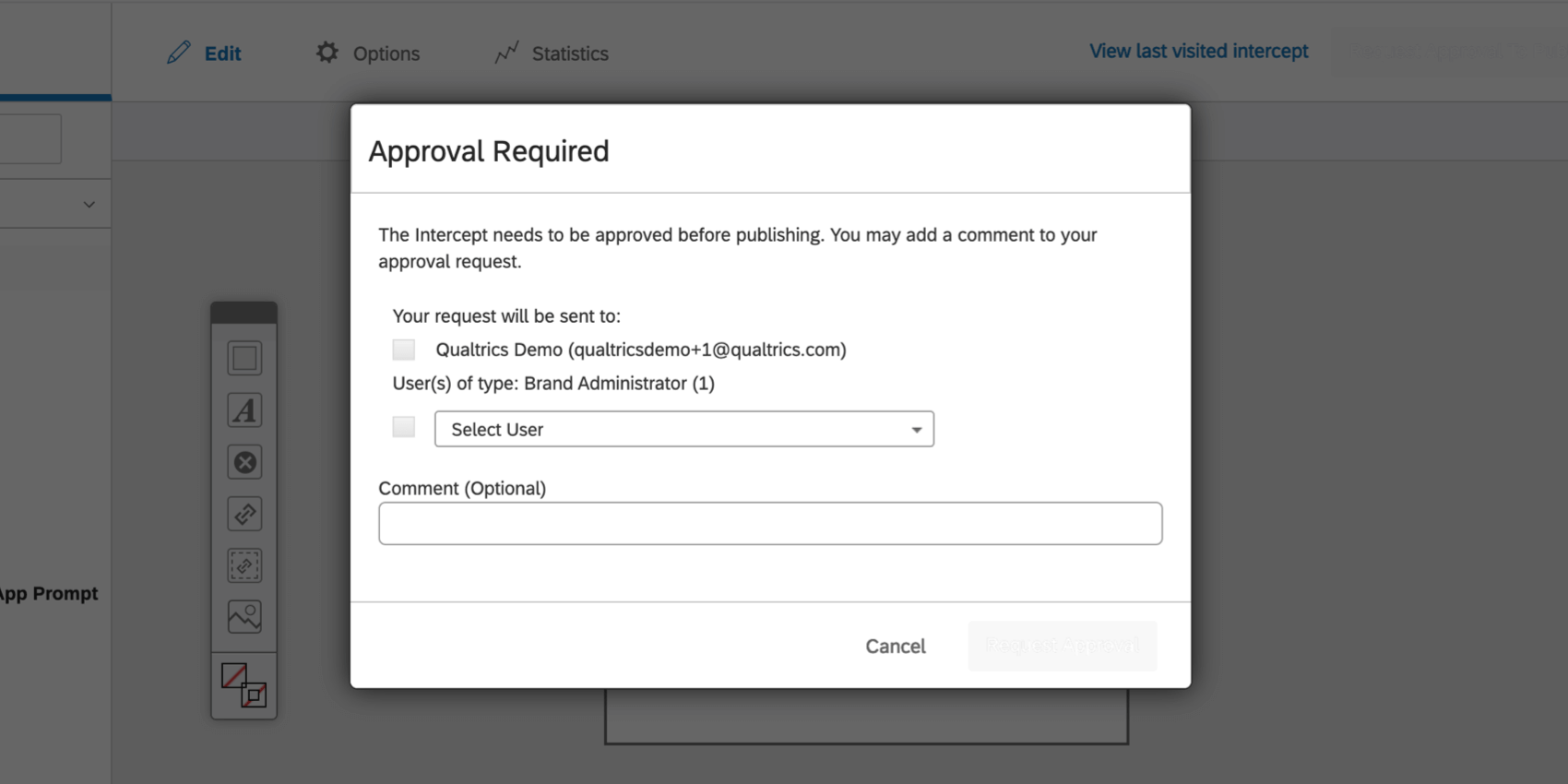 Approver Process
If you are one of the users being asked to approve an intercept or creative, you will receive a notification email. Upon logging in, you will see all pending approvals at the top of your Projects page.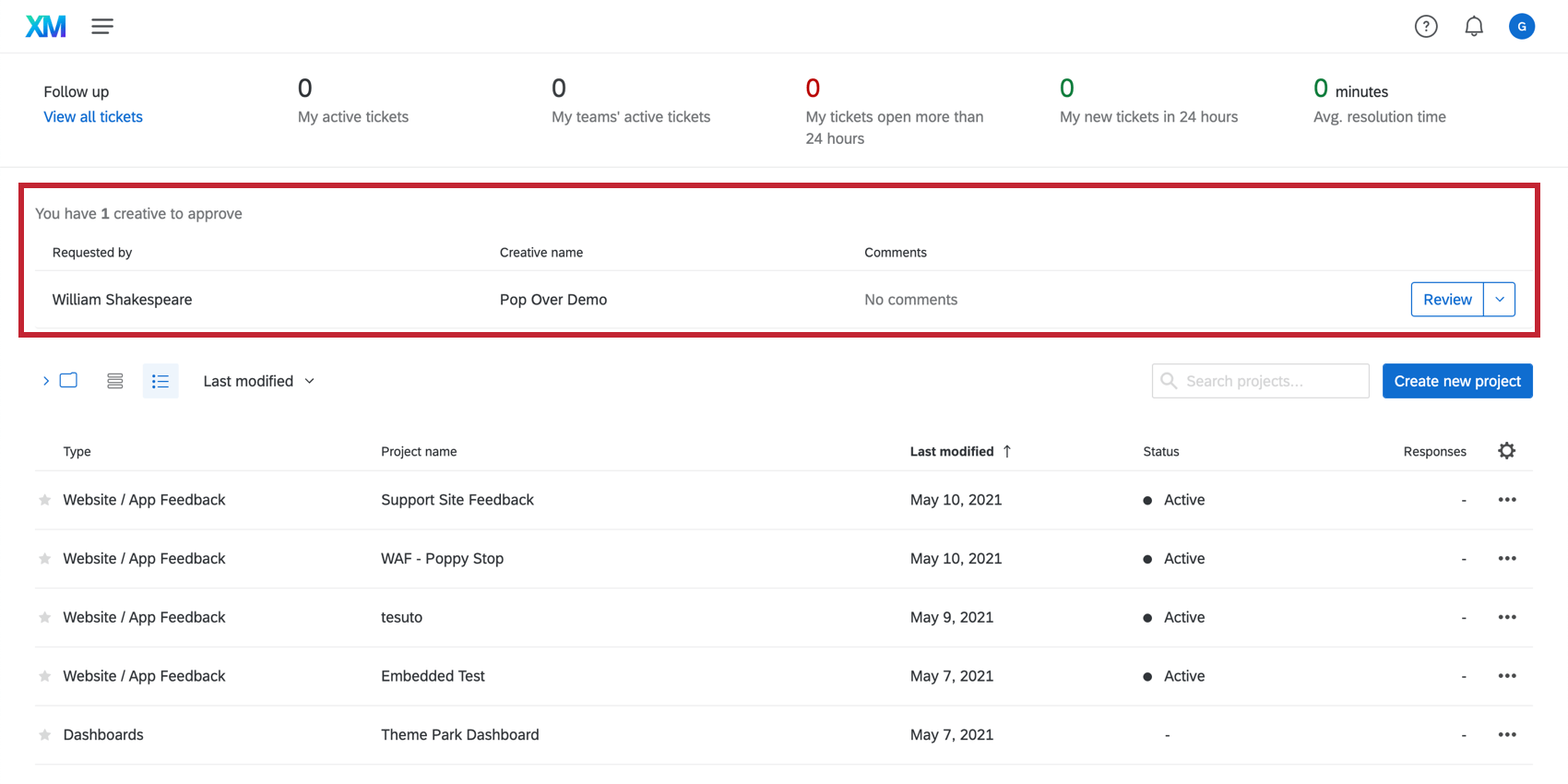 Click Review to take a look at the creative or intercept.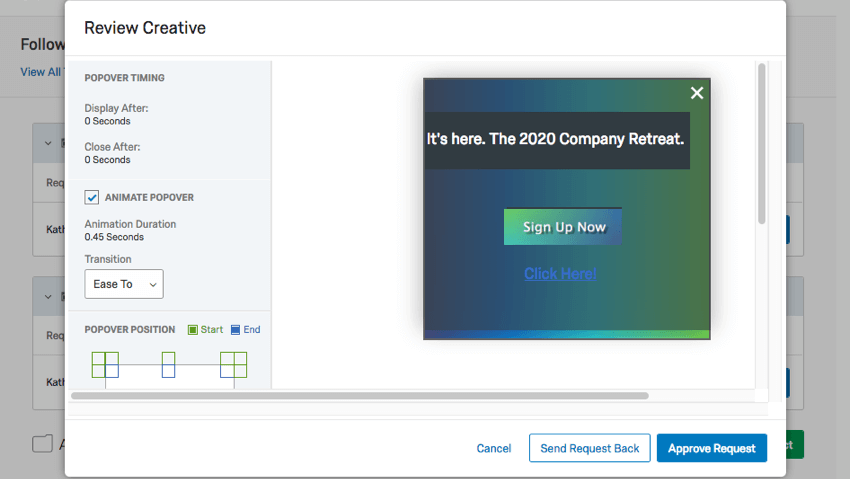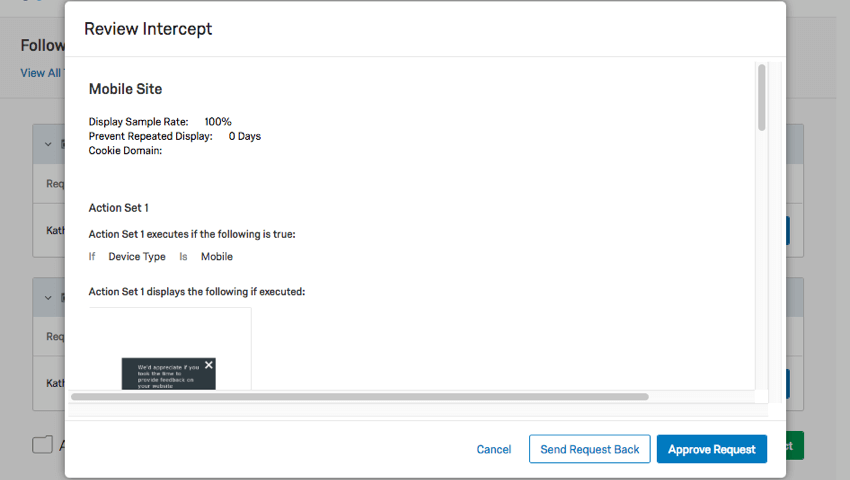 You may decide to Send Request Back to reject it or Approve Request to allow it to be published.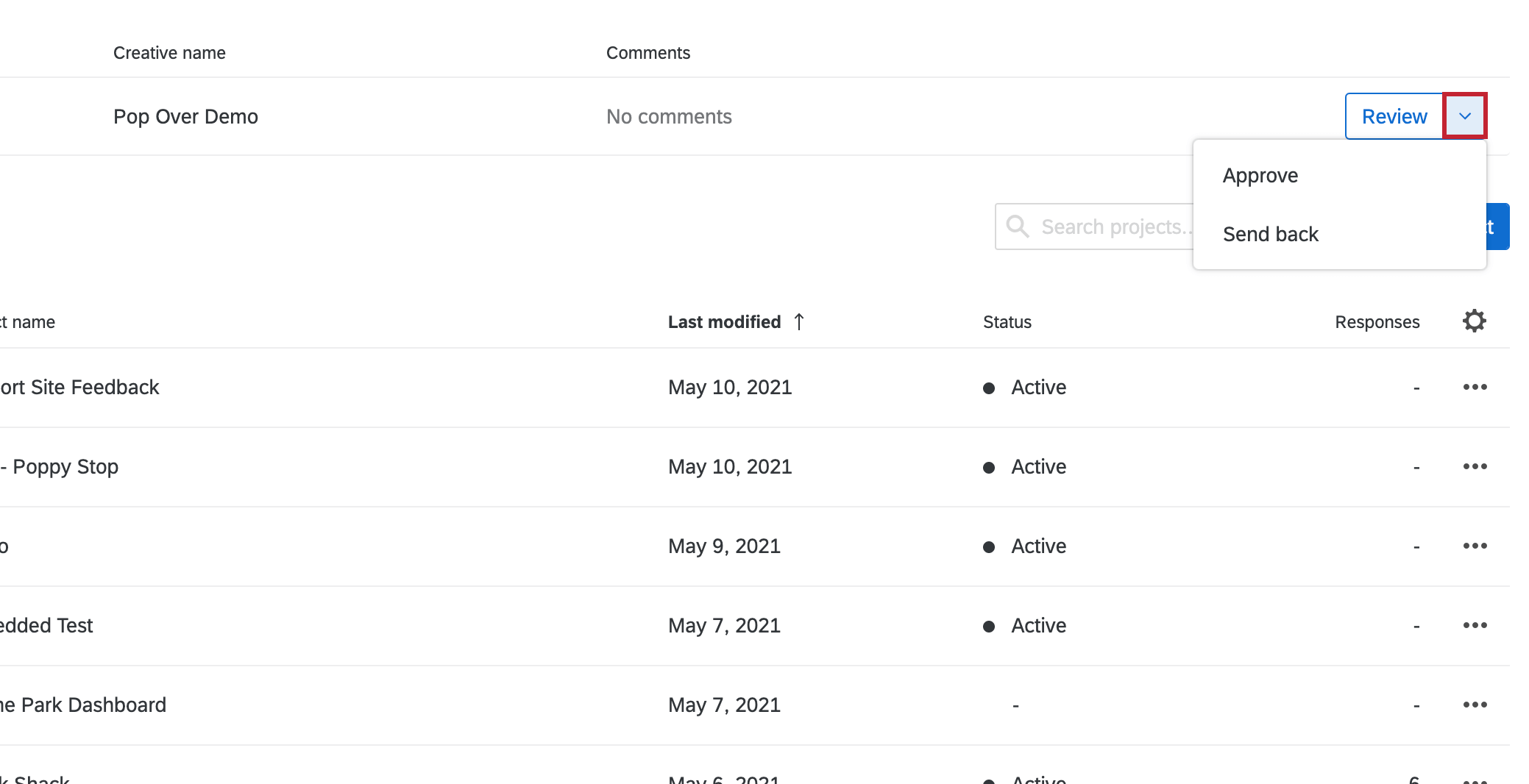 Click the dropdown next to Request for Approval for additional options.
If you select Approve, you will be asked if you're sure. Click Approve Request on the next window to publish the changes.

Deactivate Project
Deactivating a project will prevent any network requests from being made by a project code that may be live on your website. Many users will deactivate a project in order to conserve their usage, as measured by page views. If you want to start running your intercepts again, don't forget to reactivate your project from this same menu.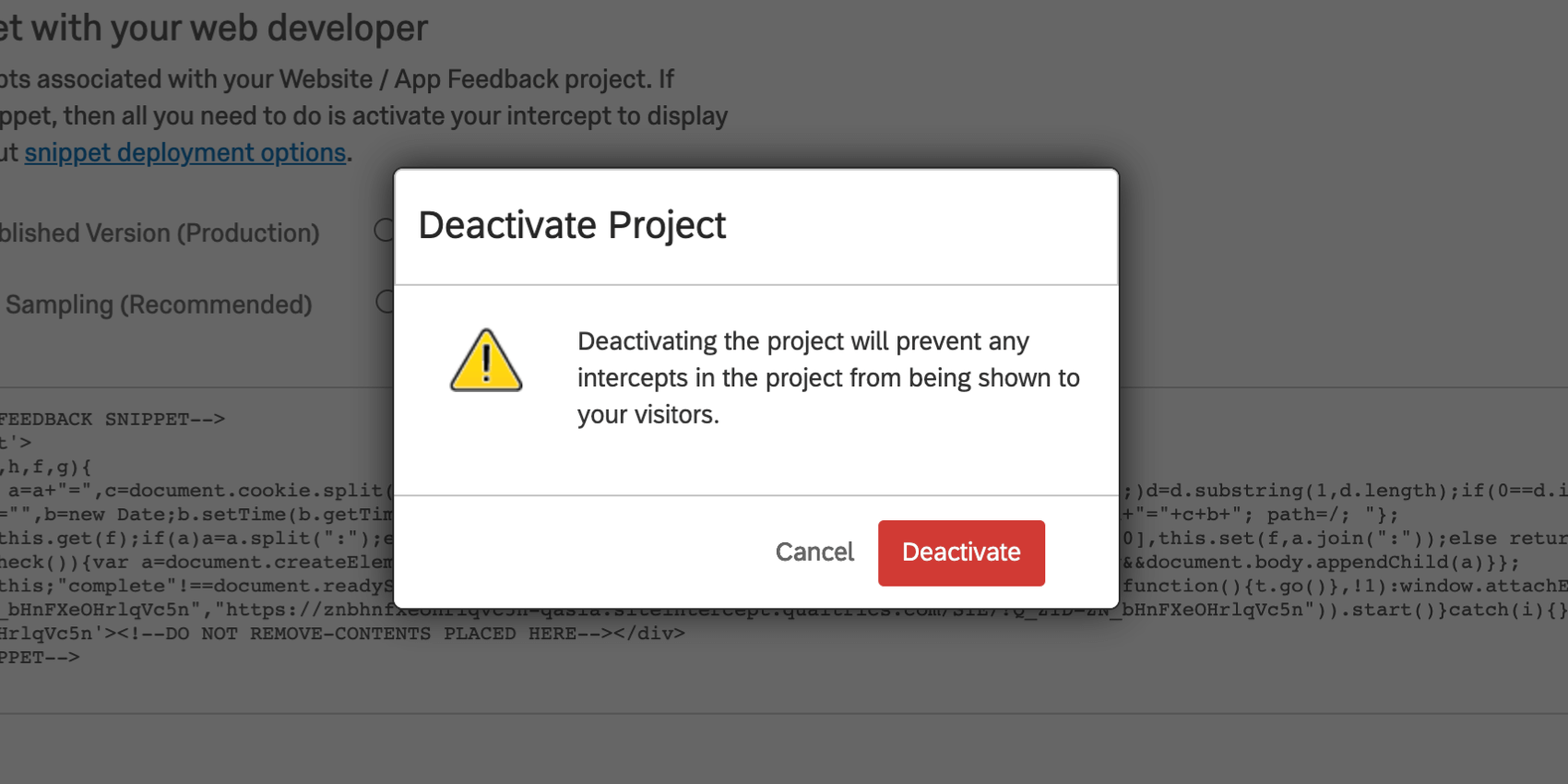 Qtip: The option to deactivate a project will only work for code that was retrieved from Website Feedback projects after April 2013.
Rename Project
Select Rename Project.
Enter a new name in the field.

Click Save.
Related Articles