Customer Experience

Employee Experience

Brand Experience

Product Experience

Core XM

Design XM
Results vs. Reports
What's on This Page:
About Results vs. Reports
Qtip
: If you do not have the Reports tab available to you and the survey has been shared with you, contact the survey owner to request that they give you permission to access the survey's reports. If you own the survey and don't have the tab available, contact your 
Brand Administrator
 so they can enable the permission on your account.
There are two places to build reports under the Reports tab, each with a separate purpose:
Results: Quickly view and analyze your results in a Default Report consisting of question-based Pages and customizable Visualizations.
Reports: Format Reports from the ground up where you control the layout.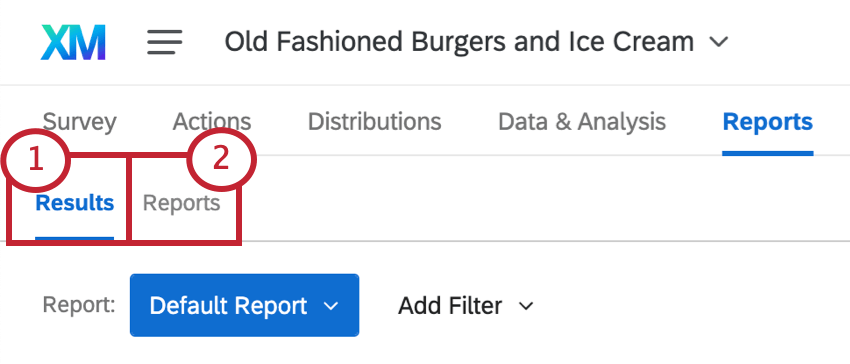 We'll address each choice in separate Basic Overviews:
Results-Reports Basic Overview: New to reporting or need to see real-time Results fast? Instantly generate question-based report pages and visualizations, displaying Results that you can analyze, filter, style, edit, enhance, and share with a minimum of effort.

Example: Results are great for at-a-glance reporting. For example, say you asked about which products your customers use. You want to know which ones are the most popular. Results provides easy-to-read tables and graphs that provide this kind of basic information.

Advanced-Reports Basic Overview: Designing your Reports from scratch? Design eye-popping Reports for your important research sharing events.

Example: If you want to create and distribute data with company logos, specific letterheads, and more customizable tables and graphs, Reports is the better tool.
Related Articles