Customer Experience

Employee Experience

Brand Experience

Product Experience

Core XM

Design XM
Collaborating on Projects (EX)
What's on This Page:
About Collaborating on Employee Experience Projects
Qtip: Collaborating on a project is the same as sharing a project.
Our collaboration feature allows you to give other Employee Experience users in your organization access to your projects when they log into their accounts. This way, you and a colleague can work on the same 360, Engagement, Ad Hoc Employee Research, or Lifecycle project without giving out your account information. You can even choose to restrict what type of access other users have to your project. For example, if you have translators working on your project, you can make sure they have editing privileges, but no access to the data you collect.
Attention:
To give collaborators access to dashboards, they will need to be added to the project as participants and be given permission to access the dashboard. For more information on granting access to dashboards, read the
participant permissions
page.
Qtip:
You can only collaborate on projects with users in your license. If you need to share your survey with an external collaborator, you will either need to
create an account
for the person on your license, or share the
preview
,
Word
, or
PDF
version of your survey.
Collaborating on a Project
You can share projects with individual users and groups of people in your organization. If you want to create a group, contact the Brand Administrator within your organization who can create one for you, or, if you are a Brand Administrator yourself, head over to the Admin page to create a group.
Qtip: You can only collaborate projects that you own.
Click the project dropdown menu to the right of the project you want to collaborate on.

Choose Collaborate.

Qtip

: Is your Collaborate button missing? There are two reasons this can happen. The first is if you are not the project owner, then you cannot share the project with other users. To give another user access to that project, you'll have to contact its original creator. However, if you are the project's owner, then chances are you're missing the

Collaborate Projects user permission

. Contact your

Brand Administrator

to request this permission be turned on, or if you're a Brand Administrator yourself, head over to your

Admin page

to enable collaboration.

Click the User and Group Address Book.


Qtip: You'll only see groups that you belong to listed in the address book.

Select the user or user group you want to collaborate with from the list and click Add Selected. Use the search bar in the top-right corner of the window to quickly locate your user or user group.


Qtip: Don't see the person you're looking for? Make sure they have a Qualtrics account within your same license. If their account is not in the same license as yours, then they won't appear in your address book and you won't be able to collaborate with them.

Select the checkboxes for the collaboration permissions you want to grant each person or group you've added. See the linked section for more information about each permission.

Click Save.
Accessing Shared Projects
When a project has been shared with you, you will receive an email letting you know the project is available in your account. Click Log In in the email to be brought to the Qualtrics login screen.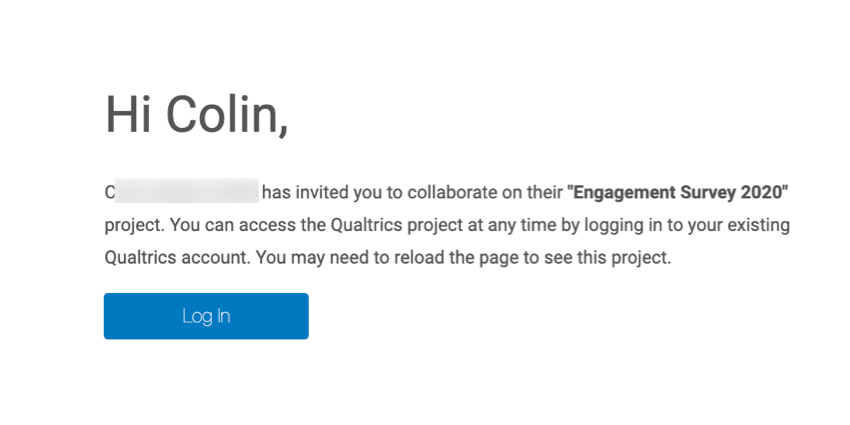 Once logged in, you will find the project in your Shared with me folder. To access this folder:
Navigate to the Projects page.

Select Shared with me.


Qtip:

Expand the folder dropdown to see a list of colleagues who have shared projects with you. You can also see the owner of each survey in the Shared with me folder if you

display the Owner column

.
Managing Shared Projects
Your Shared With me folder contains subfolders named for each collaborator. Use these to find surveys by the owner.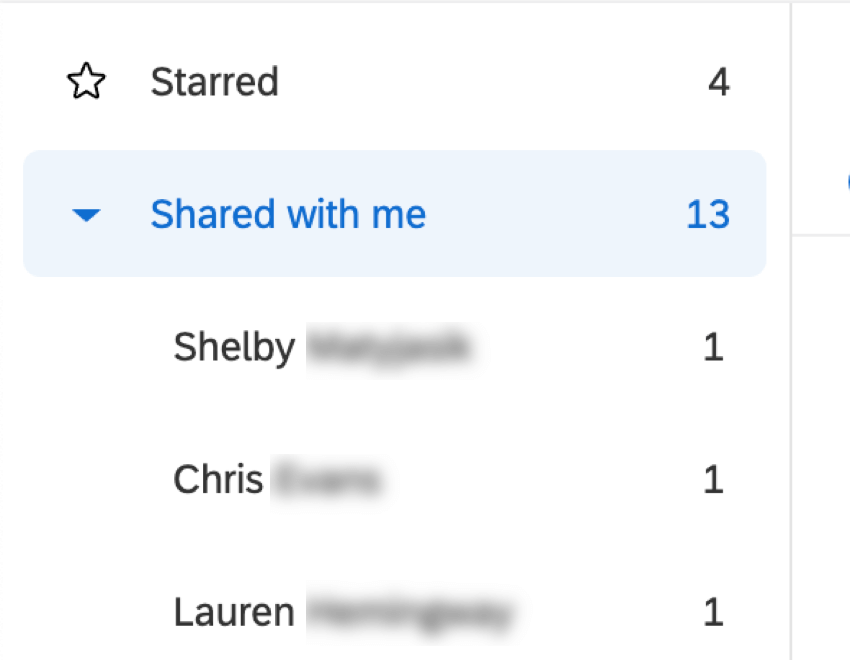 If you decide you no longer want to be involved in a project, you can remove your access to it by clicking the dropdown next to the project and clicking Remove shared project. Don't worry – this option doesn't delete anything. It simply removes your ability to access the project.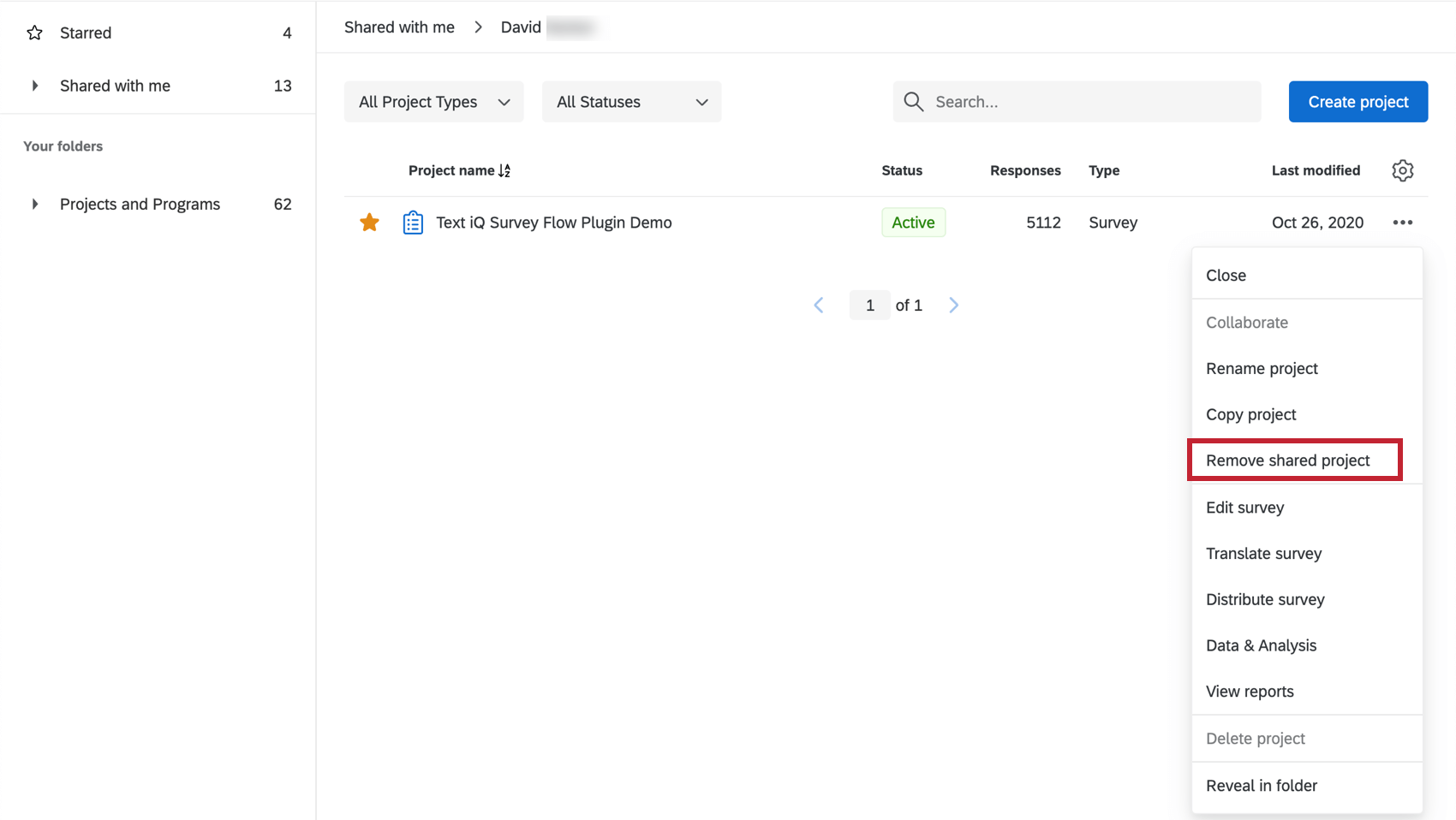 Collaboration Permissions
Attention:
Collaboration permissions set on a shared project will override
individual user permissions
for the people the Employee Experience project is shared with.
User and Group Permissions
Not all users in the Employee Experience platform can invite others to collaborate on their projects. For example, while participants can participate in employee surveys, they cannot edit them, and so it would not make sense for them to be able to invite others to collaborate on their projects.
The two types of Employee Experience users capable of collaborating on projects are the Brand Administrator and the Employee Insights Administrator. Both users can work on projects and be participants/dashboard users, but only Brand Administrators have access to the Admin page.
For any user you want to give collaboration permissions to, you will need to enable the Collaborate Projects and Access Organization Address Book General user permissions.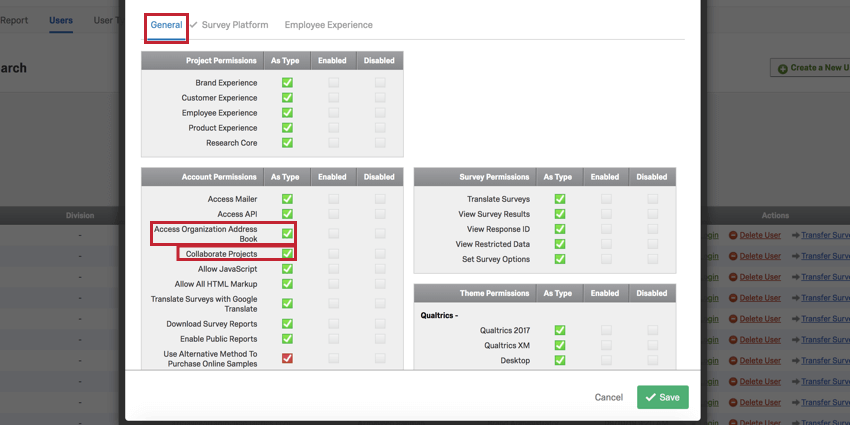 Collaborating with groups is convenient because it allows you to collaborate with many users at once. However, before you collaborate with groups, it's important that they have the correct permissions turned on.
When you create a new group on the Admin page, the Available to All Users field has two options that affect collaboration:
No: This means the group is exclusive to the members. Collaborating on projects with this group will only share the projects with those group members.
For this brand: This means the group's contents are available to everyone. Collaborating projects with this group will give every Brand and Employee Insights Administrator in your license the ability to access them.
Permissions for Collaborators
When you collaborate on a project with colleagues, you don't have to give them full access. You can restrict what content they can view or edit right on the Collaborate on Project menu.
If you are seeing grayed out buttons or missing tabs in one of your projects, it may be due to the permissions given to you by the owner.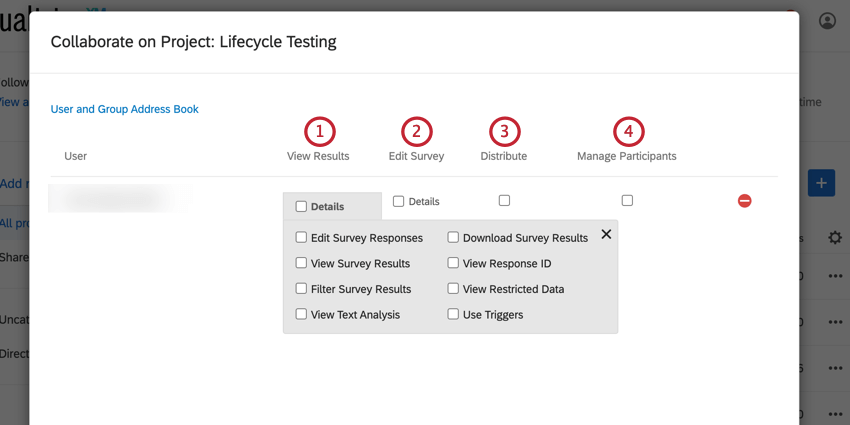 View Results: If you do not choose to specify permissions, turning this permission on gives your collaborator full access to the Data,  Reports, and Dashboards tabs. However, if you click Details, you can specify what data the collaborator can view or manage.

Edit Survey Responses: Must be paired with View Survey Results. Allows the user to use the response editing feature and generate retake links.
View Survey Results: Gives you access to the Data tab, excluding the ability to add filters, delete data, use response editing, export data, view response IDs, or generate retake links. You can still import data or arrange the columns on the page.
Filter Survey Results: Must be paired with View Survey Results. Allows the user to filter the collected responses.
View Text Analysis: Allows the user to view text responses in Text iQ. The user will not be able to edit any aspects of the text analysis.
Download Survey Results: Must be paired with View Survey Results. Allows the user to export responses from the Data tab.
View Response ID: Must be paired with View Survey Results. Allows the user to view the response ID, a unique ID assigned to every individual response.
View Restricted Data: In the Data tab, disabling this permission censors the IP Address, Location Latitude, and Location Longitude information in the data export. When enabled and combined with Manage Participants, this permission allows your collaborator to also see who is finished and who is not. Otherwise, all participants display as "Not Completed."
Use Triggers: Allows the user to use the update person trigger.

Edit Survey: This permission gives the user full access to the Survey tab. However, if you click Details, you can choose which features the collaborator has access to.

Edit Surveys: Allows the user to edit the survey via the Survey tab. This includes access to the survey flow, survey options, and survey tools.
Use Text Analysis: Allows the user to analyze text responses in Text iQ.

Distribute: This permission gives the user full access to the Messages tab.
Manage Participants: This permissions gives the user full access to the Participants tab, excluding the status column that displays whether the participant has finished or not.
If you ever need to edit these settings, navigate to the Collaborate on Project menu as normal, make your changes, and click Save.
Troubleshooting Collaboration
Project Won't Appear in Account
If you've received the collaboration email but the project is not appearing in your account, please try the following:
Ask the survey owner to remove you as a collaborator, save, and then collaborate the project again.
Alternatives to Collaboration
Collaboration is meant to give multiple users the power to edit and distribute a survey, edit the survey's data and export it as needed, and create reports. With collaboration permissions, you can even pick and choose which of these functions you want the user to have access to.
However, collaboration is not always the best solution for your goals. Below, we cover some similar needs and how best to accomplish them:
Related Articles