Customer Experience

Employee Experience

Brand Experience

Product Experience

Core XM

Design XM
Dashboard Translation (CX)
What's on This Page:
About Dashboard Translation
Have you ever wanted to share a dashboard with a client or colleague who spoke another language? You can translate all the content in your dashboard that doesn't translate automatically.
Translating Dashboard Labels
Qtip: Make sure your dashboard is customized before you translate it!
Click the settings icon.

Choose whether you'd like to use a CSV or TSV file.
Click Export.
In the CSV, enter the translations for each of the labels under the appropriate column. For example, to add Latin American Spanish translations, use the ES column. Please do not edit anything in the entitiId or entityKey columns.

Save your file as a CSV with UTF-8 encoding, or as a TSV.
Click Import the file.
When the translation is done, a message will appear that says Translations updated successfully.
Translating CX Dashboard Filters
Qtip: This functionality is being gradually rolled out starting October 6, 2021.
Dashboard page filters are translated a little differently from other dashboard elements. First, it's important to note that the name of the filter is included in the main dashboard translation instructions. But when it comes to your filter values, you need to translate those in a separate workflow we'll described below.
Example:
This dashboard has a department filter. The filter's name, "My Department Filter," is included in
the process described in this linked section
. The filter's values, such as Sales, Support, Operations, Finance, and so on, are translated in a separate process we'll describe below.
Click Actions.
Select Data Translation.
Open the file in a spreadsheet editor on your computer.
Add your translations to their corresponding language column. Here are some general tips:

See the List of Language Codes page for guidance about each language column.
Follow the file's exact formatting for creating your translations.
Use the English column (EN) as a guide.
Copy and paste to ensure formatting is correct. Do not delete or rearrange the columns, as this will cause the import to fail and translations to be lost.
Do not delete the strings of numbers and letters – these are internal IDs that identify the parts of the dashboard you are translating.

Save your file as a CSV file with UTF-8 encoding or as a TSV.

Warning: Once you've saved the file, do not open it again as this could cause you to lose formatting for any special characters.

Click Upload.
Make sure to Save your dashboard data.
Qtip: The recode values of dashboard fields will no longer appear in JSON format in this file; instead they'll appear as rows in the spreadsheet, making it easier to add translations for each value.
Other places to export & import data translations in the dashboard
You can also upload translations for the fields mapped in your dashboard by going to the Translation tab of your dashboard's settings.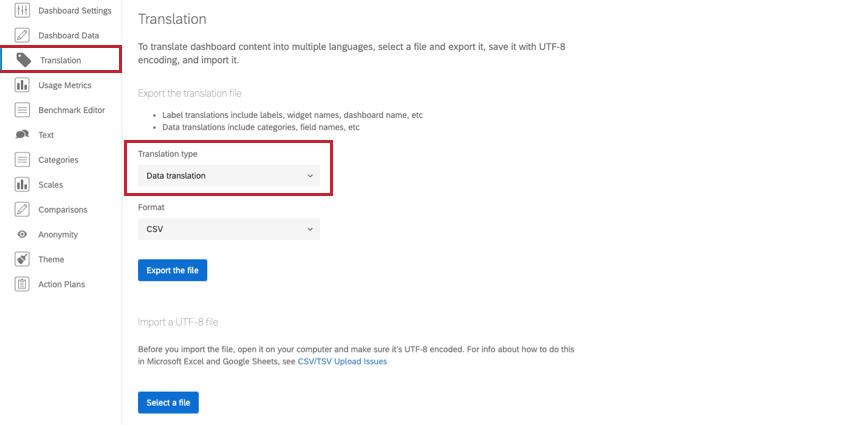 Make sure to change the Translation type to Data translation before exporting or importing your file.
The file setup and restrictions described above also qualify when importing your file through the Translations tab.
Troubleshooting Translations
It is important to include all language columns every time you upload a new translation. If you leave a column blank, you will delete that translation.
For additional help, check out the CSV/TSV Upload Issues page.
Viewing Translated Dashboards
The people you share the dashboard with have to make sure they set their account to the correct language before they'll be able to see the translated dashboard.
Here's how to set your account language: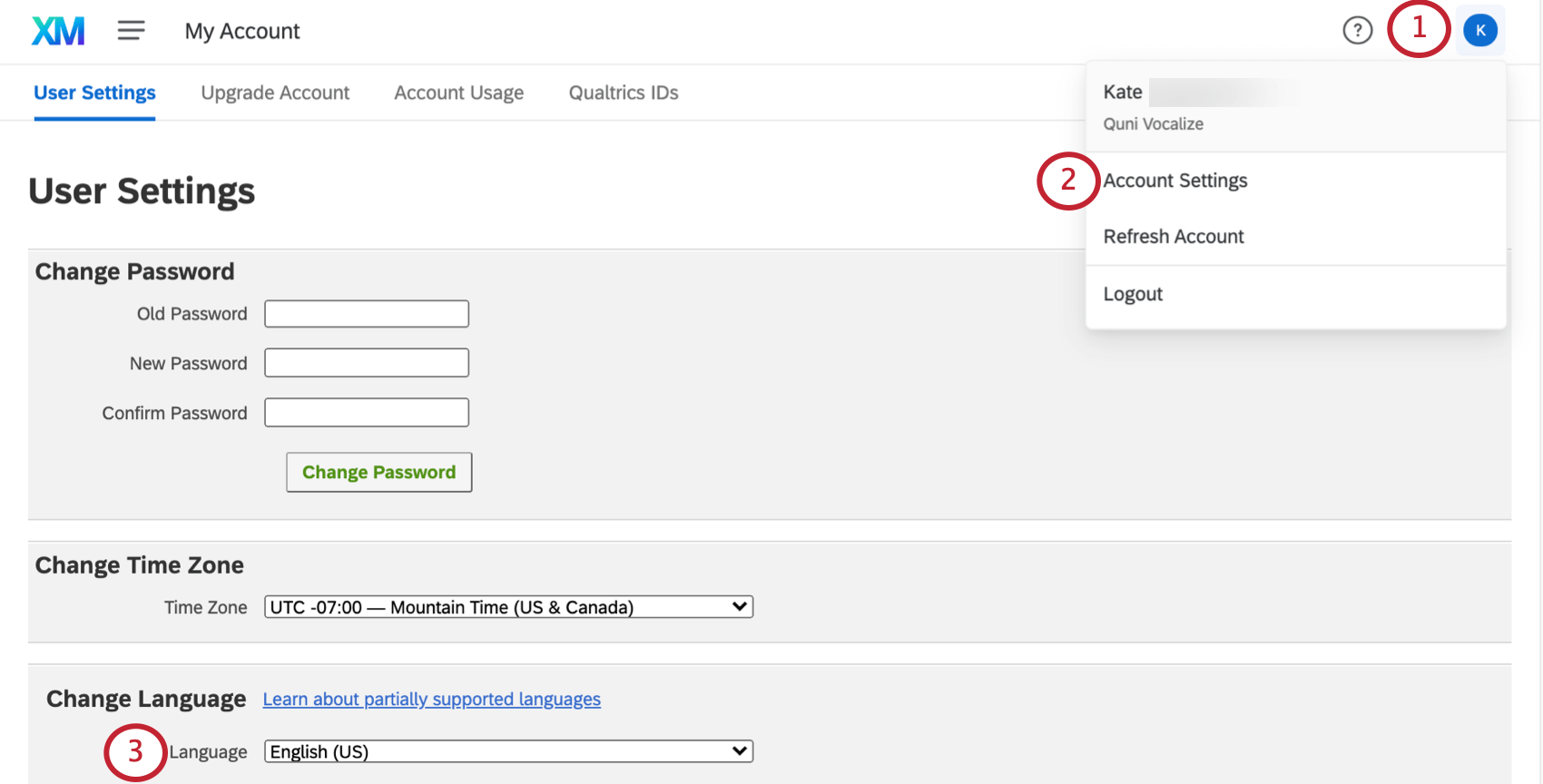 Click the account settings icon.
Click Account Settings.
Adjust the Change Language dropdown.
Qtip: Want to test how your translation will look? You can always change your account's language back when you're done!
Related Articles