Customer Experience

Employee Experience

Brand Experience

Product Experience

Core XM

Design XM
Participants Tools (360)
What's on This Page:
About Participant Tools
In every 360 project, you have access to tools that you can use to manage the participants uploaded into your project. To get to these tools, navigate to the Participants section of the Participants tab, then select Tools.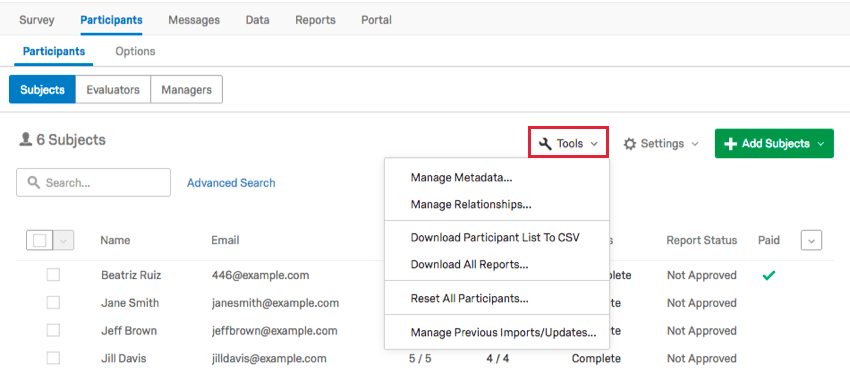 Manage Metadata
You can manage the all the metadata for your 360 project using the Manage Metadata tool. Editing metadata here won't affect metadata in the directory, but it will affect metadata for the whole 360 project.
Click Tools on the top-right.
Select Manage Metadata.
Click on a metadata field so it is highlighted in blue.

For the selected metadata field, note the possible Values listed to the right. Only the first 500 are displayed.
Hover your mouse over a field to get the gear button. Click this.
Click Rename to change the name of the selected metadata.
Click Delete to permanently delete the selected metadata from your brand.
Click Close when you're done making changes.
Manage Relationships
Manage Relationships allows you to manage all the custom relationships in your 360 project. You cannot edit the built-in relationships. This includes Peer (subject to subject) and Manager (direct report to manager).
Adding and Removing Relationships
Select Manage Relationships.
Type the relationship name in the block.
Click the minus (–) sign to remove a relationship with zero participants, or Delete to remove a relationship with participants.
When finished with your edits, click Close.
Translating Relationships
Select Manage Relationships.
Click Add language and select your desired language. You may repeat this for as many languages as you need.
In the fields, enter the translated names of the relationships.

If desired, click the percentage to automatically translate the relationships. This translation is from Google Translate.
When you're finished, click Close.
Translation Options
If you click on the header of any of your translation columns, you will have several options for managing your translations.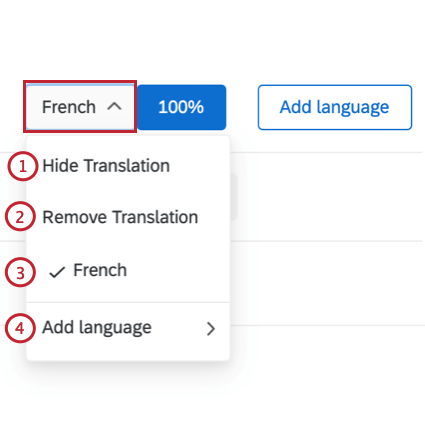 Hide Translation: Hide the translation. This can be helpful if you have many translations and need to create more room on the page.
Remove Translation: Delete the translation altogether.
Select which language displays in the column.
Add language: Add another language to your list of custom relationship translations.
Download Participant List to CSV
Download Participant List To CSV will download your current participant list to a CSV file, complete with metadata columns. This file includes subjects and evaluators, but it does not split relationships onto separate rows. For this reason, it is not good to reuse as a template file for uploading participants.

Status: Whether the participant has completed their response, or if you are still waiting for them to respond.
Nominations Sent: The number of evaluators assigned to the subject, excluding the self.
Evaluations Received: The numbers of evaluations completed of this subject, including the self-evaluation. This should be 0 for external evaluators because they are not subjects.
Nominations Received: How many people (excluding the self) the participant has been asked to evaluate.
Completed Evaluations: How many evaluations (excluding the self) the participant has completed.
Self-Evaluation Complete: This is a 1 for "yes" and a 0 for "no." It should always be 0 for external evaluators because they are not subjects.
Download All Reports
When selected, Download All Reports will download a PDF of every subject's report.
Use the Search bar or select specific participants if you only want to download a few PDFs at a time.
This option does not display on the Evaluators subsection because evaluators don't have reports. This option also doesn't display on the Managers subsection because not all managers are subjects, although they can be.

Reset All Participants
Reset All Participants will let you erase all the participants from your project so you can start all over. Once you decide to reset all your participants, Qualtrics will ask you one last time if you're sure. If you're sure, type reset into the field and click the red Reset button to confirm.
Warning: Once participants are reset, they are not retrievable! Only select this option if you are absolutely sure!
If you uploaded the correct participants, but not the correct metadata, then you can use a CSV/TSV import to update your participants' metadata.
If you're looking to delete lots of, but not all of your participants, you should check out the other options for managing participants in the Participants section.
Reset All Nominations
Reset All Nominations will let you remove all the evaluation relationships from the project. This does not just count for nominations that subjects set for themselves, but all evaluators set for the subject.
Warning: Once nominations are reset, they are not retrievable! Only select this option if you are absolutely sure!
Manage Previous Imports/Updates
If you have recently imported your participants or chosen to Update All Responses With Current Metadata, the Manage Previous Imports/Updates tool will allow you to look back on a history of your imports. This history shows the same content for all subsections.
A column is provided for the Status, the Type of import, the Progress of the import, Date imported, and the opportunity to Delete the import from your history.
If you click View Results underneath the Status column, you will receive a report of what this upload accomplished. If there were any errors that prevented the upload, they will be mentioned here.
In the above image, there were no errors, but all the users updated already existed in the directory, so no new users were added. In addition, any new metadata that might have been included with these users was added to their metadata in the directory so it could be used for later surveys.
Warning: Once a project is active, changes made to a participant's metadata in the Participants tab will not reflect in the Employee Directory. Similarly, once a project is active, changes made to a participant's metadata in the Employee Directory will not reflect in the Participants tab.
Related Articles