Customer Experience

Employee Experience

Brand Experience

Product Experience

Core XM

Design XM
Dashboard Theme (CX)
What's on This Page:
Accessing Your Dashboard Theme
To access your dashboard's theme settings:
Click the gear to go to your dashboard's settings.

Editing Your Dashboard Theme
You are allowed to customize several aspects of your dashboard's appearance. Once you've made changes to any of these settings, they are saved automatically.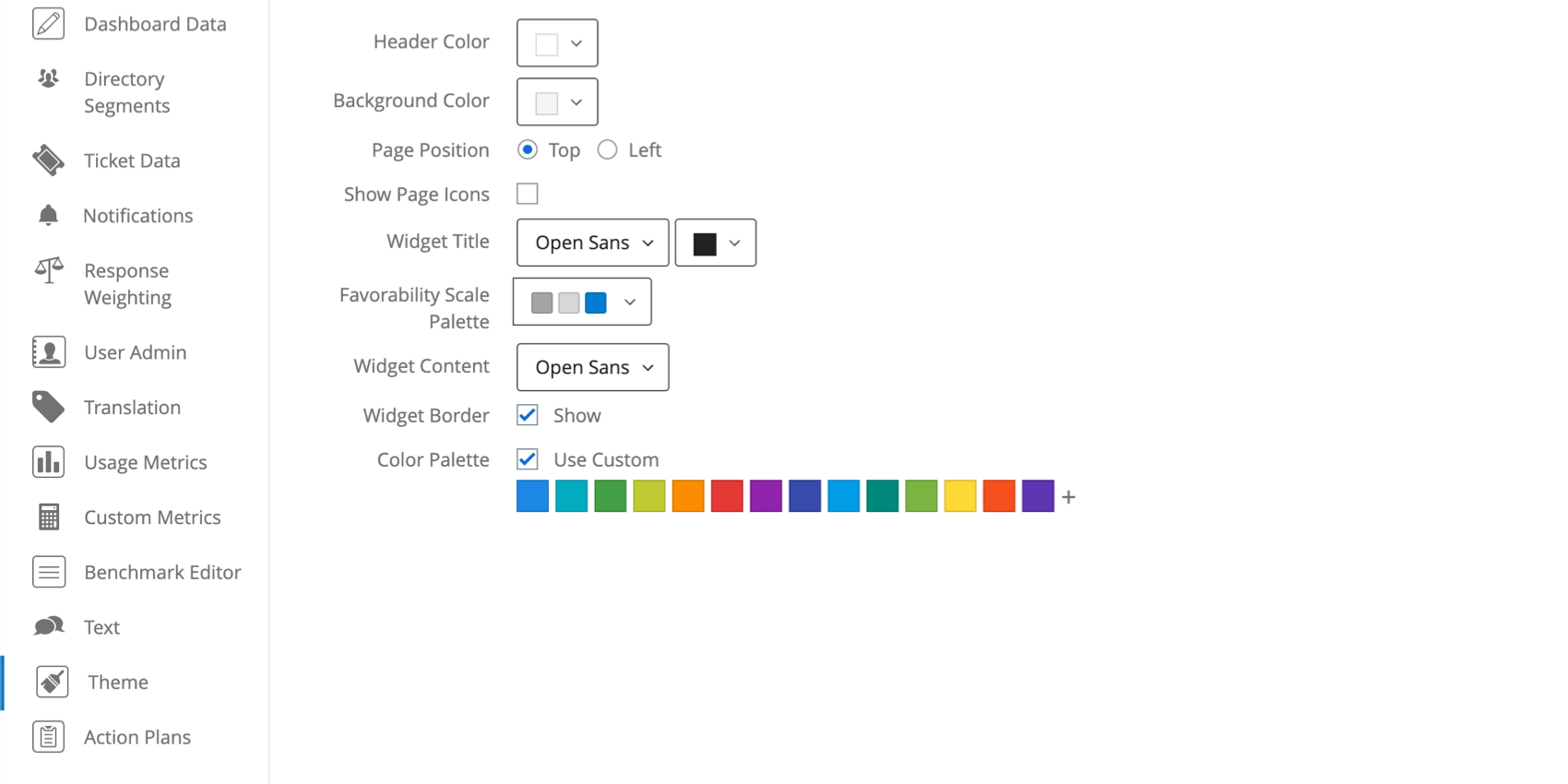 Header Color: Add a thin line of color beneath the topmost header of the dashboard. Also changes the color of the account settings icon.

Background Color: Change the color of the dashboard's background. The background is the space between widgets, not the page navigation along the top or the background of the widgets themselves.
Page Position: Select whether you want your pages listed along the top or along the left. The image below displays both orientations, as a comparison.

Show Page Icons: Decide whether to show icons next to page names.
Widget Title: Choose the font of your widgets' titles.
Favorability Scale Colors: This feature is used in EX dashboards. It does not affect any widgets on CX dashboards. See the Color Palette below instead.
Widget Content: Determine the font of the widget's body.
Widget Border: When checked, your widgets will have thin gray borders.
Color Palette: When Use Custom is selected, you can choose the default color palette your for your widgets. The widgets will select colors in the order they are arranged in the palette. Click and drag colors to reorder them. Click a color and click Remove to remove it from the palette.


Qtip: If you've already edited your widget's colors, changes to the default color palette will not affect this widget.