Customer Experience

Employee Experience

Brand Experience

Product Experience

Core XM

Design XM
Importing Responses (360)
What's on This Page:
About Importing Responses
You can use the Import Data option in the Data tab to upload test or example data, to add multiple responses for a single participant, or to upload data collected externally.
Qtip:
This page is for importing
responses
into 360. If you are interested in learning how to import your list of
participants
, please visit our
Adding Subjects, Evaluators, & Managers
 support page.
Attention:
Before importing your responses, it's important to have already added your
participants
with their relationships to your project. If your responses are imported without having defined your participants and their relationships, the imported data will not be tied to any participants and will not appear in your report.
Preparing Your Data
You will need to make sure your data file is ready for import. Your data needs to be in a format Qualtrics will understand, and it needs to exactly match the format and content of the survey you're importing the data into.
To get a template for a data set you can import, you will need to export the data in Legacy format.
Getting a Template File
Click Export & Import.
Select Export Data.
Select Download Evaluation Status.
Click More Options.
Click Download.
Your file will look similar to this:

File Requirements
For the import to work, the data file needs a special column that identifies the participant the response is from. You have to include each of the following:
Email: A column named Email containing the evaluator's email. (In the file you exported earlier, rename the EvaluatorEmail column to Email.) These emails must be spelled the same as they are in the Participants section, but they are not case-sensitive.
Relationship: Note the relationship between the subject and the evaluator. Be sure to capitalize where necessary.
EvaluatorID and SubjectID: Qualtrics has internal IDs it uses to identify each participant (e.g., P_1ABb2dE3f4GhI5j). The inclusion of these columns also makes it so you don't need to include metadata in your import. The importer recognizes the participant by their ID, and associates the appropriate participant metadata with the response.
When working with the example file, you can also make the following changes:
Keep the first row of "V" headers – e.g., V1, V2, etc.
Under each question the participant can answer, make sure you add the recode value for the answer (not the text of the answer).
Remove rows of evaluations that are complete or that you do not want to import.
The following columns cannot be updated with the response data. You are free to delete them from the file; otherwise, they will be ignored during import:

Approved
Scoring columns
SubjectFirstName
SubjectLastName
EvaluatorFirstName
EvaluatorLastName
IP Address
ResponseSet
Response ID
Status
Assorted metadata
After you make these changes, your file will look something like this:

Be sure to keep your file in CSV (UTF-8 encoded) or TSV format. The importer cannot read any other file types, even if they can also be read by Excel.
Note that the maximum file size is 100MB, with a maximum of 5000 rows.
Importing Your Responses
Click Export & Import.
Select Import Data.
If desired or necessary, click More Options to access Delimiter, Enclosure, or to Allow Duplicate Responses.

Qtip:

If the data is not formatted correctly in the preview (e.g., bunched up instead of divided into columns), your data may not be separating (or "delimiting") correctly. To fix this, choose a different delimiter. For further troubleshooting techniques, visit our

CSV/TSV Upload Issues

page.

Check that the number of responses verified is the number of responses in your CSV file.

Warning: If the number of responses shown does not match the number you have in your CSV file, then do not click Import Responses. If you do, the responses will not import correctly and you will need to delete the invalid data.

Click Import.

Qtip: Remember, you need an Email column with the evaluator's email before the response data will import!
Once the data is imported, a notice will appear detailing the number of successfully imported responses and any columns and rows that were skipped.
Qtip
: Under
More Options
, if you do not switch 
Allow Duplicate Responses 
to
Yes
, any participants whose responses were already collected will be skipped over. Keeping this setting turned off ensures the data will not be changed for duplicate participants. See our
Response Editing
and
Retake Survey Link
pages for information on editing your existing data.
If you are not using one of the provided delimiters in the More Options menu, you can click into the Delimiter text box and type the symbol of the delimiter being used.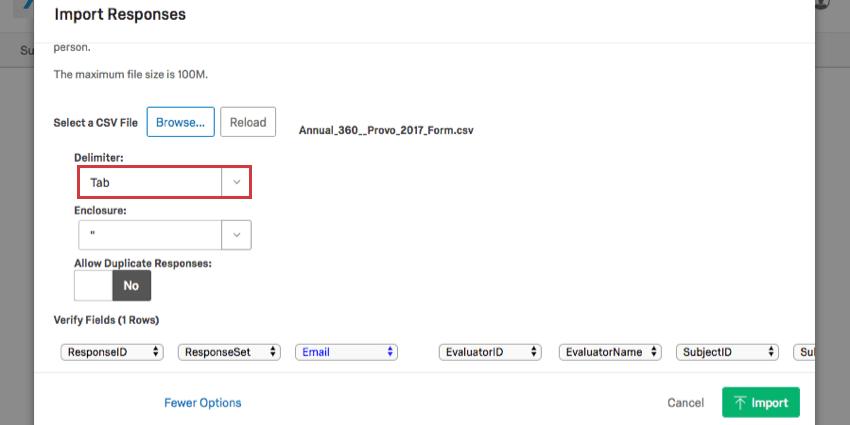 Related Articles