Customer Experience

Employee Experience

Brand Experience

Product Experience

Core XM

Design XM
Responses in Progress (360)
What's on This Page:
About Responses in Progress
Responses in progress are responses that have been started but not submitted. Responses in progress become recorded responses when:
A respondent submits a survey
A survey is manually closed from the Responses in Progress page
A survey or survey session expires
While still in Responses in Progress, you can view, close, or delete these responses.
You can view your responses in progress by going to the Data tab and selecting Responses in Progress on the right.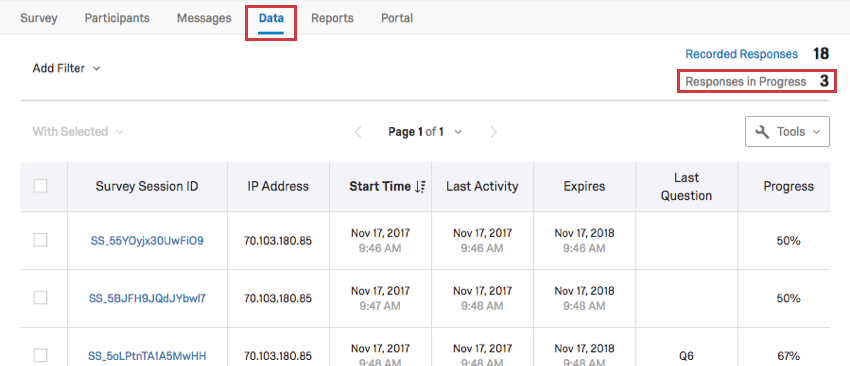 Differences from the Survey Platform
It is important to note that surveys constructed in the Survey Platform are distributed differently from 360 surveys, and this affects some of the information regarding responses in progress.
In the Viewing Responses in Progress section, it's important to note that the First Name, Last Name, Email, and External Reference fields are not relevant because they refer to the fields as they are recorded in the Survey Platform. Although similarly named, these fields do not populate with 360 participant name and email.
You can also ignore the section on the support page about Setting When a Response is Recognized because it concerns the Survey Platform emailer.
However, under the Closing Responses in Progress section, the Attention at the very top is still relevant to 360.
Closing, Deleting, and Managing Responses in Progress
The following processes are the same in the Survey Platform as they are in 360, unless otherwise detailed above. Click on the linked pages to read the step-by-step process.
Related Articles