Customer Experience

Employee Experience

Brand Experience

Product Experience

Core XM

Design XM
Creating a Frontline Feedback Project
What's on This Page:
About
Qtip:
Frontline Feedback projects are an additional purchase. Please contact your
Account Executive
for more information about this product.
Frontline Feedback is used to collect, organize, and prioritize suggestions from users in your Qualtrics license. Each feedback request contains a set of attributes with important information about the request. Users may interact with the feedback request by commenting, voting, and categorizing feedback requests. You can prioritize requests through sorting, filtering, and searching capabilities as well as view feedback in aggregate through the use of dashboards.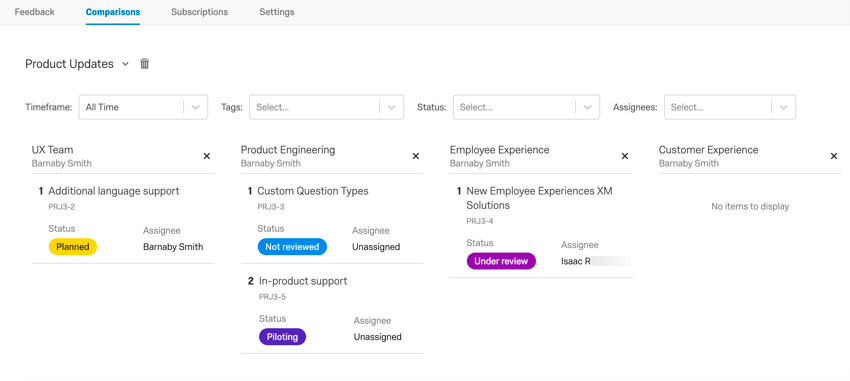 The Qualtrics Community Product Ideas category does not use a Frontline Feedback project to collect product ideas. However, our product managers take the ideas submitted on the Qualtrics Community to feed into an internal Frontline Feedback project. They use this project to assign feedback to product teams and track the progress of feature development.
Creating a Frontline Feedback Project
Click Create new project.
Choose the Frontline Feedback project type.
Click Get started.
Name your project.

Click Create project.
Enter your Display Name. This name will appear when you create new feedback requests and comment on existing requests.


Qtip: Once you set your display name, you will not be able to change it.

Click Submit.
After creating your Frontline Feedback project, you'll want to customize it to fit your organization's business goals. For more information about the options available to you, read the Customizing a Frontline Feedback Project page.
Related Articles