Customer Experience

Employee Experience

Brand Experience

Product Experience

Core XM

Design XM
Step 4: Distributing a Survey or Email Campaign
What's on This Page:
Qtip:
XM Directory is an improvement upon the old Target Audience, with user interface (UI) changes made to integrate more seamlessly with the XM platform. If you do not have XM Directory and would like to purchase access, contact your
Account Executive
.
Once you create a survey and set up your mailing lists, it's time to send out some survey invites! XM Directory gives you all kinds of options for distributing mailings.

Qtip:

If you'd like help setting up your survey, check out our

Survey Platform

support pages. Otherwise, if you're ready to start distributing, read on!
Sending Survey Invites
XM Directory allows you to send surveys and emails directly through the Directories page, so you do not need to switch between XM Directory and the Survey Platform every time you want to send an invite.
To get started on your survey invite, go to the Distributions tab and select New Distribution. In this invite, you will have power over when your distribution goes out, whether the respondents' personal information is recorded, whether the respondent can retake the survey, and more.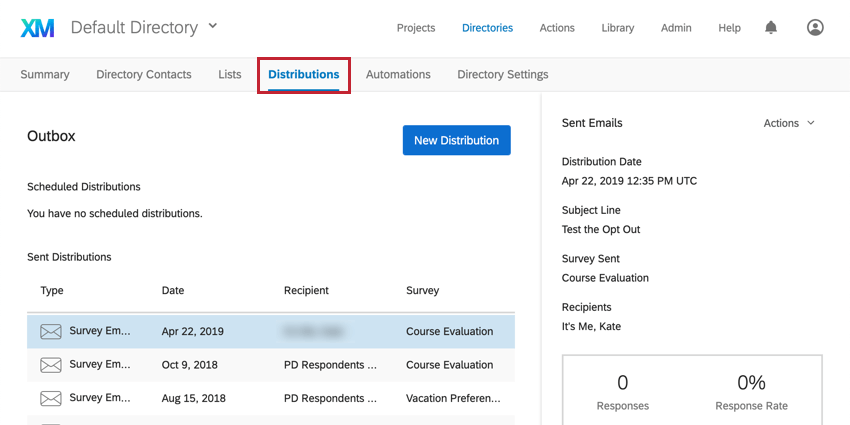 XM Directory also allows you to send emails without a survey. This can be useful for email campaigns, announcements, or general information emails. However, these types of emails do not support reminder or thank you emails.
Attention: The more you contact your users with things that disinterest them, the more likely they are to opt out of ALL of our mailings. It's important to only send a non-invite email if it has a purpose or a benefit for the customer. Furthermore, you may be subject to GDPR compliance. If you are worried about your Qualtrics users sending too many non-invites, try implementing Contact Frequency Rules.
Managing Past Distributions
In the Distributions tab, you will see a list of all distributions that have been sent from your account. By clicking on a specific distribution, you can see statistics about the distribution. This includes the size of the list, how many emails were sent, and how many surveys were completed.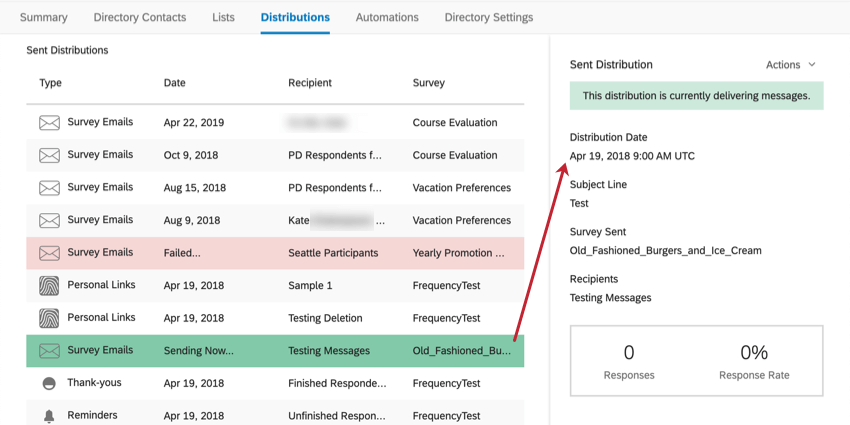 You will also have additional Actions you can place on the distribution. You can view or delete the distribution, or download a CSV file that contains the entire list of contacts in the distribution, their status, and their individual survey link.
In that Actions dropdown, you also have an option to send a Reminder or Thank You email. A reminder email is sent after an initial invite, asking respondents who have not finished the survey to complete it. This reminder email will go out to respondents who have started the survey but not submitted it, as well as respondents who have not yet started the survey.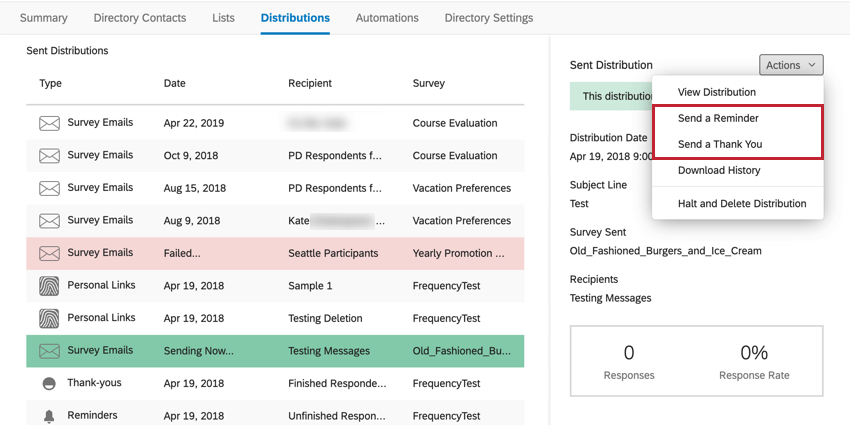 We recommend sending reminder emails between three to seven days after the initial distribution. Thank you emails can be sent as well thanking respondents for completing the survey, and we recommend sending these between three to seven days after the distribution as well. That will give most respondents time to complete the survey and ensures that the thank you email comes in a timely enough manner.