Customer Experience

Employee Experience

Brand Experience

Product Experience

Core XM

Design XM
ServiceNow Events
What's on This Page:
About ServiceNow Events
The ServiceNow Event allows you to begin workflows in Qualtrics based on when a record is updated or inserted in ServiceNow. For example, an IT ticket is closed which updates a record in ServiceNow, beginning a workflow in Qualtrics to send a feedback survey to the employee who filed the original ticket.
Setting Up a ServiceNow Event
Using the navigation menu in the top left corner, select Workflows, or go to the Workflows tab of your survey.

Click Create a workflow.
Click Get started.
Choose the ServiceNow account to use. You may use any accounts you've previously connected to Qualtrics, as well as any accounts configured by your Brand Administrator in Extensions.

To connect a new ServiceNow account, click Add user account.
Click Next.
Enter your ServiceNow instance.


Example: For example, if you login to ServiceNow at abc123.service-now.com, then you will enter "abc123" in this box.

Click Continue.
If desired, click Fields included from ServiceNow to review the fields available in your selected table.

Choose whether you want the workflow to trigger when a record is updated, inserted, or both.
Click Save.
Continue to set up the conditions and the task for your workflow.

Example:

For example, I can use an

XM Directory Task

to send a follow-up survey when a record in ServiceNow is updated.
Conditions for ServiceNow Events
When using a ServiceNow Event to start your workflow, you can base your workflow conditions on the following: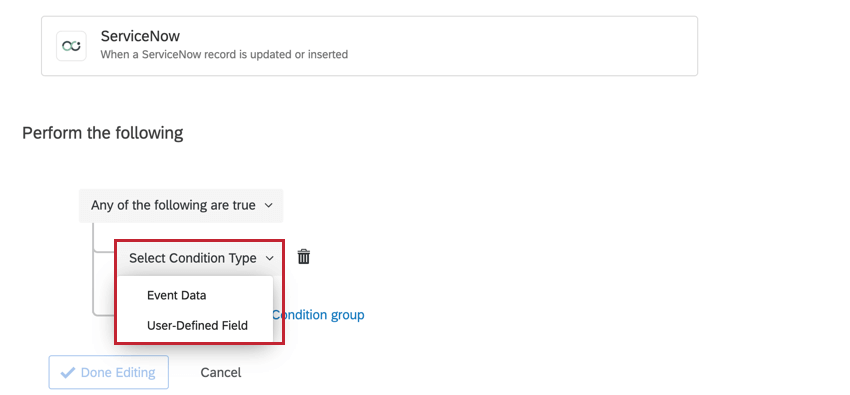 Event Data: Base the condition on one of the fields included from ServiceNow. The available fields will depend on the table you selected during the event setup.
User-Defined Field: This field is not used in conditions.
Related Articles