Customer Experience

Employee Experience

Brand Experience

Product Experience

Core XM

Design XM
Org Hierarchy Questions
What's on This Page:
About Org Hierarchy Questions
The org hierarchy question type allows a participant to find their place in the organization by either selecting from a hierarchy structure, using a search box, or both. The hierarchy must be generated first (see the Generating a Parent-Child Hierarchy or Generating a Level-Based Hierarchy pages). This can be useful for large organizations or organizations where the anonymous link and authenticator are used (e.g., when participants do not have email addresses).
Setting Up an Org Hierarchy Question
Once you add an org hierarchy question (see Creating & Editing Questions for instructions on how to create a question), you will have three additional settings in the question editing pane.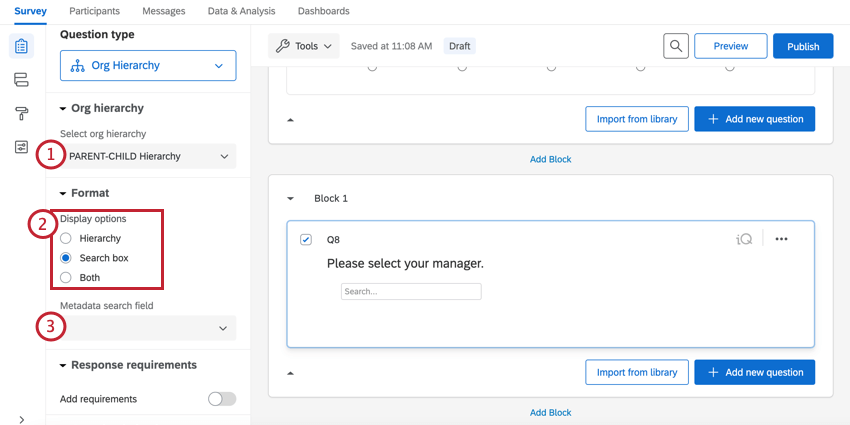 Select org hierarchy: You must select a hierarchy to base your question off of. Note that your org hierarchy question will not work properly if you have not already generated a hierarchy (see the Generating a Parent-Child Hierarchy or Generating a Level-Based Hierarchy pages) or if you do not specify an org hierarchy from the dropdown menu.
Display options: Choosing Hierarchy will display a series of dropdown menus from which a participant can locate their manager or unit. Choosing Search Box will display a search box from which a participant can search for their manager or unit. Choosing Both will display both a search box and a hierarchy; an individual can use either one.

Qtip: In the search box, participants will only be able to use their manager's name or their unit's name.

Metadata search field: This option will appear if you select search box or both in the question display options. If you generated a parent-child hierarchy and selected a metadata field for Org Unit Metadata, then that option will be available to select here. This will let your participants search by this metadata field in addition to searching by org hierarchy unit.
Using the Org Hierarchy Question Type
How the org hierarchy selector functions depends on the types of hierarchy it is connected to.
If it is connected to a parent-child hierarchy or a skeleton hierarchy, the participant will often search for their manager's name.
If it is connected to a level-based hierarchy (or a parent-child hierarchy with org unit descriptions), the participant will search for or select the unit in which they belong.
Qtip: This question relies on participants to select the correct manager or unit. It is possible for participants to make a mistake.
Related Articles