Customer Experience

Employee Experience

Brand Experience

Product Experience

Core XM
Administration in XM Directory
What's on This Page:
Qtip:
XM Directory is an improvement upon the old Target Audience, with user interface (UI) changes made to integrate more seamlessly with the XM platform. If you do not have XM Directory and would like to purchase access, contact your
Account Executive
.
About Administration in XM Directory
You can manage your Qualtrics brand's user accounts on the Admin page. Only Brand Administrators have access to this page. Click Admin in the upper-right corner to navigate there.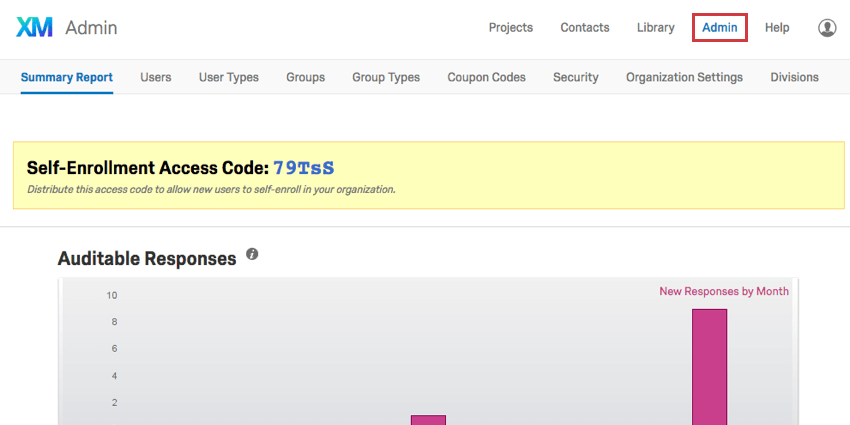 Similarities to the Survey Platform
The Administration for XM Directory and the Survey Platform are located in the same place and have many similarities. Because these administrative roles have a great deal of crossover, see the following Survey Platform support pages for more information on how administration functions in XM Directory:
Qtip: The Users tab of the Admin page is not the same as your directory. Users are those with logins who can access the Qualtrics platform, including the Survey Platform and XM Directory. Contacts are those who are sent surveys or otherwise contacted by mailing lists. You may have similar information saved in both your Admin page and in XM directory, but the information is separate.
Permissions
Permissions can be applied at the user, user type, group, group type, or division level to modify what features users have access to.
Below is a list of permissions as they apply to XM Directory. For a list of permissions that affect the larger the Survey Platform brand, see the User, Group, & Division Permissions support page.
Access XM Directory: When enabled, the user will have access to XM Directory.
Manage Directory: When enabled, the user will be able to view the directory. When this is disabled, the user will only have access to mailing lists (so long as Access XM Directory is enabled).
Auto Resolve Directory Duplicates: When enabled, the user will be able to edit the Automatic Deduplication rules. When disabled, the user will not be able to edit these rules, although rules set by other users still apply to any changes they make in the directory.