Customer Experience

Employee Experience

Brand Experience

Product Experience

Core XM

Design XM
XM Essentials 10: Report to the Neighborhood
What's on This Page:
This is it!
You'll soon be done and dusted with XM Essentials. Creating reports is the finishing touch — the ice in your coconut-mango lassi.
For Moksh and Naman, visualizing the responses from their friends and neighbors was, well, kind of cool. They were about to see how everyone had responded.
The Reports Tab: A Choice
It's no shock that the Reports tab helps you build, well, reports. In fact, you have two reporting options, each meeting distinct needs:

Before you ponder which to use, take our advice and start with Results-Reports. The goal of Results is to, "Provide 90% of the reporting a person needs with 10% of the effort." Put this to the test!
About Results-Reports
With Results: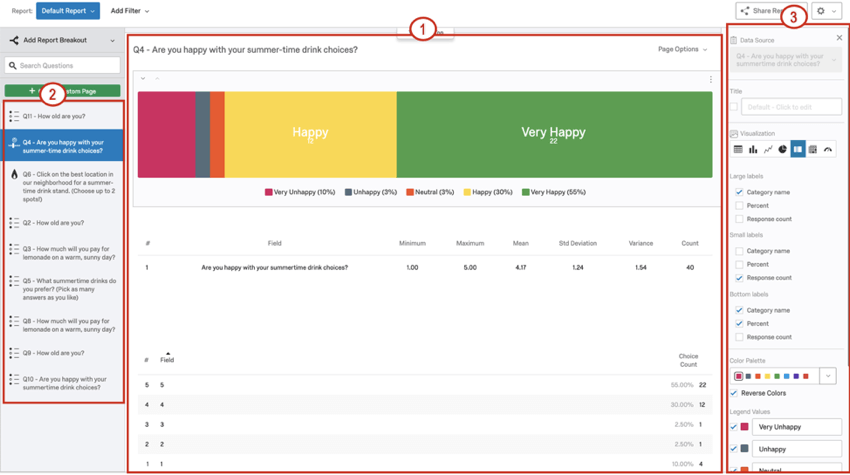 Each question has a corresponding question page.
Flip through your question pages by clicking the question selection list to the left.
Edit your question pages in the editing pane to the right.
Most question types will yield three default visualizations per question page. For example: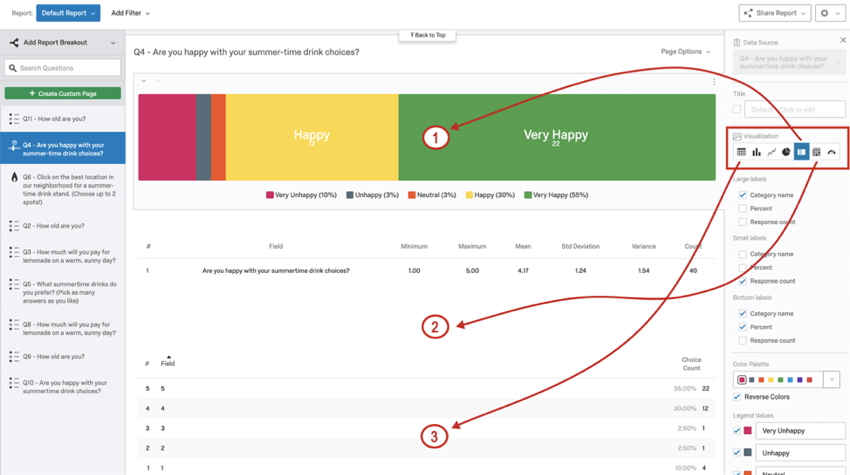 Click any visualization to open its editing pane and customize your visualizations. Don't limit yourself to the default charts and predetermined color schemes! For example, multiple choice questions can be visualized with:
Bar Charts
Pie Charts
Statistics Tables
Breakdown Bars
And more!
Results-Reports also let you:
Add and delete visualizations.
Export visualizations as Portable Graphics Format (.png) image files.
Qtip: PNG is the most common, uncompressed data image format on the internet, and can be used in presentations and papers or converted into .jpg files.
Try it!
Exercise A-I: Exploring Results-Reports
Open your project.

Click Results.
Click each question in the side panel (4a – 4f) and view the question pages and visualizations generated for each question.

Click on any visualization to open its editing pane. (We'll explore this more in the next exercise.)
Create a copy of a default report by clicking the Default Report down arrow and picking Copy Report.
Click Copy.
Reports For Every Occasion
If you followed steps 6-8 above, you now have two Results-Reports to choose from:
A Default Report
A copy (renamed My Report)
Switch between reports by picking from the report selection dropdown. The currently open (or active) report is marked with a check.
The report selection dropdown also reveals two very different report generating  alternatives: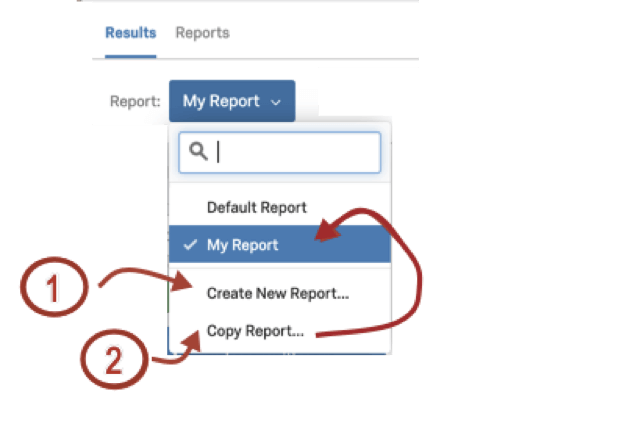 Create New Report: Generate a fresh report.
Copy Report: Make a duplicate copy of the active report (the highlighted report with the check mark).
Qtip: The ability to copy reports is very useful when you've built an elaborate report and want to create a second, similar one with changes.
Try it!
Exercise A-J: Navigating Pages
Open your project.

Select Results.
Open one of your reports.
Choose a question page from the list to the left.

Locate the title in the header of any page. Initially, the title is the question that has been asked.
Glance at the top and bottom of each page to see the page separators.

Qtip: You'll also see the Add Note and Add Visualization buttons at the bottom of every page.

Return to the first question page by clicking Back to Top.
Click the title box and select a question's title.

Enter a new title. We entered "Drink Satisfaction Results."

Changing Up Your Visualizations
We'll now show you the changes we made to the visualization that corresponds to the five point scale used for the smiley face slider. This happy question deserves a snappy visualization to reveal its insights. Let's change it up — a lot.

Try it!
Exercise A-K: Changing Visualizations
Click a visualization to open its editing pane.

Rename the title. We named ours "Overall Happiness."
Change the visualization type. We changed the default bar chart to a breakdown bar.
Modify the large labels. We chose Category name. This dictates that we must enter the legend values seen below.
Alter the small labels. We chose Response count, which lists the total number of respondents for each answer and appears below the large labels.
Fix the bottom labels. We chose both Category name and Percent, which shows the percentage of respondents next to the legend value labels.
Reword the Legend Values. Here we entered the five point scale values from "Very Unhappy" to "Very Happy".
Making Colorful Visualizations
Some visualizations will represent your data better than others. For example, a simple bar chart may not communicate the percentage of respondents under 24 as well as a breakdown bar or a pie chart.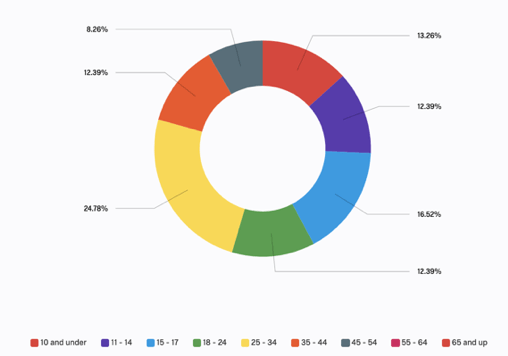 This is where experimentation comes into play! Don't overthink a visualization and worry about messing it up. Simply try things out. Keep the good ones, delete the bad ones, and make more! When you have nailed a visualization, you will know it.
One of the important aspects of nailing a visualization is to get the color scheme right. Sometimes you'll need to match your institution's colors, and at other times you can be creative with color.
Exercise A-L: Altering Colors
To alter colors, first try reversing the colors by clicking the Reverse Colors checkbox below the color palette.


Qtip: The Reverse Colors option flips the color variance from darker to lighter. We left the default visualization so you can compare the color shift.

To make more drastic color changes, click the dropdown arrow next to the color palette. Choose among the many options.

If you are unhappy with the available color palettes, create your own by choosing Add Custom Palette and define the colors you wish to see one-by-one.
Qtip:
Learn to create custom palettes to match your organization's color scheme and branding by visiting the
Custom Color Palettes
section.
Exporting Visualizations as Image Files
Imagine you are in the middle of writing your thesis and need an image defending a key aspect of your research. Simply download a PNG of a graph and use it in whatever context you like (e.g., papers, presentations, websites, texts, email, and  social media).
Try it!
Exercise A-M: Exporting Visualizations as Images
Click the small vertical dots in the upper-right corner of a visualization.

Pick Export followed by Image File.
A .png file will be downloaded to your computer.
Open your file up and take it from there.
Exercise A-N: Adding & Removing Notes & Visualizations
Click Add Note to enter a note at the bottom of a question page. Click outside the note to save it.


Qtip: A note is just like another visualization. Notes can be deleted like other visualizations as explained in step 1.

Pick a Pie Chart as your type. Play with the color schemes and the depth of its inner radius.
Select the Statistical Table option.
Qtip: Statistical tables are often placed at the end of a question page for data experts to evaluate. Placing the more graphical (and colorful) visualizations at the beginning will make most reports easily accessible to the non-data-driven decision makers.
Related Articles