Customer Experience

Employee Experience

Brand Experience

Product Experience

Core XM

Design XM
Step 3: Configuring Directory Settings
What's on This Page:
Qtip:
XM Directory is an improvement upon the old Target Audience, with user interface (UI) changes made to integrate more seamlessly with the XM platform. If you would like to switch to the new look, contact your
Customer Success Representative
. If you do not have XM Directory and would like to purchase access, contact your
Account Executive
.
If you are a Brand Administrator, you can decide how often distributions are sent across your entire brand, and set rules for what contact uploads constitute as duplicates so that they can be consolidated. To do this, navigate to Directory Settings.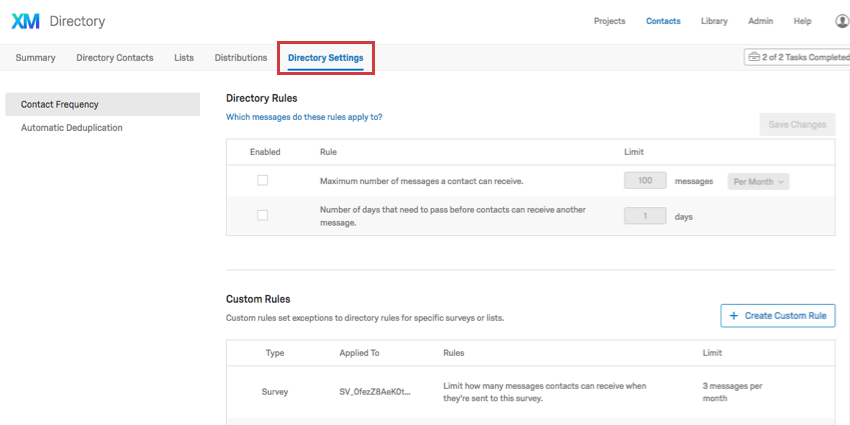 Contact Frequency
XM Directory lets you determine how often your brand can send messages to contacts. You can set two global rules that will apply to every contact in your brand. The first rule concerns the maximum number of messages a contact can receive. You can decide how often this rule is executed, such as per day, per week, or per month. The second rule is the number of days that need to pass before contacts can receive another message.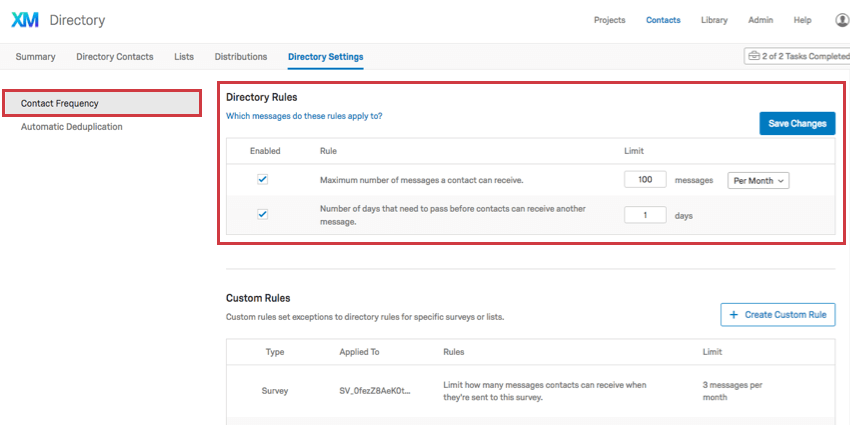 These rules apply to the directory as a whole. It is recommended that you set some type of contact frequency rule if your brand has many users that are sending out surveys to audiences. Best practice is to space out survey invites by 30-60 days to reduce response fatigue and avoid declining response rates – respondents are less likely to answer consecutive emails. However, there might be certain mailing lists or surveys that will need to bypass those rules. You can bypass the global rules by using Custom Rules.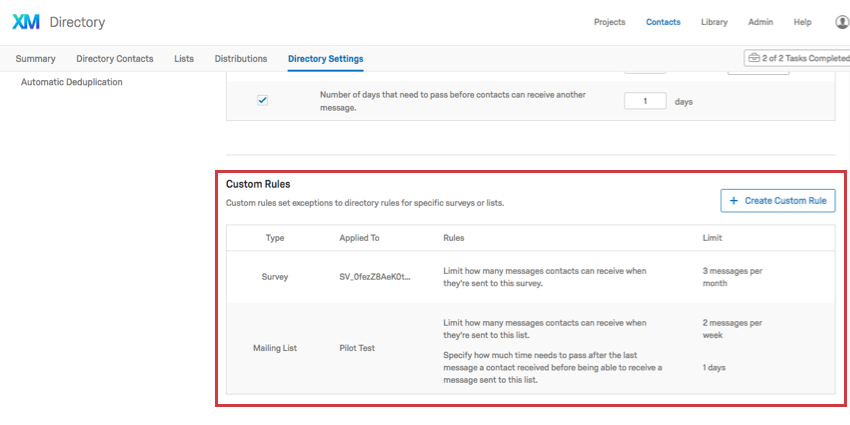 Custom Rules can be applied to a mailing list or a survey.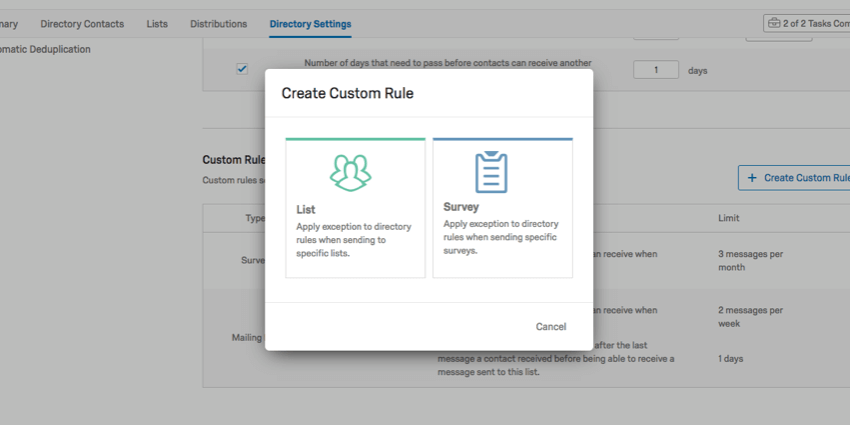 For List Custom Rules, you will select the list you want this rule to apply to, and if you want this set to All Messages or Only Survey Invites. There are three options for the custom rule, and the first is to completely ignore global Directory Settings and always allow emails be sent to that list. The other two options are the two rules described above – maximum number of emails a contact can receive and number of days need to pass between emails – but this time, applied only to this List.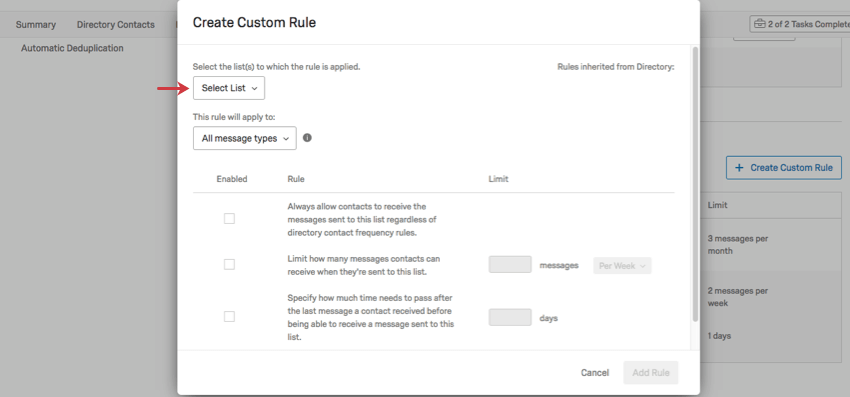 For Survey Custom Rules, the rules you can choose are identical to List Custom Rules, with the exception that you will apply this on the survey level. This means any mailing list that tries to email an invitation for your chosen survey will be affected.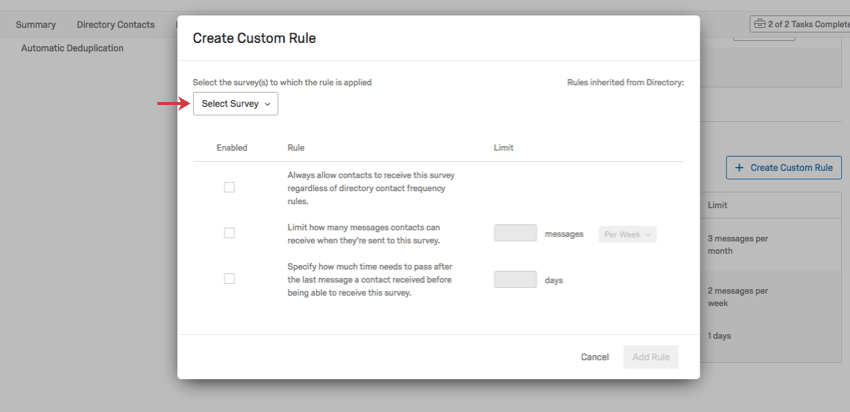 If you have a survey that is sent after a customer contacts your support team, you might want to set a custom rule that allows this survey to always be sent, regardless of your Directory Settings rules. That way you can capture information after every support interaction.
On the other hand, you could set more restrictive rules on a specific mailing list. For example, adding additional restrictions to a mailing list that contains key stakeholders prevents you from bombarding these important users unnecessarily.
Automatic Deduplication
When you Add Contacts with Automatic Deduplication enabled, XM Directory checks whether the person you are trying to add matches the deduplication fields for any existing contacts in the Directory. If the contact already exists, XM Directory will not create a new contact with the information. Instead, the existing Directory contact will be updated with any new information you have added, such as new or updated Embedded Data values.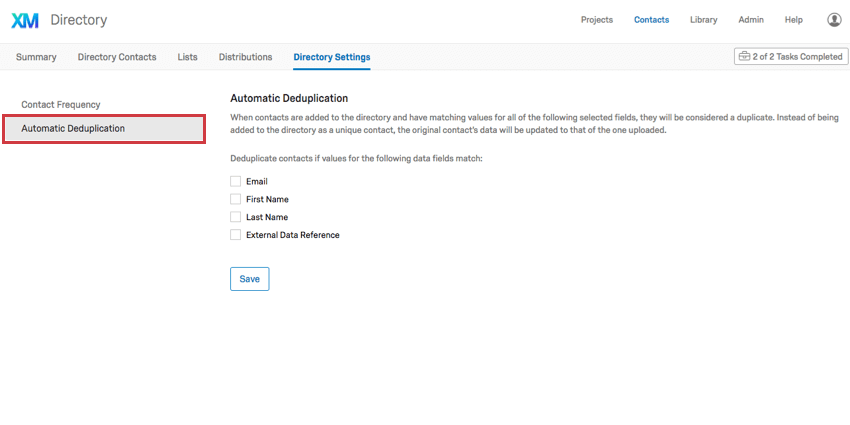 It is highly recommended that you have Automatic Deduplication enabled, especially if your brand has many users that will be adding and updating contacts. Deduplication will ensure that contacts do not get added multiple times, cluttering up your directory, and that their information is consistent across surveys and email campaigns. This will also ensure that if a contact has opted out of the directory as a whole, that they will not get re-added as a separate contact that can be contacted by your brand again.
We recommend you you base deduplication settings off of email address. If you are using the same email for more than one contact, it is recommended to combine External Data Reference with email address.
It is important to note that deduplication settings are connected with AND statements. If multiple options are selected, deduplication will only occur if ALL of the fields match another contact's. These settings do not apply retroactively so it is highly recommended to set these rules beforehand.